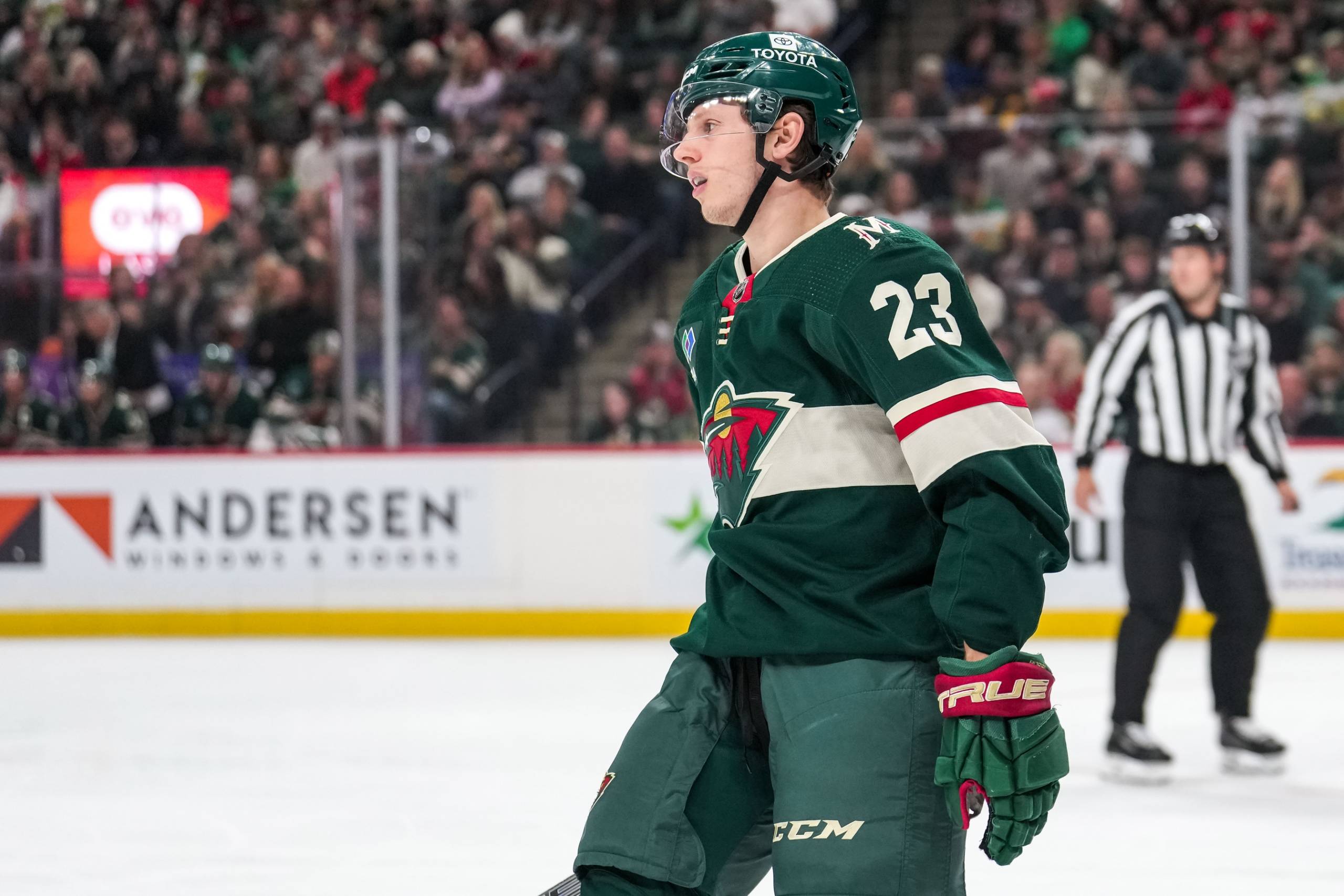 Editor's Note: This is part one of a four-part series checking in with four Minnesota Wild prospects who spoke to 10KRinks in exclusive one-on-one interviews during the Iowa Wild's series against the Texas Stars last weekend.
DES MOINES, Iowa — Marco Rossi passed the puck from the left circle to Nic Petan below the goal line, parked himself in the slot, received the puck back from Petan, and buried it past Texas Stars' goaltender Matt Murray to tie the game. The 21-year-old finally broke through for the Iowa Wild in the final minute of the second period against the Stars on Saturday night.
On the bottom floor of Wells Fargo Arena, in the media room a night earlier, Rossi told 10KRinks he is trying not to "overthink" right now. While Rossi had numerous shot attempts, he had two Grade-A scoring chances from the slot on Friday night. So it had to have felt good to get on the board Saturday after that, especially since he made the goal happen by putting himself in a position to score.
"Of course, I have few areas where I want to improve in, but the most important thing is that I get my confidence back up," Rossi said. "I have confidence, but obviously, like, when you have more puck touches, you get the feeling more again, and obviously when you score, too. Again, when you score goals and make points, then this brings your confidence high up there, too, so I just try to focus on that and keep playing."
After earning a spot on the Minnesota Wild's roster out of training camp, the organization sent Rossi back down to the Iowa Wild on Nov. 28 for the foreseeable future after he recorded only an assist and no goals in 16 games. The Wild's 2020 first-round pick had a 45 percent expected goals rate, just 11 shots, and averaged 12 minutes and 26 seconds of ice time in a fourth-line role. While he should have had a look on Minnesota's top line, there's no question that the adjustment was a challenge.
"For a player like that, that is gonna be an offensive player, he's a puck distributor, he makes people around him better, if you're not touching the puck, it inhibits your growth," Iowa Wild head coach Tim Army told 10KRinks. "There's always that wrestling; is he best to stay up there and practice and be around it and be around the opposition? Be in the buildings to get kind of some familiarity with that in that sense? There is some real good value to that as well with a young player, but ultimately they have to play."
Army mentioned a hypothetical situation where parents want their son to play in the United States Hockey League (USHL) even though the player might not be ready for the transition and will be stuck on the fourth line.
"You'd see these parents would kind of overshoot it," Army said. "They would be upset because they weren't playing, they weren't getting any touches, whereas maybe you're better off staying an extra year in high school or extra year in private school and playing and playing a lot, touching the puck a lot, your game is gonna grow more that way. Kind of that philosophy.
"So same thing with a guy like Marco, No. 1, you come in, and you play in all sorts of different situations, you play a lot of minutes, and he gets the puck touches that he needs to continue to feel it and get that rhythm to his game offensively. When that does happen, the next time he goes back to Minnesota with this experience here, he's gonna be a more effective player."
The Wild used Rossi, who just turned 21 in late September, sparingly when he was in the NHL. He wasn't touching the puck as much as he needs to for his development, had an extremely limited role on the power play, and didn't create much offensively.
"Not to overthink," Rossi said of what he needs to do to get his confidence back up. "Just to play the game and then try to get the puck as much as I can and just making plays and don't overthink."
Since getting sent down, Rossi has 10 points in 10 games, which includes a three-point performance in his first game with Iowa this season against the San Jose Barracuda, where he scored from the top of the left circle on the power play.
In Iowa, Rossi is on the ice for 20-plus minutes a night with top-line duties, and his usage in all situations means the puck is constantly on his stick.
"I play a lot of minutes here. ... It's all about the confidence right now to get my confidence back up there," Rossi said of his role on special teams. "As a forward or especially as a top-six forward, you want to play as much as you can, so that's good."
There are a few areas that Army said they've "stressed" with Rossi, such as the need for him "to take charge of the puck" on the ice and to distance himself a few steps from defensemen to create more time and space.
Army is already seeing improvement in these areas, and he said Rossi is winning more puck battles now. Rossi made a nice cut to the net against the Rockford IceHogs, showing off his patience, before shooting it past Mitchell Weeks' blocker side.
"Yeah, I mean, it's really good for me because here you have a little bit more time than up there in the NHL," Rossi said. "You have always like one, two seconds more time, so to grow back up the game and to get my confidence back, I mean, it's really helpful."
Army said he's seen growth overall in Rossi's game. He said Rossi will get bigger because he doesn't have the "man strength" right now because each player matures at a different stage of their development. Army added he sees it with Connor Dewar, who wasn't strong at first, but now Dewar's track from Iowa is evident, and he's a "man now."
"Now what's Marco going to be like at 24 years old when he matures into a man?" Army asked. "One heck of a hockey player. That process is going to play itself out naturally..."
Rossi was all over the ice against Texas this past weekend, and it looks like he's raising his confidence level. He had his opportunities and easily could have scored more than once. Rossi played smart with the puck and created space out of nowhere on several occasions. It's clear he's focusing on the small details of his game. Rossi seemed to be in the right areas because of his hockey IQ, and he made several hustle plays, too.
There were a few things that stood out. Rossi wasn't forcing plays to happen or overextending his shifts. He created numerous scoring opportunities during the weekend with his strong playmaking ability, and he was defensively aware. So it wasn't like Rossi got burned in his own zone, either.
"He's a very intelligent player, and he's very reliable," Army said. "[Rossi is] very good off the puck. He's just got natural instincts to play defensively, which is kind of unusual for an offensive player at that age."
Sure, he had some miscues here and there. His failed clear attempt landed on the stick of a Texas player on Friday, and there was a miscommunication on the power play where Rossi turned the puck over, which led to a breakaway and shorthanded goal for Texas. There was also a controversial penalty called on him in the third period on Saturday, resulting in a power play tally for the Stars.
Overall, though, there's a lot to like about his game right now, especially his impact on both sides of the ice and his presence in all situations — even though he's marinating in the AHL right now. Rossi was also visible in the neutral zone, and his confidence in transition and entering the zone was promising, especially with an extra attacker.
Army said Rossi is a better player than last year, a season where he scored 18 goals and 53 points in 65 games — the most points recorded by a rookie in one season in Iowa Wild history.
"He's got good defensive structure to his game, but he continues to push the pace offensively, makes other guys better around him," Army said. "This has been really good for him. He's tracking in the right direction."
Time will tell whether Rossi's play in Iowa earns him another chance this season with the Wild's roster healthy again.
All Data Via Natural Stat Trick, Hockey-Reference and AHL.com