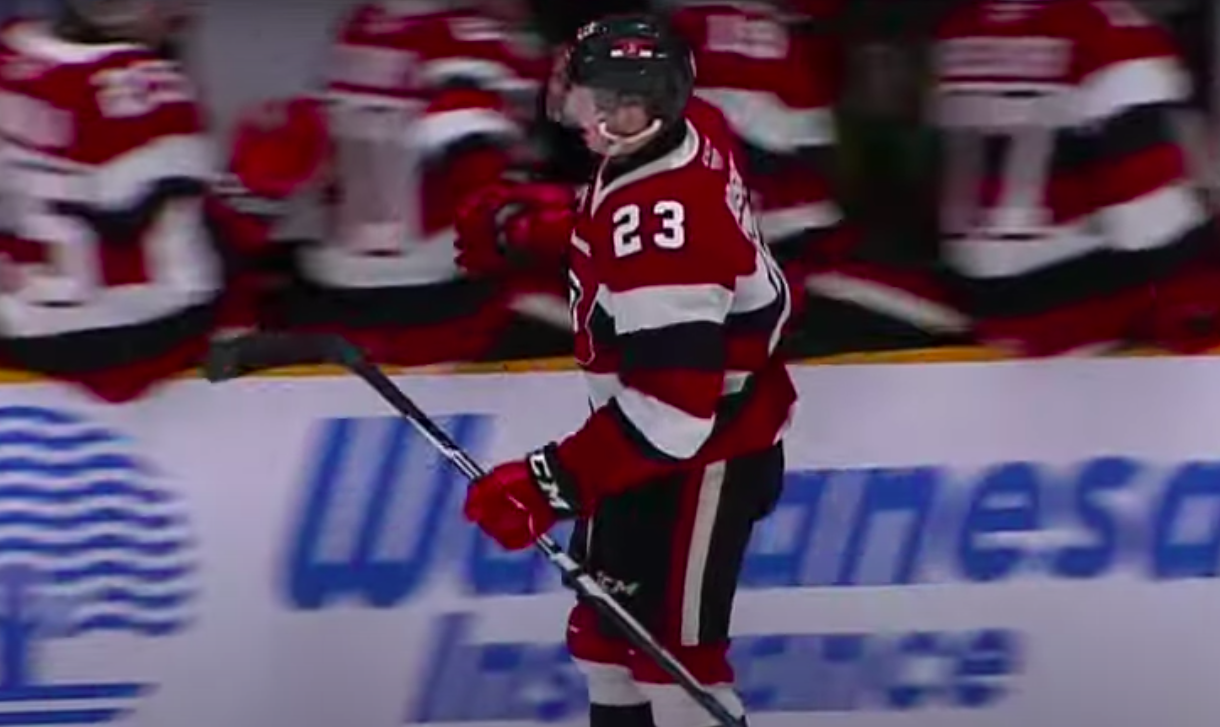 At the beginning of Austria's game vs. Team USA, the broadcast booth quoted an Austrian player's goal for the team. The player said their goal was to put Austria on the map, so people wouldn't confuse them with Australia.
By the end of the 11-0 blowout, the only thing one could say upon seeing the massive gap of talent between Austria and the hockey powerhouses of the world was "Crikey!"
There's no dishonor in Austria's play in the World Junior Championships. It's a small country that lacks the hockey infrastructure of a premier program, and it takes a long time to build that up. The players, who are all ages 16 to 19, played hard in spite of being overmatched. Still, there's no denying that they were overmatched, going 0-4, extending their lifetime record to 0-23. After Thursday's loss to the Czech Republic, Austria exited the tournament out-scored 29-1 and out-shot 249-49. It's hard to get uglier than that.
There was hope that Marco Rossi's star power could enable Austria to punch above their weight. That didn't happen, and Rossi didn't manage to come away with a point.
Should any of this affect how we view Rossi going forward? Does this mean he's not ready for the NHL? Can we take away any positives from this tournament? Let's try answering all that now.
Sparking the Offense
It's hard to say whether Rossi did poorly or not because it's difficult to compare his situation to everyone else's. Rossi was Team Austria's only drafted player. Not first-round pick. Drafted player.
How do you compare that to Russia or Sweden, who iced five first-round picks alone? Or Team USA with nine? Even the B-tier Czech Republic team had eight more drafted players on their team than Austria. Rossi might be one of the most talented players in the tournament, but how far can one player carry a team that far behind?
Still, Rossi did his damndest to create some offense, even when heavily outmatched. Comparing him to the rest of Austria, Rossi was the only player on the team who was even close to consistently creating chances. Rossi's 10 shots over four games look pedestrian on paper. Then you realize that's 10 of Austria's 49 total shots, meaning 20% of their offense came off Rossi's stick alone. That's not counting however many chances were set up by Rossi.
https://twitter.com/OhHiTony/status/1345130248682303500
Not only was Rossi the only source of offense for Austria, but he was also their only reliable transition player. According to data tracked by Mikael Nahabedian, Rossi attempted 24 zone entries this tournament, entering with control on 14 of his attempts. That's 58%, which ranks him near the best transition players in the tournament.
The rest of Austria could only muster a 29% success rate, either dumping the puck or failing altogether. It's a similar story for zone exits, with Rossi controlling 59% to the rest of the team's 32%.
So to summarize, Rossi was the only player who could be counted on to shoot or even move the puck. That's about as tough a situation as you can get, even for a star.
On an Island
The talent gap between Austria and the rest of the WJC field didn't mean that Rossi couldn't do anything well. What it did do was make it very difficult for Rossi to chain great individual plays into sustained pressure. Look at this chance from Rossi in the final minute of the first against the Czechs.
https://twitter.com/OhHiTony/status/1345135929984483328
Rossi gets his stick on a loose puck and creates a rush. The only white you see anywhere near him is the ice. With nowhere to go and no one supporting the play, all Rossi can manage is a weak slide of the puck to the goalie. By the time an Austrian gets within 15 feet of the puck, it's safely covered up.
That lack of a credible secondary threat also allowed teams to key in on Rossi. Rossi often had multiple defenders on him, including three converging on him on this rush attempt.
https://twitter.com/OhHiTony/status/1345140212591161345
Senna Peeters is keeping up with Rossi on this play, but instead of trying to either find open space or draw a defender away from Rossi, he just kind of rides shotgun with him. Once Rossi makes the pass, the defender has to do little more than turn slightly to neutralize the rush.
This play further shows how Austria struggled to find any soft spots on the ice.
https://twitter.com/OhHiTony/status/1345141906158837760
Rossi works from behind the net here and tries to center it, but then Russia blocks the pass. The puck goes to the point for a harmless shot, which is recovered by Austria and sent back to Rossi. He looks for a pass, but now, literally, no one is near the net.
Maybe that doesn't fully explain why Rossi went pointless, but it goes a long way.
Ready for Primetime?
After getting knocked out of the WJC, Rossi now heads for Minnesota Wild training camp. There are a lot of reasons to believe that Rossi could step into an NHL roster right away. His mature two-way game, a gaping hole at center in Minnesota, and his relentless offseason training regimen all point to this.
Does coming up short on a big stage imaginable change this?
Not really. Rossi is the same player he was last week, which is an elite prospect. Remember Rossi's production last year was insane, extremely comparable to that of first overall pick Alexis Lafreniere. Being 5'9" didn't hold Rossi back in the tournament either, as he was physical and hard to knock off the puck.
In fact, after watching Rossi in the tournament, it's harder than ever to be convinced Rossi could be "ruined" by making it to the NHL too early. Think of all the adversity he faced here. He played with a team that was hopelessly out-matched against some of the best programs in the world. He saw his team get caved in and faced the full brunt of defensive gameplans to shut him down.
Rossi still played with pride and worked hard to make things happen. He would make spectacular defensive plays, even when getting out-shot 46-5.
Perhaps the best example comes from the final 10 minutes of Austria's match vs. Team USA. The Americans battled Rossi, they hit him and they even tripped him twice. It's so easy to keep your head down and coast in the final minutes of a blowout.
Rossi would never, though.
https://twitter.com/OhHiTony/status/1343058671958421505
After helping create pressure that leads to a turnover, Rossi heads to the net, collects a rebound and takes two shots at the goalie. The effort was always there, no matter how bad they were losing. He never seemed rattled.
It'd be a shame for the Wild to pass on adding that combination of skill and competitiveness to a team seeking a playoff position. It'd be a bigger shame for Wild fans to go this year without seeing Rossi play with NHL caliber talent.