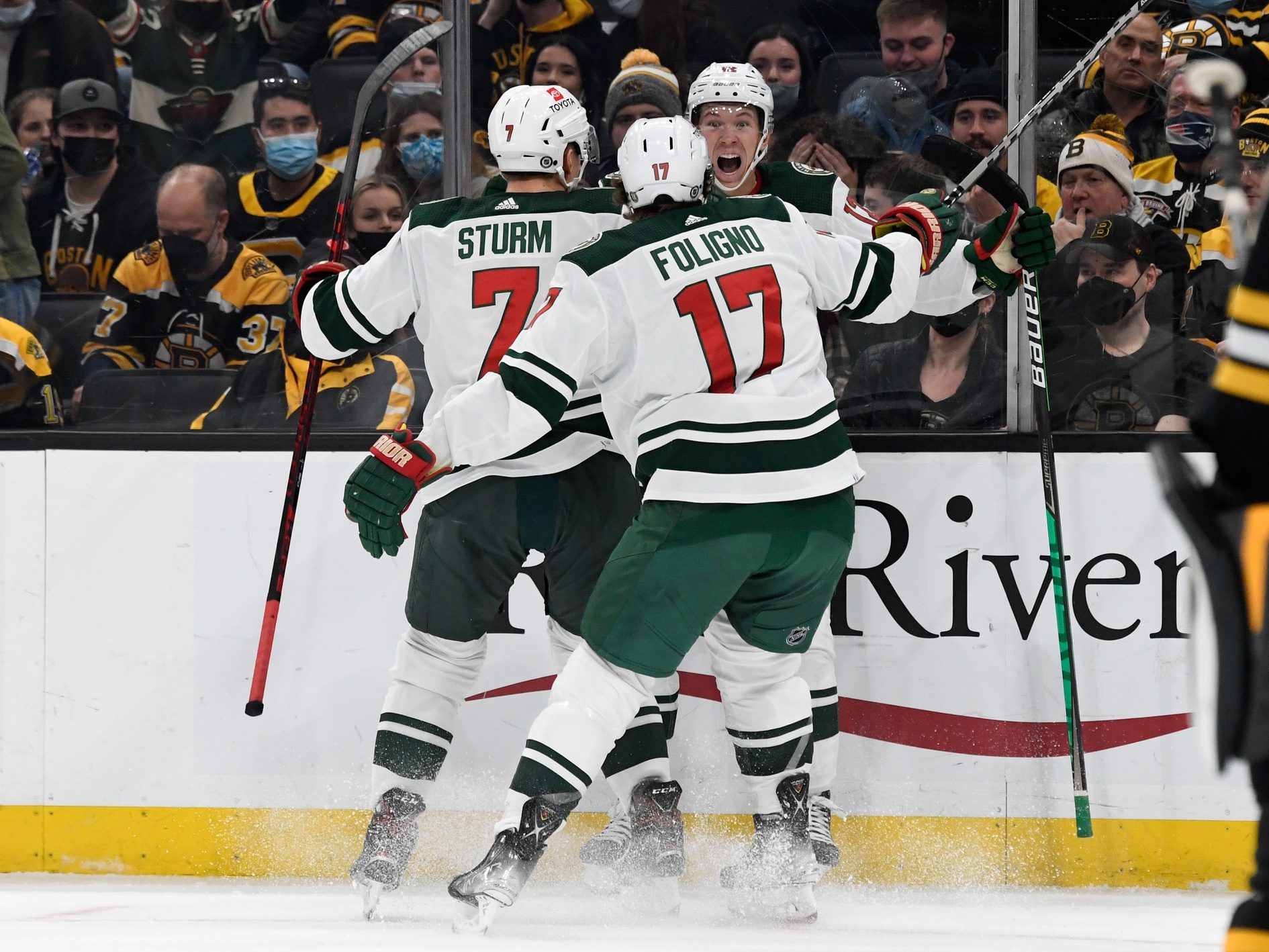 The Minnesota Wild entered Thursday night's game shorthanded with Jared Spurgeon, Joel Eriksson Ek, Cam Talbot, and Nick Bjugstad all injured. Jordan Greenway and Brandon Duhaime were in COVID-19 protocols. Minnesota's lack of depth forced the organization to recall top forward prospects Marco Rossi and Matt Boldy.
With so many players out for the foreseeable future, the young duo could be here to stay for a while, especially true if Kirill Kaprizov's injury from a "predatory hit" keeps him out long-term. It's even more likely they'll stay if they keep winning. Minnesota snapped their five-game losing skid with a 3-2 win over the Boston Bruins on ESPN.
But the Wild will eventually get healthy, and that day will force a massive decision. Will Minnesota keep their two rookies in the NHL or ship them back to Iowa? There are potential downsides to the former. Put a rookie in the NHL full-time too soon, and you run the risk of stunting their development. Minnesota must also consider Rossi's contract situation, should he play 10 or more games.
Still, keeping them in the NHL is the right call. Rossi and Boldy are ready to flourish in the NHL after tearing it up in the AHL with a point-per-game stat line this season. Rossi, 20, has seven goals and 23 points in 21 games. His point-per-game rate is the 14th-best in the AHL. Injuries limited Boldy to just 10 games this season, but he still has 10 points in those games.
It will be a mistake to send them back down to the AHL when the Wild return to health. Realistically, Minnesota needs them to have a legitimate chance to contend in a loaded Western Conference. After last night's performances, there's no doubt this decision got more challenging for Bill Guerin.
Yes, it was one game, but they made a statement, and it's clear they deserve to stay.
Neither has had an easy journey to get to this point over the past year. Rossi developed a heart condition after contracting COVID-19, while Boldy suffered a fractured ankle in a preseason tilt and then suffered a second injury earlier in December.
That's what made their debut even sweeter on top of their exceptional play.
The highlight of the night was Boldy's goal. He becomes the 10th player in franchise history to score in his NHL debut.
After a clean zone entry, Boldy moves to the center of the ice and then passes to Foligno on his right, who passes it right back to Boldy. He makes no mistake and fires it past Jeremy Swayman.
Boldy displayed his release. But he showcased his playmaking ability throughout the night, too, specifically on the first power play.
Boldy threaded an impressive backhander to Foligno at the beginning of the game on the power play. It's hard to justify sending them back down when they make plays like that.
For Rossi, he couldn't get on the scoresheet, but you better believe he had an excellent performance in his NHL debut.
From possession to creating plays, Rossi was highly effective. The Wild controlled 72 percent of the expected goals with Rossi on the ice, besting Boldy's 68 percent expected goals rate in all situations* — both of which were among the best on the team.
One of Rossi's most impressive plays of the night was when he picked Charlie Coyle's pocket and then fed one to Mats Zuccarello. It would have been an awesome first career point if that had gone in.
Rossi was impactful from his first shift, where he drew a penalty. That play forecasted the entire game for Rossi (other than a controversial penalty call against him). He backchecked with tenacity, wasn't afraid to get in the blue paint, and made things happen by making smart plays with the puck.
Both were calm and made smart, simple plays throughout the game. From the eye test, both were responsible defensively, too, and weren't caught out of position either. The most important aspect of their debut is that they played the right way and didn't try to do too much or force things offensively, which is very important for young players.
The Wild are finally witnessing the talent that they have in their prospect pool, which is among the deepest in the league. Rossi and Boldy displayed the skill and smarts that scouts communicated to teams before the draft in their NHL debuts. There is no question the Wild are feeling happy with those draft selections.
The question still looms large, though: When the Wild gets healthy, what will happen to Rossi and Boldy?
This season, there is a lot on the line, with the significant cap implications beginning next summer. There's also a lot on the line right now, with the Wild potentially contending for a Stanley Cup. So one has to think that Guerin is strongly considering their permanent stay on the roster.
All Data Via Evolving-Hockey, Natural Stat Trick, and Elite Prospects
*An earlier version of this article listed those numbers as being 5-on-5.