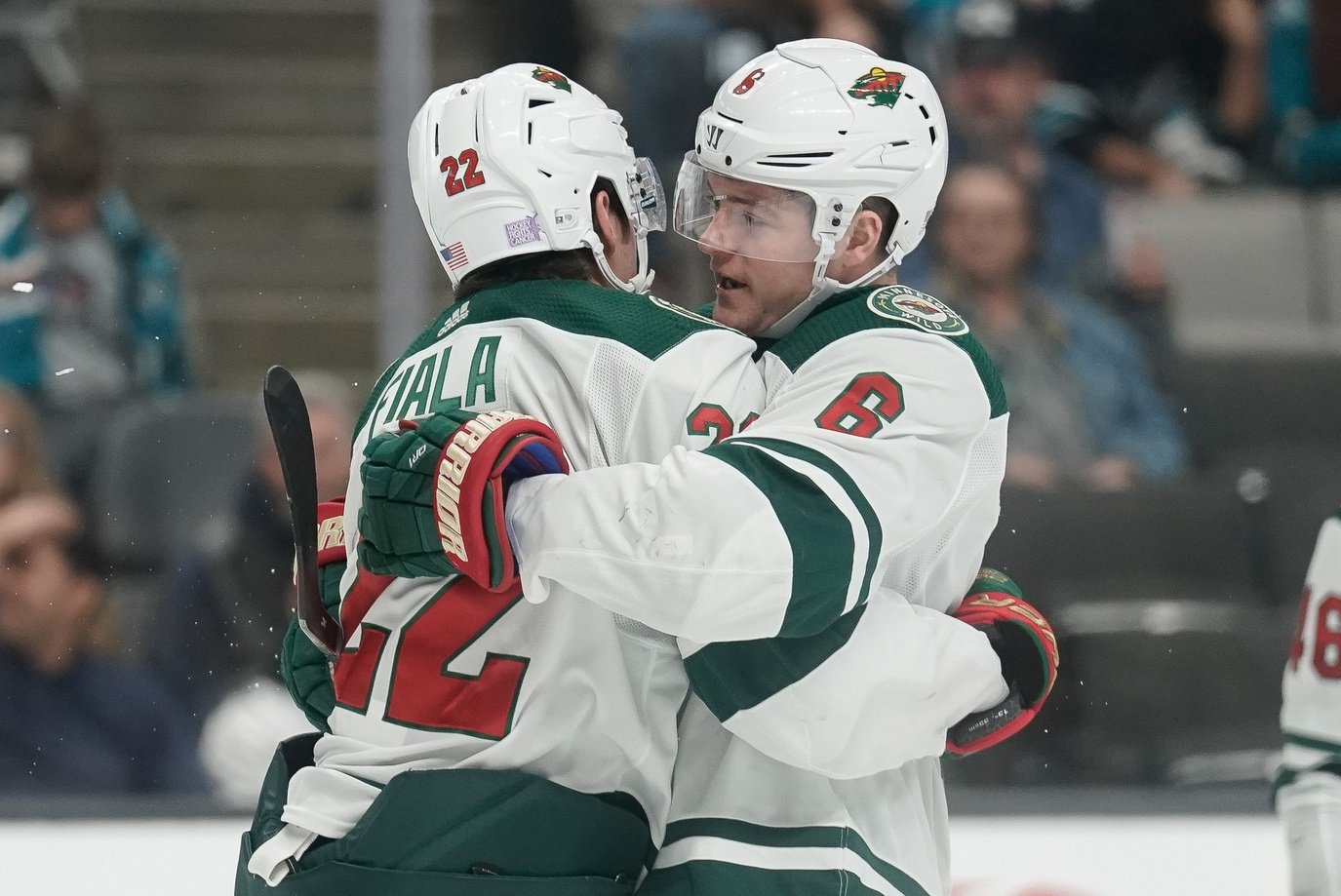 It has been over a year now since then Wild general manager Paul Fenton began to deconstruct the core of the roster by making three trades involving key players. At the time, the trades were not well thought of, as the Wild were deemed to be taken to task by the teams they were trading with.
Fenton, now a scout with Columbus, was criticized for merely trading one for one when he could have netted more in return for the players he was dealing away. He also apparently never even scouted players he was trading for in some instances. Big red flag.
But now that a year has passed and nearly a full season has taken place, let's take a look back and see how these trades have panned out for Minnesota and the teams they have traded with. We will look back at the trades in chronological order that they took place in.
January 17: Wild trade Nino Niederreiter to Hurricanes for Victor Rask
The first trade Fenton made continues to be the most head-scratching. Victor Rask was a fourth-line center/healthy scratch in Carolina, and Nino Niederreiter was an impactful winger in Minnesota who moved up and down the lineup. The move was and still is viewed as a complete flop on the Wild's end.
Since the trade to Carolina, Niederreiter played at an extraordinary pace to close out the 2019 season. He got top minutes in Raleigh, and had the production to go right along with those minutes. 30 points (14 goals-16 assists) in 36 games was how the Swiss winger finished the year with the Canes, and he helped them clinch their first postseason berth since 2009. Niederreiter's production tailed off in the playoffs, just tallying four points in the Canes run to the Conference Final.
This year has seen more of a struggle for Niederreiter. The following is some excerpts from Chip Alexander's piece on Nino in the Raleigh News & Observer from February:
For much of the season, Brind'Amour and the Canes have been waiting for Niederreiter, waiting for him to show the form and point-producing ability he had last season, after the January trade from the Minnesota Wild. It has been a months-long struggle for the Swiss-born winger, who has had a plethora of offensive chances but went into Friday's game with seven goals and 16 assists in 55 games.
Nor did it help that Niederreiter was late to the Canes' first practice after the long break for the NHL All-Star Weekend and the team's bye week. Brind'Amour made him a healthy scratch in the next game, Jan. 31 against the Vegas Golden Knights.
Niederreiter said the frustration has built throughout a season in which so little seemed to be going right.
"It's hard," he said. "It always helps when the team is winning, but when the team is losing it gets on your nerves even more. You want to be successful every single time you're on the ice. Sometimes it goes well and sometimes it doesn't. When things aren't going well, you try to change things up."
"There was a stretch of the season where I felt very good and the points didn't come and then you start getting frustrated, too, when you think you're playing well and you don't get rewarded for it," he said. "It takes a beating on your confidence."
Nino Niederreiter Carolina Hurricanes statistics
Scoring
Goals
Assists
Shots
Ice Time
Season
Age
Tm
Lg
GP
G
A
PTS
+/-
PIM
EV
PP
SH
GW
EV
PP
SH
S
S%
TSA
TOI
ATOI
FOW
FOL
FO%
BLK
HIT
TK
GV
Awards
2 yrs
CAR
NHL
103
25
34
59
4
62
18
7
0
3
23
11
0
218
11.5
400
1651
16:02
11
17
39.3
26
100
64
63
2018-19
26
CAR
NHL
36
14
16
30
7
20
11
3
0
1
12
4
0
103
13.6
184
658
18:17
10
14
41.7
7
48
29
21
2019-20
27
CAR
NHL
67
11
18
29
-3
42
7
4
0
2
11
7
0
115
9.6
216
993
14:49
1
3
25.0
19
52
35
42
As mentioned before, this trade has been a bust for Minnesota. Rask has been a fourth liner/healthy scratch for the Wild, and his performance in the 66 games he has played for the Wild since the trade cries, 'buyout' on the remaining two years of his contract following the conclusion of the 2019-20 season.
Fenton said after the trade, "You can never have too many centers." Well, he is correct. But he probably meant having good centers. Rask's play has yet to inspire anyone, and has yet to even inspire the coaching staff to give him consistent starts in the lineup if all the centers are healthy.
If NHL contracts would be allowed to be restructured, Rask would be a candidate to do so, as he could provide good depth for the Wild at a position of need moving forward., However that is not the case, and general manager Bill Guerin will likely have to jettison the $4 million cap hit over the next two years to make room on the roster for up and coming players along with acquisitions for the center position.
There is just not enough solid play from Rask in any zone on the ice to justify keeping him on the roster moving forward. Especially considering the paused season will affect the salary cap next season, which is reportedly tracking to stay at this seasons $81.5 million cap, Rask's contract will have to come off the books one way or another. Had the cap gone up, there might have been an argument to keep him on another season, but that is no longer the case.
While the next two trades have redeeming qualities for Fenton, this one will undoubtedly go down as one of the worst in Wild history, and will be a mark next to his name wherever he goes moving forward.
Victor Rask Minnesota Wild statistics
Scoring
Goals
Assists
Shots
Ice Time
Season
Age
Tm
Lg
GP
G
A
PTS
+/-
PIM
EV
PP
SH
GW
EV
PP
SH
S
S%
TSA
TOI
ATOI
FOW
FOL
FO%
BLK
HIT
TK
GV
Awards
2 yrs
MIN
NHL
66
7
9
16
6
10
7
0
0
2
9
0
0
68
10.3
114
731
11:05
213
243
46.7
12
41
17
14
2018-19
25
MIN
NHL
23
2
1
3
-1
4
2
0
0
0
1
0
0
30
6.7
51
280
12:11
93
91
50.5
4
15
4
9
2019-20
26
MIN
NHL
43
5
8
13
7
6
5
0
0
2
8
0
0
38
13.2
63
451
10:29
120
152
44.1
8
26
13
5
February 20: Wild trade Charlie Coyle to Bruins for and 2019 Fifth Round Draft Pick
Charlie Coyle had been another popular name in trade rumors as the Wild were looking to move his very team-friendly $3.2 million cap hit out. Coyle had always been a frustrating for Wild fans, as the high ceiling that was touted after the Wild acquired him in 2011 never came to fruition. In fact, his play often left more to be desired, particularly in the physical area.
But Fenton wanted to take the team in a younger direction, and he rolled the dice on Ryan Donato, a prospect for the Bruins that had fallen out of favor in their system and was stuck in Providence of the AHL.
Donato came on very strong for the Wild in his time from the trade through the end of the season. He had a team-best 16 points (four goals, 12 assists) in that time and also had a team-best 1.88 points per 60. It looked like the Wild had gotten a player that was boxed in and now finally released.
2019-20 was supposed to be Donato's first full NHL season (it still can be following the pause). But It was a very turbulent season for Donato, as he could never get above the fourth line and often was healthy scratched at times under then-head coach Bruce Boudreau. Donato had improved his P/60 rate, bringing it up to 2.09 which was fifth-best on the Wild roster at the time the season paused. However, again, Donato could never get above the fourth line for the season.
"It's a learning process," Dean Evason told the Pioneer Press in February. "He's just a young guy that hasn't gone through the process."
"He's obviously got natural talent to score goals," Evason said. "He's got to commit to the areas below the blue line and get pucks out, and stay below pucks in key points in games. He's learning that process. And it is a process. He's done great with it."
If Donato can improve his work in the defensive end, playing time should come along with it, and the hope that the offense can continue to go along with what he has done with the Wild. Minnesota could still getting the best of this trade as Donato has a lot of hockey still ahead of him, and there's potential for him to grow and get better.
Ryan Donato Minnesota Wild statistics
Scoring
Goals
Assists
Shots
Ice Time
Season
Age
Tm
Lg
GP
G
A
PTS
+/-
PIM
EV
PP
SH
GW
EV
PP
SH
S
S%
TSA
TOI
ATOI
FOW
FOL
FO%
BLK
HIT
TK
GV
Awards
2 yrs
MIN
NHL
84
18
21
39
1
16
18
0
0
2
14
7
0
159
11.3
311
1001
11:55
44
69
38.9
25
62
35
20
2018-19
22
MIN
NHL
22
4
12
16
-4
4
4
0
0
1
7
5
0
64
6.3
126
342
15:33
4
7
36.4
11
9
14
7
2019-20
23
MIN
NHL
62
14
9
23
5
12
14
0
0
1
7
2
0
95
14.7
185
659
10:38
40
62
39.2
14
53
21
13
Meanwhile, on the opposite side of the trade, Coyle got the chance to play for his hometown Bruins, and he certainly wants to make the most of this opportunity. Here is how Coyle has fared in Boston since the trade, from the words of Bruins writer Conor Ryan of the Boston Sports Journal.
The baseline numbers may not jump out when sizing up Charlie Coyle's tenure so far in Boston — 18 goals and 43 points over 91 games with his hometown club.
But given both the Bruins' lack of stability in the bottom six and vacancy to David Krejci's right, Coyle's arrival in February 2019 proved to be a godsend for a roster looking to put itself over the top for a playoff push.
Sure enough, the Bruins were able to roll out a viable third line come the 2019 postseason, with the trio of Coyle, Danton Heinen and Marcus Johansson often serving as a mismatch for whatever the opposition had cooked up.
Coyle ended his first season in Boston on a strong note, scoring nine goals and recording 16 total points over 24 playoff matchups.
Even if his scoring pace has slowed a little this season (16 goals, 37 points in 70 games), Coyle serves as one of Bruce Cassidy's most valuable (and versatile) cogs in the lineup.
While he's often best utilized as the third-line pivot in Cassidy's lineup, Coyle's size, hockey IQ and ability to both prolong O-zone possessions and generate high-quality looks (his average shot distance of 24.4 feet leads the club) has often led to him getting a look on the wing next to Krejci.
In fact, since arriving via trade from Minnesota over 14 months ago, Coyle has logged at least 50 minutes of 5v5 ice time with 13 (!) different Bruins forwards.
Even if the case could be made that the Bruins should entrench the Weymouth native in a more entrenched role with established linemates if/when the Stanley Cup Playoffs return, Coyle's ability to be a puck-possession force wherever he is slotted into the lineup gives Cassidy a multifaceted weapon that can exploit matchups wherever he is deployed.
"I think it wears you down and frustrates you," Cassidy said of Coyle's puck-possession efforts back on Feb. 15. "If you're an offensive line and watch a guy ragging the puck the whole time and getting to the net and you're wasting a lot of energy in your own end not attacking, I think it frustrates, and that can trickle down. You can start barking at your D for not being able to separate the guy from the puck or whoever's responsibility it is. That's as much as anything too. It gets the other team off their game. It takes them off their game if they're not completely focused, and then obviously, the natural part is the fatigue.
"It's no fun chasing around a man his size and trying to battle back pucks. You don't have much energy when you do get it. So, that's the important part. We'd like to see that line finish a little more, obviously. That's the next step if they can take it to the point where they can convert on their chances a little better, but his two wingers are young guys; they're still learning the ropes that way, so we'll see if that develops. If it does, then they're going to be really dangerous, whoever is on that line."
Charlie Coyle Boston Bruins statistics
Scoring
Goals
Assists
Shots
Ice Time
Season
Age
Tm
Lg
GP
G
A
PTS
+/-
PIM
EV
PP
SH
GW
EV
PP
SH
S
S%
TSA
TOI
ATOI
FOW
FOL
FO%
BLK
HIT
TK
GV
Awards
2 yrs
BOS
NHL
91
18
25
43
7
25
15
1
2
3
20
5
0
187
9.6
305
1511
16:36
422
488
46.4
45
99
59
50
2018-19
26
BOS
NHL
21
2
4
6
-2
4
2
0
0
0
3
1
0
42
4.8
65
336
15:59
96
115
45.5
11
16
11
17
2019-20
27
BOS
NHL
70
16
21
37
9
21
13
1
2
3
17
4
0
145
11.0
240
1175
16:47
326
373
46.6
34
83
48
33
February 25: Wild trade Mikael Granlund to Predators for Kevin Fiala
At the trade deadline, Paul Fenton went back to the trade well and brought in a prospect - Kevin Fiala - he had a hand in picking when he ran the draft table in Nashville. The problem at the time with the trade, was that Fenton was parting ways with the Wild's leading scorer from the past two seasons in Mikael Granlund. He parted ways with Granlund for Fiala straight up. Nothing else. It felt like a large undersell.
Fiala came into the Wild, and underwhelmed for the 19 remaining games of the season. Fiala got elevated minutes in those games - 17:38 ATOI with the Wild as opposed to 15:03 ATOI in Nashville - but he only managed to score three goals and four assists. He was going solid enough at generating scoring opportunities in his time with the Wild, he just could not find the net as often as they liked.
After signing a two-year, $6 million contract over the offseason, Fiala came into camp in great shape and look poised to make an impact on the Wild roster. However, it was anything but for the Swiss winger as he got off to an incredibly slow start, scoring just one assist in the month of October. One assist. No goals.
Not the way he wanted to impress his new team that was putting a lot into his stock.
But once the calendar flipped to November, Fiala's game began to take off, and oh boy did he take off. Since November 1, Fiala has scored 23 goals and 30 assists, and his highlight reel goals have made him a game breaker - go figure - that the Wild have desperately needed over the past decade.
In fitting Wild fashion, some strange circumstances took place - COVID-19 outbreak - that halted Fiala's breakout season. But (if) when the season resumes, the Wild will be going right back to Fiala on their top line, as he was averaging over 18 minutes a night in the month of March.
At the age of 23, and the prospect of Kirill Kaprizov joining the Wild on the horizon, the Wild have a seemingly bright offensive future with potentially two game-breakers on the roster when they spent the entire 2010 decade searching for one.
Kevin Fiala Minnesota Wild statistics
Scoring
Goals
Assists
Shots
Ice Time
Season
Age
Tm
Lg
GP
G
A
PTS
+/-
PIM
EV
PP
SH
GW
EV
PP
SH
S
S%
TSA
TOI
ATOI
FOW
FOL
FO%
BLK
HIT
TK
GV
Awards
2 yrs
MIN
NHL
83
26
35
61
-13
52
16
10
0
5
23
12
0
218
11.9
388
1321
15:55
2
10
16.7
21
39
46
50
2018-19
22
MIN
NHL
19
3
4
7
-12
10
2
1
0
1
1
3
0
43
7.0
76
335
17:38
0
3
0.0
3
14
13
15
2019-20
23
MIN
NHL
64
23
31
54
-1
42
14
9
0
4
22
9
0
175
13.1
312
986
15:24
2
7
22.2
18
25
33
35
Now that Fiala has turned into what could very well be a rising star for the Wild, let's look at how his trade counterpart, Mikael Granlund, has fared in Nashville since the trade 14 months ago.
Offering up a description of Granlund's 14 months in Nashville is Jeremy Gover who covers the Preds for TheGameNashville.com.
Mikael Granlund has been an invaluable piece to the Nashville Predators' puzzle... since the coaching change.
For whatever reason, the two-time 65+ point scorer didn't impact the scoresheet as much as he was accustomed to when he was first acquired from Minnesota by Nashville, leading to disappointment by all parties. He was given a mulligan from the fan base since it was generally accepted that there were off-the-ice reasons for the decline. Not only had he never been through a trade before but, on the day of the deal, his wife was giving birth to their first child. In short, a lot was going on both emotionally and mentally. He finished with just five points in his 16 games in Music City during March and April 2019 and then only two points in their first-round playoff loss to the Dallas Stars.
Once 2019-20 started, expectations were high for Granlund in gold. Yours truly predicted a 70-point season out of the Oulu, Finland native knowing he'd be skating alongside Filip Forsberg and Matt Duchene. Instead, he still struggled, registering just 14 points in the 35 games this season with Peter Laviolette behind the bench. In the 28 games since John Hynes took over? Granlund has 16 points, including
of the season. When the campaign resumes -- however it resumes -- he'll be one of the most important players for Nashville and there's a genuine hope he'll be re-signed once his contract ends this summer.
Mikael Granlund Nashville Predators statistics
Scoring
Goals
Assists
Shots
Ice Time
Season
Age
Tm
Lg
GP
G
A
PTS
+/-
PIM
EV
PP
SH
GW
EV
PP
SH
S
S%
TSA
TOI
ATOI
FOW
FOL
FO%
BLK
HIT
TK
GV
Awards
2 yrs
NSH
NHL
79
18
17
35
-10
32
13
4
1
4
13
4
0
159
11.3
269
1392
17:37
90
99
47.6
62
60
29
36
2018-19
26
NSH
NHL
16
1
4
5
-6
4
1
0
0
0
2
2
0
29
3.4
53
270
16:54
17
22
43.6
7
18
5
2
2019-20
27
NSH
NHL
63
17
13
30
-4
28
12
4
1
4
11
2
0
130
13.1
216
1122
17:48
73
77
48.7
55
42
24
34
At the time they were made, the trades were not well thought of on the Wild side of things. But now that *some* time has passed and players have settled into their new environments, the Wild and Fenton may not have done so bad as folks previously thought.
Things may change again before all is said and done, but right now, the Wild may have been set up to be much better off for the future.
http://zonecoverage.com/wp-content/uploads/2016/05/itunes.jpghttp://zonecoverage.com/wp-content/uploads/2017/05/Podcast-header-Image-City-1.jpg