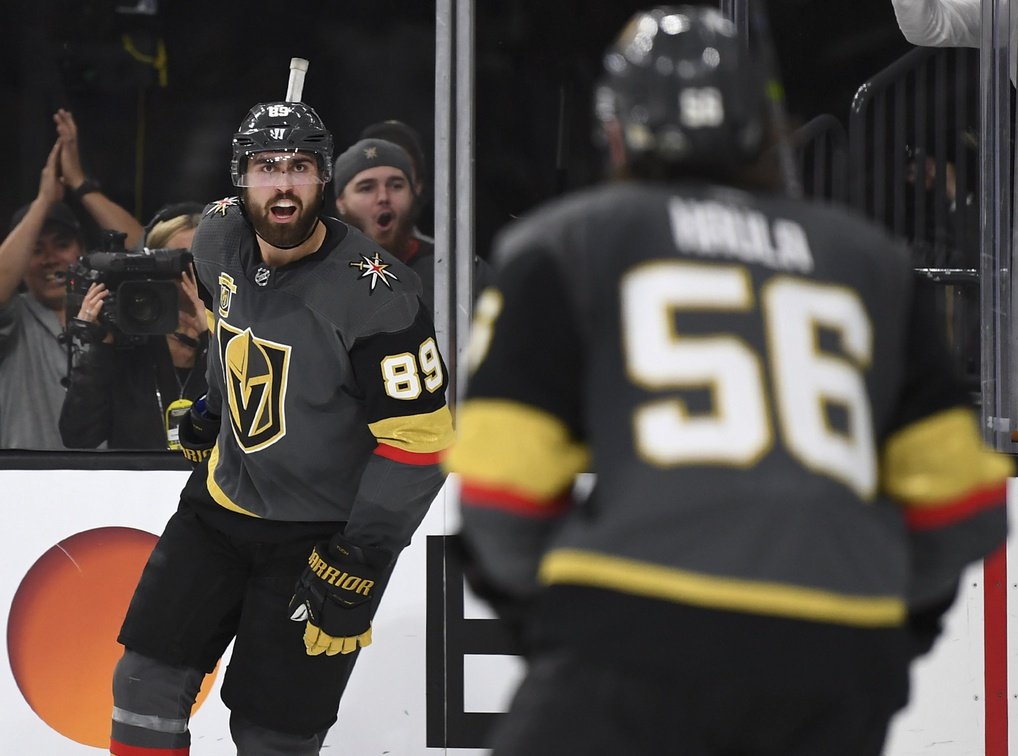 This Sunday will be the third anniversary of the Vegas Expansion Draft. It was a much-dreaded moment in Minnesota Wild history. The Wild were coming off arguably their best season ever and boasted a deep team on offense and defense. Along came Vegas to pluck a player off Minnesota's roster. The Wild could protect its best players, but losing a key member of the team was inevitable.
Then-general manager Chuck Fletcher struck a deal with Vegas at the 11th hour. Vegas would select center Erik Haula, who finished 12th on the Wild with 26 points the previous year. In exchange, the Golden Knights received Alex Tuch. Tuch was Minnesota's first-round pick in 2014, but didn't impress then-coach Bruce Boudreau in a six-game cup of coffee.
Minnesota accomplished its goal. They didn't lose anyone they felt they couldn't replace. But the years since have proven Minnesota couldn't escape the pain of losing a valuable player.
That became apparent immediately. Haula scored 29 goals and Tuch put up 37 points as a rookie during Vegas' inaugural season. The team results didn't make this look favorable for the Wild, either. Vegas famously went to the Stanley Cup Final, while Minnesota was bounced in the first round.
Fletcher was fired 10 months after the Expansion Draft, and it's impossible to not think that had a hand in the decision. At successor Paul Fenton's introductory press conference, owner Craig Leipold half-joked that the result would not happen again at Seattle's upcoming Expansion Draft.
Leipold's jab at Fletcher reflects the bitterness that many Wild fans feel towards the expansion decision. Haula's had injury issues since his 29-goal season, but the former Golden Gopher was a fan favorite in Minnesota. Tuch also struggled last season, but just turned 24 and already has a 50-point season under his belt. Meanwhile, Minnesota traded its crop of protected young forwards out of the organization.
But is this bitterness warranted? Let's take a look at the Wild's decision three years later and ask what Minnesota's options were, and whether they botched the decision.
The Dilemma
So what were the decisions Fletcher had to make? Minnesota could protect one goalie, and either a combination of seven forwards and three defensemen or eight skaters at any position. Any player with a no-move clause had to be protected. This meant that forwards Zach Parise, Mikko Koivu and Jason Pominville as well as defenseman Ryan Suter were locked into four of these slots.
This greatly restricted Fletcher's flexibility in navigating expansion. Effectively, he could only protect four forwards and two defensemen. And he had tough decisions to make at both positions.
The 2016-17 season saw his young forwards all break out at the same time. Mikael Granlund led the team with 69 points. Nino Niederreiter and Charlie Coyle scored 57 and 56 points, respectively. Jason Zucker had a season where his impact was undersold by his 47 points. And while all four of these young players could be protected, they couldn't do that and protect Eric Staal. Staal was 32 but came off a renaissance season where he put up 28 goals and 65 points. Fletcher and the Wild could hardly afford to lose one of his two impact centers.
And on defense? This was a nightmare. Minnesota would never have considered giving up Jared Spurgeon, arguably their best defenseman. That left them deciding between giving up 24-year-old Jonas Brodin or 23-year-old Matt Dumba.
Minnesota entered the 2017 Stanley Cup Playoffs a favorite to win the West. This wasn't a time to think about the future. Their Cup window was then, and would be closing soon. It was a terrible decision to make, and the timing couldn't have been worse.
The Aftermath
We know what happened with Tuch and Haula. Tuch is a solid building block for a Vegas team that's a perennial contender. Haula will hit the free agent market and likely play for his fifth team in five years.
We also know the fates of the players the Wild traded that duo to protect. Minnesota would trade Granlund, Niederreiter, Coyle and Zucker. Staal is still with the Wild, putting up 50-point seasons. Spurgeon, Brodin and Dumba are all with the Wild, part of a blue line that is the team's strength.
It's easy to say in hindsight "If Minnesota was going to trade [young forward] anyway, they should have just did that at the Expansion Draft and kept Tuch." But Fletcher couldn't have predicted that mass exodus, and could only go off the information he had at the time.
Does that mean it's unfair to evaluate his decision? Of course not. But we're going to look at what each player did in the last three years, whether that time was with Minnesota or another team. We'll use Evolving Hockey's Standings Points Above Replacement. Here are the 10 players that factored into the decision, and how many standings points they were worth since the Expansion Draft.

It's a tough decision to this day. Zucker and Staal both rated as solidly top-line caliber players. Coyle, Tuch, Granlund and Niederreiter all are easily top-six forwards. Spurgeon and Brodin are among the 15 best at their position, and even Dumba's injury woes couldn't prevent him from rating as a first-pairing defenseman. Only Haula lags significantly behind this group.
Going by the numbers we have in hindsight, we can say what "should" have happened. Niederreiter needed to be the odd man out, protecting Zucker, Staal, Coyle and Granlund. Fletcher should have protected Spurgeon and Brodin at the expense of exposing Dumba. Tuch would have been exempt because of his prospect status, and thus still on the team.
But do the numbers even make the right decision here? Vegas surely would have selected Dumba and made him its No. 1 defenseman. And Dumba put up 50 points playing behind Spurgeon in 2017-18, then was well on his way to a 20-goal season the following year before a season-ending injury.
How much more damage could he have done playing 24 minutes a night and quarterbacking a power play for the high-scoring Golden Knights? Would Wild fans have been comfortable with making such a sacrifice if it meant keeping Tuch, or would they bemoan the loss of the next Brent Burns? What percentage of the State of Hockey would want to go back in time and make some kind of arrangement to prevent losing Dumba?
It's possible and defensible to wish the Expansion Draft played out differently for Minnesota. Reasonable people can disagree on who is more valuable going forward, a young power forward in Tuch, or a top-pair quality defenseman in Brodin or Dumba.
But anyone still bitter towards Fletcher for botching this decision owes him an apology. There was no way to "win" the Expansion Draft. There was simply no way out of losing a good player. And realistically, the difference between the best-case scenario and what happened cost Minnesota one standing point worth of value per season. It's not ideal, but hardly the blunder most make it out to be.
Thankfully, Minnesota looks like they'll have an easier time for Seattle's Expansion Draft, which takes place next year.