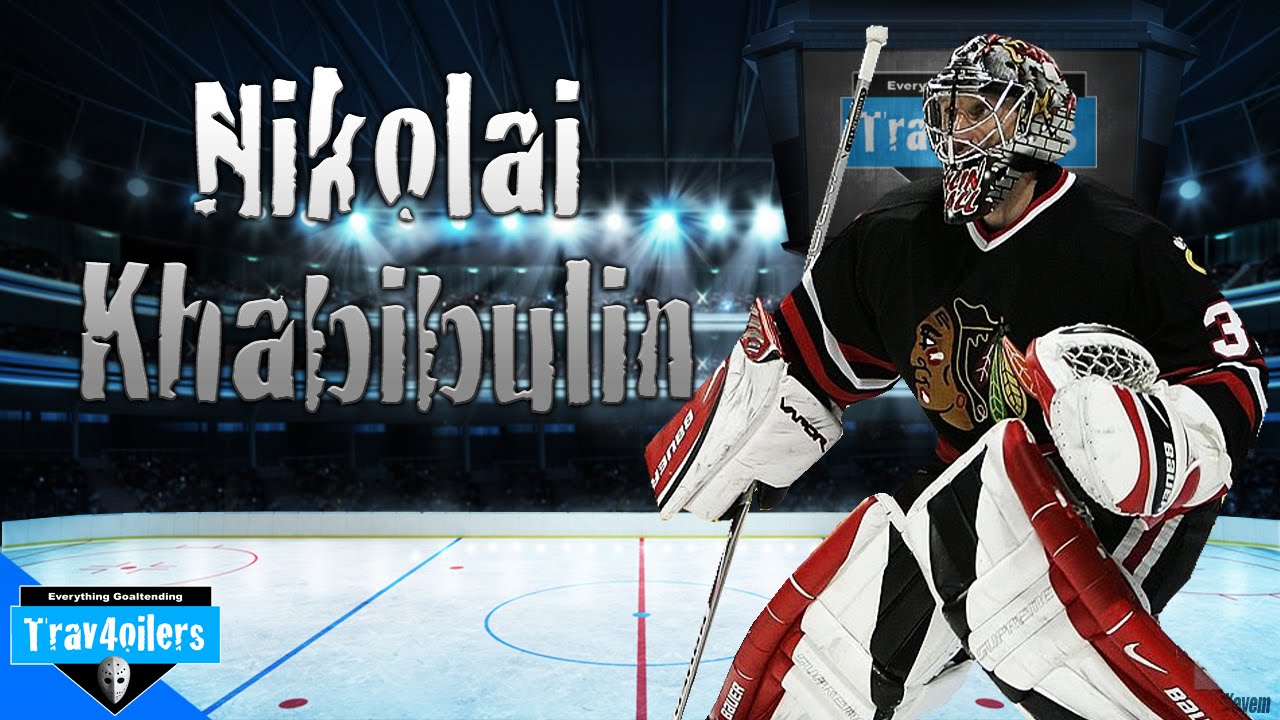 We keep rolling along with the top-100 goalie masks of all-time. Here are Nos. 80-71.
See The Top NHL Goalie Masks 90-81
80. Gary 'Suitcase' Smith, Washington Capitols

Gary 'Suitcase' Smith earned his nickname through his many travels, playing with seven NHL clubs at a time when it was somewhat uncommon to play for more than two. For whatever reason, Gary also seemed to think he had the nickname 'Axe', which is much more intimidating than 'suitcase', and led to this mask that is downright menacing. It shouldn't be surprising that Smith had a dark or quirky side, given his penchant for doing odd things in and out of the net, like punting a puck during gameplay, or allegedly driving home from the arena still wearing his equipment.
79. Nikolai Khabibulin, Edmonton Oilers
http://4.bp.blogspot.com/-bhYfVhYtIhQ/TWXhcQ63RXI/AAAAAAAABzI/OAOS5U2nUk8/s1600/edmonton-nikolai-khabibulin.jpg
Nikolai Khabibulin was a fixture in the NHL for years, and a fixture on his masks, especially later in his career was his 'Bulin Wall' gimmick, featuring some kind of wall art, to go with the usual team related references. Although references to the Berlin Wall in a good light are rather odd, especially for a Russian netminder, I like the idea behind it, given goaltenders and the whole 'brick wall' cliche. This Oilers version of Khabibulin's Bulin Wall I especially like, because he pays tribute to the great Grant Fuhr before him on both sides of the mask, featuring Fuhr's two different mask designs from his legendary time in Edmonton, along with a double-headed eagle on top representing Nikolai's homeland of Russia.
78. Ron Hextall, Philadelphia Flyers
http://www.flyershistory.com/images/goaliemasks/hexy4.jpg
Ron Hextall was also a fixture in the NHL through the 90's, so much so, that he now is the General Manager for the team he starred for. Hextall had several good Philly featured masks, but I love this simple designed mask featuring wings from the logo down the length of the mask, and just for good measure, an arrow coming down the top. The arrow doesn't make a ton of sense, since I'm sure Ron knew which direction to face, but I have to admit it is a good simple look, and one that he liked so much he did again, by simply flipping the color scheme to black.
77. Niklas Backstrom, Minnesota Wild
http://a.espncdn.com/photo/2010/1002/nhl_goaliemasks15_800.jpg
Niklas Backstrom had a great run in Minnesota, and his mask run wasn't half bad either. Backstrom had some duds in there too, but all in all, had some pleasantly simply masks that captured what the clueless executives were trying to capture when they named the team- the great Minnesotan Wilderness. My favorite feature of this mask is the nicely done claw coming through and shredded the mask, but I mostly like how the three individual claws mirror that of the three crests on a goalie helmet. If you've ever held a goalie mask, you know what I mean.
76. Ed Staniowski, St. Louis Blues

Much like Wayne Stephenson earlier in the countdown, Ed Staniowski made use of the round objects in his team's logo to fashion eye holes for himself on his mask, which looks great with the two Blues logos facing each other. The interesting part for me is the tear drop under the left eye, which hopefully doesn't represent killing someone in prison or something, and is more likely a sad tribute to someone he knew. Or he killed someone in prison.
75. Kirk McLean, Carolina Hurricanes
http://www.goaliesarchive.com/files/masks/masks/mclean.jpg
Kirk McLean, known much more for his time in Vancouver and his iconic simple mask there, stuck with the simplistic theme for a late-career cameo with the Carolina Hurricanes. I really like the clean look of this mask, and how he used the Hurricane warning flags that were all over the team's jerseys to create a mask that was simple, but oh so cool.
74. Mike Dunham, New Jersey Devils

Mike Dunham was best known as Marty Brodeur's backup during his 90's heyday, but also may be known for this super wicked, detailed Devils mask. Dunham pushed the boundaries of horror and hockey with this forked tongue glowing eyed demon, and ended up with a pretty cool look. This was at a time when scary mascots were all the rage, and masks that were heads with open mouths were very much en vogue too, and Dunhams still managed to stand out in the crowd because it was so well done.
73. Carey Price, Montreal Canadiens
http://30fps.mocksession.com/wp-content/uploads/2011/02/2011-February-20-19-55-401.jpg
Carey Price has had many, many masks during his time with the Canadiens, but none may be cooler than this Jacques Plante tribute that he wore during the Heritage Classic in 2011. Plante was the original innovator of the goalie mask in many people's opinion, and Price's mask replicates the fellow Habs netminder's look on a modern helmet about as well as you could hope.
72. Ken Dryden, Montreal Canadiens
http://www.thcvintagemask.com/sitebuilder/images/dryden5-418x502.jpg
Ken Dryden is undoubtedly one of the greats of the game, and his mask from a simpler time doesn't disappoint either. What may look like a red circle and a blue circle is actually the outline of the Montreal Canadiens famous logo layered on top of each other. Dryden was a very intelligent backstop, so it's not surprising that his mask remains understated and with subtle meaning.
71. Alexander Auld, Montreal Canadiens

Tribute masks are usually a pretty dicey thing to try, not because your heart is in the wrong place, but simply due to using likenesses more often. However, this tribute mask to the legends of Montreal Goaltending looks great, as he pays homage to Dryden with the red and blue stripes, and also Plante with his iconic locker room photo, taking off his mask to reveal his battered face. Auld, unfortunately, missed the mark a bit on the Habs logo portion of Dryden's mask, but perhaps wanted to leave them smooth, since they're revealed to be banners on the other side of the mask.
See The Top NHL Goalie Masks 70-61
---
Never Miss an Episode of Giles & The Goalie!