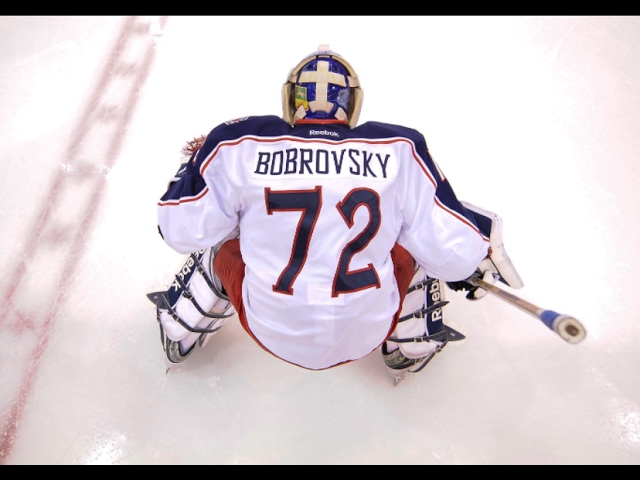 Don't miss our previous lists, which can be found here.
Now, onto the list:
60. Ryan Miller, Buffalo Sabres
http://www.gameusedmasks.com/masks/miller_match_1.jpg
While I'll always be the biggest fan of Dominik Hasek wearing this jersey (who didn't make this list for obvious reasons), Ryan Miller's early years in the black and red Sabres jerseys looks pretty damn good. While he may be better remembered for his mask when Buffalo changed colors... and... logos... the black and red mixed with some chrome matches the short-lived Sabres logo and jerseys amazingly, while that blue and yellow just reminds me of a time we'd rather forget.
59. Pekka Rinne, Nashville Predators

Pekka Rinne has had quite a few masks during his time with the Nashville Predators, and a vast majority of them are of the scary monster variety, with the exception of his Star Lord mask this season, and this mask from 2014. The mask was actually designed by a fan, which is pretty cool, and unsurprisingly from a Nashville native, it features everything the about Smashville that you'd expect, and creates a pretty cool tribute to a city that had its hockey breakout party this season during the Cup Final.
58. Gary Simmons, California Golden Seals

Gary Simmons' nickname was 'The Cobra' for reasons probably not G.I. Joe related, I'm hoping. But given the option, I'm glad he went with a nickname that didn't really match his team name or uniform colors, given his team name and uniform colors. This was during the infancy of scary goalie masks, so Simmons was one of the pioneers in that regard, and even though this mask couldn't match his jersey any less, there's plenty of points for innovation here.
57. John Garrett, Quebec Nordiques

Garrett already made this list once for his wonderful Hartford Whalers mask, which was very simple, but celebrated that beautiful logo properly. This Nordiques mask is more of the same, but even better looking yet. Garrett also had a pretty sweet Canucks mask that didn't make the list, but perhaps should have.
56. Frederick Andersen, Toronto Maple Leafs
http://storage-cube.quebecormedia.com/v1/thn_prod/the_hockey_news/a47851e7d59929e38181f287072c82311b491f28/14976813-10154685416204819-8676423345760724274-o.jpg
Leafs goalie Frederick Andersen has long been a fan of The Lego Movie and especially Lego Batman. While that's cool, it's even cooler given his native Denmark is the birthplace of those little building blocks I poured my childhood into. Given all that, this mask has everything you want in a mask. A heaping helping of personal touch, a very big nod to the team (the 100th anniversary patch on the sides), and the city itself even being represented (note the CN Tower). If your mask is something that an eight-year-old can dig, and makes Drake tear up at the same time, you're probably doing something right.
55. Richard Bachman, Vancouver Canucks

Richard Bachman hasn't had a tremendously decorated career with the Canucks, but man, the dude has had some great masks in Vancouver. With the exception of his weird fascination with The Shining, he seems to really get simple design. As I've mentioned before with Roberto Luongo's mask, the Canucks really don't feature Johnny Canuck nearly often enough, and he should be incorporated into their jerseys rather than a grinning orca whale.
54. Mike Smith, Arizona Coyotes
http://assets1.sportsnet.ca/wp-content/uploads/2017/01/Mike_Smith-1040x572.jpg
Mike Smith has had some great masks features Wile E. Coyote during his time in the desert, but eclipsing that is this 'Robo-coyote' or 'Kachina Coyote' from the Yotes' beautiful inaugural jerseys. Amazing, nothing like this has ever been done before, even when the Coyotes donned the much better looking jerseys of yesteryear. In that regard, I like this mask even more, because Mike Smith is basically saying, hey, team, our logo sucks so much that I'll be using our sweet old one for my primary mask, because you can't rename the city of my mask, or make it look like it's crying.
53. Chico Resch, New York Islanders

Glen 'Chico' Resch made this mask iconic for not only Isles fans, but for entire NHL. The former UMD Bulldog represented Long Island in a big way by painting it on his forehead. In the early days of mask painting, this was a very cool local touch, so much so that Resch's mask has reached cult status with Isles fans and future goalies alike. Adding to the legend was his later mask featuring himself wearing this mask. Inception.
52. Sergei Bobrovsky, Columbus Blue Jackets

Sergei Bobrovsky gets it. The Blue Jackets identity is centered around that freakin' cannon, and it should be forefront on all of the team's branding. Why the team doesn't get this, I'm not sure. Adding some awesome and fun personal touches to the mask is that on one side, Goalie Bob has a Russian nesting doll lighting off the trademark cannon, and on the other side, Stinger, the Blue Jackets mascot leftover from previous poor decisions, is firing one-off. The classic chin nickname and team themed trim just tops out the good look of this simply designed but effectively branded mask.
51. Jocelyn Thibault, Montreal Canadiens
http://www.goaliesarchive.com/files/masks/masks/thibault2.jpg
Jocelyn Thibault was a mainstay of NHL goaltending for many years, and had some solid masks at his various stops. However, this Canadiens mask that Thibault used for years was a unique look all its own. Before putting an old mask on top of your mask was cool, Thibault did it his own way, and rather than bothering with trying to make it look life-like, he used the proud Bleu, Blanc and Rouge of the Habs to make a very Montreal Canadiens mask. Thibault was *almost* the first guy in the NHL to put an old school mask on top of his new school mask, but he was probably the one was pioneered the style, and even if it's been done to death, this was a great look.
---
Never Miss an Episode of Giles & The Goalie!