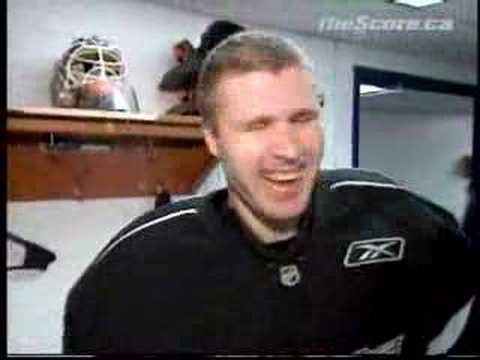 The Top-100 Masks series is nearing its epic conclusion.
See Masks 30-21 here.
20. Henrik Lundqvist, New York Rangers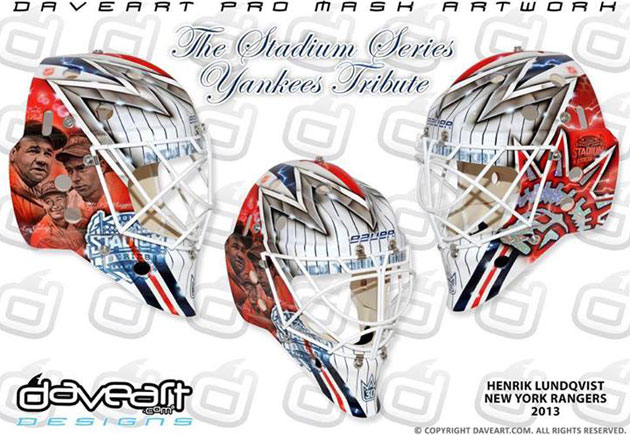 I know what you're thinking. "Blegh, the Yankees, I HATE those guys!" Well, that's fair, but this mask is one of many, many, many masks that Henrik Lundqvist has featured with very cool meaning. Please, set aside about two hours of your time today, and google 'Henrik Lundqvist mask', if not for me, for Giles Ferrell. I really enjoy the idea behind all of Lundqvist's designs, as he's stuck with a somewhat consistent look, but has also allowed David Gunnarsson to go wild making each mask very different at the same time, culminating in a TV series and several themed masks a few years ago. Lundqvist may not have one particular mask that knocks everyone's socks off, but there are so many great looking masks, it's impossible not to honor what he's had.
19. Ilya Bryzgalov, Anaheim Ducks
http://1.bp.blogspot.com/-1w0VS5xePz4/VL1ad54R_eI/AAAAAAAAUCU/TiDlJYxwF78/s1600/10675653_10152930881114819_290727731146382634_n.jpg
Bryz is a legend. Not necessarily in the classic sense, but more in the 'reinforcing all goalie are f'n crazy' sense. This mask is a tribute to that, where late in his career Bryz was running out of NHL options and got one last chance from the Ducks. With this opportunity, Bryz did what anyone else would do, commissioned a mask with a cartoon duck that perhaps isn't as well-known as other famous ducks, but maybe more fitting. Bryz had a solid history of fun masks before that, especially ones featuring other cartoon ducks.  Bryz has always been one of a kind, but even for him, this mask stands out.
18. Corey Hirsch, Vancouver Canucks
http://l.yimg.com/j/assets/p/sp/editorial_image/b9/b91733debc5f2b0bb12ee19c410d77b4/the_seven_hollywood_movieinspired_goalie_masks_we_seriously_dig.jpg
When I was younger, I'll be honest, I didn't much care for this mask. A hotel from a scary movie on a goalie mask? That's cool if you're the world's biggest Hitchcock fan, but I wasn't ever sure how much that intersected with hockey fans.
That all changed for me when Corey Hirsch wrote his piece in the Player's Tribune about his struggles with mental illness. It's a fantastic read, and gained me more appreciation for this mask than I could ever imagine. I've had my own struggles, and Corey's story and his explanation of his mask during that time, as 'his little secret', was relatable beyond anything I had ever encountered just looking at the surface of a goalie mask before. Corey's story is an important one, and I strongly encourage you to read it and then take a good hard look at this mask.
17. Steve Shields, Boston Bruins

The old-school mask on my new-school mask craze has been going on for some time, and there have been some great examples, but none better than Steve Shields during his time with the Bruins. Shields paid homage to one of the all-time great masks with this one, and much like other times it has been done, did so with much respect and a well-done paint job.
16. Gerry Cheevers, Boston Bruins
http://www.athletespeakers.com/upload/images/speakers/2022/267x267_Gerry%20Cheevers.jpg
And that old school, all-time mask is Gerry Cheevers. Cheevers was the first goaltender to ever decorate his mask, and the story behind it can only come from 1960's hockey. In a nutshell, the team trainer put a 'stitch' on the mask each time Cheevers was struck in the mask, which brought his mask from barely decorated, to full on overcrowded in short order. Cheevers' personality and the lore behind only propelled this mask further, to the point where it's a pop culture icon and was very deserving of Steve Shields' tribute. As far as innovation goes, it's off the charts, not only in being the first decorations, but the manner in which the mask was decorated.
15. Cam Talbot, New York Rangers
http://4.bp.blogspot.com/-vGEfP2IWU7M/VevGW2rB-oI/AAAAAAAAU1Q/lWIwu2yHkWk/s1600/New-York-Rangers-Cam-Talbot-goalie-mask.jpg

 

I'm not exactly sure why I enjoy this mask as much as I do, but I'm very certain a large portion of that enjoy is linked to how much I enjoy the Ghostbusters movies. Cam Talbot is apparently also a fan, and when he got to New York, made it a priority to feature the Manhattan-based ghost hunters on his masks. Now, I love this, not only because of the comedic stylings of

, but because it's very New York. New York was not just a generic setting for Ghostbusters as much as it was central to all of the movies, and I really enjoy that aspect of his masks there. Since, then, he's taken the Ghostbusters to Edmonton for some reason, probably trying to scare away the ghost of Oil Change.
14. John Vanbiesbrouck, New York Rangers

John Vanbiesbrouck is one of my all-time favorites, and part of that is due to his masks. The Beezer always had a great touch with his designs, and his most well-known Rangers mask is a shining example of that. Taking his nickname and the famous city he played in and combining them for a very cool looking mask is what this list is all about. Vanbiesbrouck also incorporated the bees into other Rangers masks that were almost as cool, but the aggressive bees on a beautiful backdrop of the Twin Towers, Chrysler Building and Empire State Building just couldn't be beaten. Now bees in Manhattan probably isn't anyone's idea of a good time, but it did make for a memorable and beautiful mask.
13. Ken Wregget, Pittsburgh Penguins

If you thought "There's no way I'll see the likeness of Danny DeVito in this series of hockey articles," I'm afraid you're dead wrong, dear reader. The 1992 Batman Returns movie sparked a brilliant idea for Wregget, who chose to put the villainous Penguin on the crest of his mask soon after. DeVito's Penguin was a well done dark interpretation of the classic Batman foe, and the same can be said for this mask, which now resides in the Hockey Hall of Fame. Wregget lightened up the mask a touch with some (classic 90's) black and yellow confetti down the sides, along with the underappreciated flying penguin logo on the chin, and even though it dates the holy heck out of this mask, I actually kind of like the rest of the mask aside from the very fitting tribute on the top.
12. Brian Hayward, San Jose Sharks

One the most memorable masks of all time was the mask that won the first ever game for the San Jose Sharks, worn by Brian Hayward. Taken in the expansion draft from the North Stars, Hayward would jump feet first into the Shark theme and give us one of the best animal head masks ever, not only in that it was one of the first, but in that it just looked so great, and the Sharks mouth fits around the cage of goalie mask so adeptly. Hayward actually wore two versions of this mask for some reason in that first season, the latter omitting the Armadillo masks logo from the chin and dialing it back on the shark gums. Either version is terrific, and a great use of the opportunity Hayward had being one of the first goaltenders to be able to put a shark on his mask, which for some reason, hasn't really been the case since.
11. Steve Baker, New York Rangers
http://www.thcvintagemask.com/stevebakera3.jpg
As I touched on earlier in the list, the advantage of the old-school masks that featured molded eye holes instead of a cage was the real estate between the eyes it provided to decorated. Steve Baker took full advantage of that space and had a striking Empire State Building painted on his mask coming to a point with a star. While it's a simple design, it's an absolutely gorgeous one, and a fitting monument to the city of New York. The goalie mask tradition is rich in New York, and Baker was one of the first.
The series wraps up later this week with the Top-10 Masks
---
Never Miss an Episode of Giles & The Goalie!