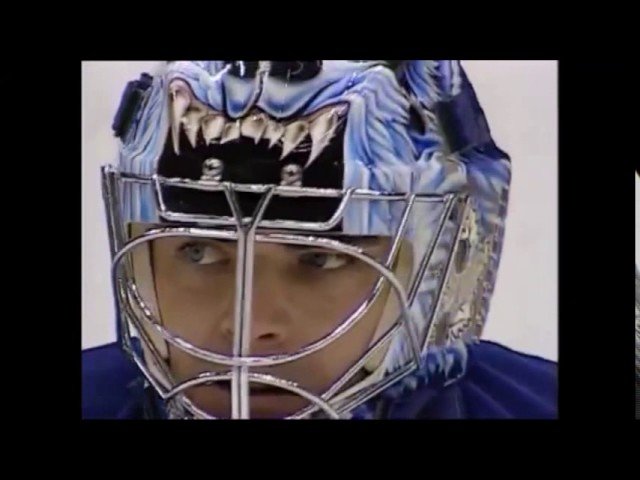 The Top-100 masks series ends today. I've had as much fun actually writing these articles as I had putting together my list, which is saying something. It's a passionate topic for me, and hopefully that passion has come through a little bit in this series.
See masks 100-91 here, including a Hall of Famer I've been told I ranked way too low.
See masks 90-81 here, including masks featuring Batman, Buddy the Elf and Chuck Norris.
See masks 80-71 here, including tributes to a couple of Canadiens legends.
See masks 70-61 here, including a link to a story about frozen tennis balls and my father.
See masks 60-51 here, including several current netminders and a few classics.
See masks 50-41 here, including Darren Pang, Muppets and Cartoons.
See masks 40-31 here, including a Gilles Meloche Pizza Hut commercial.
See masks 30-21 here, including my favorite goalie ever.
See masks 20-11 here, including several New York Rangers greats.
And now...onto the Top 10.
10. Murray Bannerman, Chicago Blackhawks

The Chicago Blackhawks logo is a thing of beauty, and that's not really debatable. So when Murray Bannerman turning the classic logo 100 percent into a mask, it made for a very cool look. Bannerman kept the mask predominantly white, but copied every single, solitary marking from the Blackhawks logo, as he was able to do with a mask that covered most of his face. The result is a phenomenal looking mask that captures the concept of matching your mask to your jersey in a way that is nearly impossible to match.
9. Patrick Lalime, Ottawa Senators
http://3.bp.blogspot.com/-pwj2uUBN0qU/Tj3sNcDiI2I/AAAAAAAACHo/qn752wRauxw/s1600/patrick-lalime-senators-mask.jpg
The Ottawa Senators lacked a fair amount of imagination when they debuted their first logo (and since then, for that matter), but luckily Patrick Lalime did not. Lalime took a good hard look at the Senators logo of the time and saw not a gladiator or statesman of some kind, but rather, Marvin the Martian. While the similarities only really reside in the helmet, it was a stroke of genius, and a tremendous livening up of an otherwise boring team to decorate your helmet around. However, why on earth Lalime kept Marvin with him at all of his later goaltending stops is beyond me, as he had other good mask ideas before.
8. Stephane Fiset, Quebec Nordiques
http://i19.photobucket.com/albums/b154/spyboy1/TSG%202015/stephane-fiset-nordiques-mask.jpg
There's just something very cool about Fiset's Nordiques mask, and I can't quite put my finger on it. It's a very simple design, with just a logo and ice blocks, but something about it just looks great. The ice blocks are well done, the Nordiques logo looks great, and they come together and give this mask a certain je ne sais quoi that I enjoy. Maybe you disagree and are perplexed, or maybe you're drawn into Fiset's mask like I am, perhaps it's hockey's Rorschach test.
7. Al Montoya, Winnipeg Jets
http://2.bp.blogspot.com/-JbPX318OJ34/UZWympJL-uI/AAAAAAAAK0I/4rJK40qDBzU/s1600/130422163558-winnipeg-jets-al-montoya-single-image-cut.jpg
Perhaps the sore thumb in this top-10 as the only active goalie to be honored. Montoya's mask hits me right in the heart with his classic aviation styled mask. When playing for the Jets, a team that honors Canada's military with its logo, it's impossible to top a mask that looks like a badass P-51 Mustang or P-40 Warhawk complete with the classic shark mouth decoration. You instantly know what team he plays for, but are still struck by the originality and the execution.
6. Ed Belfour, Chicago Blackhawks

Eddie The Eagle gained a great nickname along the line and turned it into a terrific series of masks, topped by almost no one when it comes to adapting the same mask on several different teams, even finishing with it in Sweden. Belfour is a legend of the game, but his mask may even precede the man himself, because of its fame. Belfour started the Eagle mask with the Blackhawks and even though some thought it was 'hawk' related, Ed actually picked the Eagle for his mask because of its characteristics, and the nickname followed.
5. Gilles Gratton, New York Rangers
http://hockeybydesign.com/wp-content/uploads/2015/10/Gratton.jpg
Gilles Gratton didn't have a lengthy NHL career, but he made up for that with memorable things like his personality and obviously, his mask. Nicknamed 'Gratoony The Loony', Gratton had his mask painted like a lion for his astrological sign Leo, but when asked, told reporters that it was a tiger. Gratton would also assume the cat-like natures of his mask at times, growling at opposing players. Although he was completely nuts, Gratton's mask lives on as perhaps the most beautiful mask ever painted, benefiting from the space allowed to create a very life-like lion in stunning detail. Gratton may not have needed additional personality, but he gained it with this mask, and became a legend.
4. Felix Potvin, Toronto Maple Leafs
http://www.gameusedmasks.com/masks/potvin_leafs_match_1.jpg
Felix "The Cat" Potvin was another goalie whose nickname followed him to every stop in his NHL career, as did his beautiful and semi-consistent mask design. There were slight changes, even during his heyday in Toronto, but his classic mask is still my favorite, and despite the obvious reason for his nickname, Potvin's cat-like agility in the nets just furthered the lore. Potvin's free-flowing and artistic cat face was a departure from the ferocity of other 90's masks, and it was a welcome change of pace. Potvin's career was something to be mighty proud of, but his mask may live on even longer.
3. Mike Richter, New York Rangers

Iconic is a word I've thrown around quite a bit in this countdown, to explain how a goaltender's mask can become so popular that it's known unto itself rather than being a mere part of the his legacy. Richter's Statue of Liberty mask is just that, as it was perfectly fitting to his Manhattan based hockey team, and perhaps became the inspiration for terribly underrated jerseys worn by the Rangers during and after his time there. Richter also sporting this mask while playing for Team USA in Nagano in 1998, a fitting tribute to how American this mask was as well.
2. Curtis Joseph, Edmonton Oilers

When you're blessed with a name like Curtis Joseph, that can be shortened to CuJo, your built-in nickname can't get much better. Joseph realized this early on after a Blues- themed mask with some personality, and turned to the rabid dog from the well-known novel. The early iterations in St. Louis were a little cartoony and simple, but when CuJo got to Edmonton, the dog became a brilliantly airbrushed vicious beast and stayed that way for his entire career, only changing hues with the home team and occasionally some minor details. CuJo backed up his dog's bark as well, with a Hall of Fame career to go with his Hall of Fame mask.
1. John Vanbiesbrouck, Florida Panthers
http://www.gameusedmasks.com/masks/vanbiesbrouck_match_2.jpg
John Vanbiesbrouck has had some tremendous masks in his career, as has been ranked in this list. But the finest goalie mask ever, to me, is his mask with the Florida Panthers. Much like Murray Bannerman, the Beezer was able to copy the Panthers logo exactly onto a mask, and benefited from the new style caged masks by making the red cage the leaping cat's mouth. It's hard to put into words how much I enjoy this mask, and what it means to me, but I am also not alone, as this mask has become iconic to the point that many may be familiar with it without knowing much or anything about Vanbiesbrouck's tremendous career. The mask could not have matched the jersey any better, it's an absolute impossibility, and Florida's jersey popularity at the time probably had something to do with his mask as well. This mask is really something so beautiful to me that it couldn't be topped, as it is the standard-bearer for masks for me since a young age.
That's my list. I hope you enjoyed it.
---
Never Miss an Episode of Giles & The Goalie!