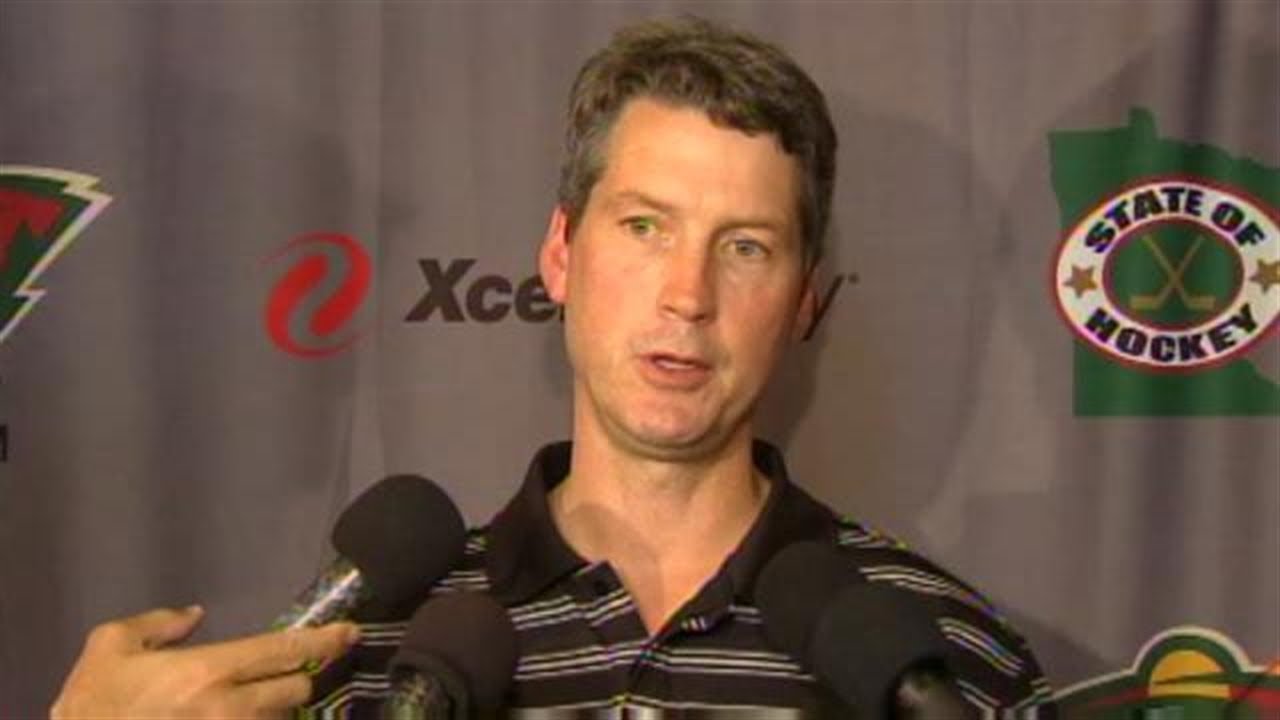 Let's not kid ourselves here, Wild fans.
With all of the talk during this brief but already too long offseason, many fans have cited their expectations of this team, their desire to have a long playoff run, their need for more postseason success.
Well, here's the deal. It's probably not happening.
The Minnesota Wild are not a team built to have long term, sustainable success year in, and year out, as we'd love to see. I know no one has clamored to voice their desire for a dynasty, but that's what sports fans are always after, right? We want this team to mentioned among the feared Cup contenders each and every season. We want them with a few Cups, a few conference titles, some division title banners, just to wallpaper the rafters at Xcel Energy Center a tad.
Not this team.
This team is built backwards. This team is built all wrong for that, and expecting this roster to do that, well, it's sort of silly. Also, this is not an article meant to destroy the work Chuck Fletcher has done. It's not an article intended on praising his work, either. It's an explanation of how we got here, and what that means for the future.
The superstars are the core of the team, the crunch time producers, the unquestioned leaders, the faces of the franchise
How are Championship teams built? Well, through the draft, of course, and through superstars drafted by said team, or somehow traded to that team early enough in their career enough to not cost their new team an entire draft worth of picks (not a Martin Hanzal joke). The superstars are the core of the team, the crunch time producers, the unquestioned leaders, the faces of the franchise. They're usually picked early in the draft, as generational talents are, and they require your team to suck a little bit, but it's part of the process.
Then you build around them. As your team gets better, you start picking a little bit later in the first round, and getting more secondary type guys, hopefully you get fortunate and still snag an all star or two as well. Your superstars still lead the way, but you fill in the blanks with young, cheap, talented players as your team struggles to make the playoffs.
Then your team gets good. You've hopefully amassed a handful of good players by now, and hopefully they compliment your stars well. Hopefully a goalie is in the mix there somewhere. You start making the playoffs, you start becoming dangerous. You start to push a little bit. You become a buyer at the deadline, you look for players in free agency to fill that one missing void you feel like your team should have.
You're there. You're a Cup contender. Your fans are psyched. You make the playoffs every year, and no one wants to face you. If you're lucky, you win a Cup, maybe two, maybe more, and you're in some epic conference final series, sometimes winning, sometimes losing. You enjoy roughly a decade of sustained success, if you're lucky, and good, and only if you're both. You raise banners, you retire numbers, you make speeches, you gain respect, you retire happy.
The Wild didn't build a team like that. Koivu was homegrown, but not a superstar. In a way, it's sad he ended up here, because he would have been much more appreciated somewhere else, somewhere that didn't count on him to be the face of the franchise when he wasn't that kind of player. Some place that didn't need him to be a superstar when he's simply a very good player. Then they signed Parise and Suter. New faces of the franchise, new expectations. Local boys coming home, and wanting to win, and being paid the market rate to do so.
The Wild didn't get a chance to build a team. Whether there was ever a plan to rebuild from the Risebrough era or not, it never happened. This team got a few years of bad teams, but not bad enough to draft a superstar, and then had to build on the fly. Build with two All-Stars, one good holdover from the previous era, and a whole lot of middle of the road draft picks. Have they done a good job with that, all things considered? Possibly, that's very much up for debate, depending on your level of frustration with the team right now.
This Wild team didn't get two superstars when they signed Parise and Suter, and the fast track that those signings put them on didn't do them any favors either. Have they made some good picks/trades since then? Sure. Have they made some bad picks/trades since then? Sure. Those things will happen, and I think they even out a little. But they never got to build the right way. Even though it wasn't their intention, the Wild tried to cheat the system. They tried to buy their way to a dynasty (fully aware that Parise and Suter wanted to come here, and that it wasn't some kind of master plan just to sign huge free agents to build this team).
They supplemented that team with a bunch of middle picks, and some trade acquisitions and good free agent signings. and in true reverse fashion, Wild fans are stuck with asking when those players are going to take the next step, when those players are going to magically become the superstars that this franchise needs, when are those players going to lead this team. This isn't out of distaste for Parise, Suter or Koivu, it's just a realization of reality. The young core of this team is what Wild fans are depending on to carry it. Talk about upside down.
If we've learned anything through sports, it's that buying championships very rarely works
If we've learned anything through sports, it's that buying championships very rarely works. Does it work sometimes? Sure. But what works way, way more often? Building teams through the draft, as I laid out before. You can bring up the 1990's Yankees all you want for buying titles, but let's not forget the core four, Jeter, Rivera, Posada, Pettite, all homegrown talent, among others on those squads. The 'Heatles' got together via free agency, but Dwayne Wade had already won a title as a homegrown superstar (plus the NBA is possible the worst example for this exercise). The Patriots were very, very fortunate to get Tom Brady where they did, but the list of their high priced free agent signings reads about as exciting as a Bill Belichek press conference.
So what are the Wild to do? Well, given the construction of the team, they have to stay the course, more or less. This team can still win, they can still do it, but everything, literally everything has to go right for them. As for shaking up the roster, I understand the desire, but rearranging non-superstar talent in and out of this roster really doesn't change its construction much. Simply put, anyone someone is willing to trade isn't going to be markedly better than someone the Wild have. PK Subban will likely not be on the trade market again this summer.
Where does this leave Wild fans? Well, up a creek, a bit. Waiting for that Solar-eclipse type of season where everything clicks and this team wins it all will be a trying time. Is there hope? Maybe a little, but it's going to be hard. Building a team backwards usually turns out as well as building anything upside down. Sometimes, you get a delicious caramel roll, most of the time, you get something that's edible, but not as good as its right-side up counterpart. Bon appetite, Wild fans.