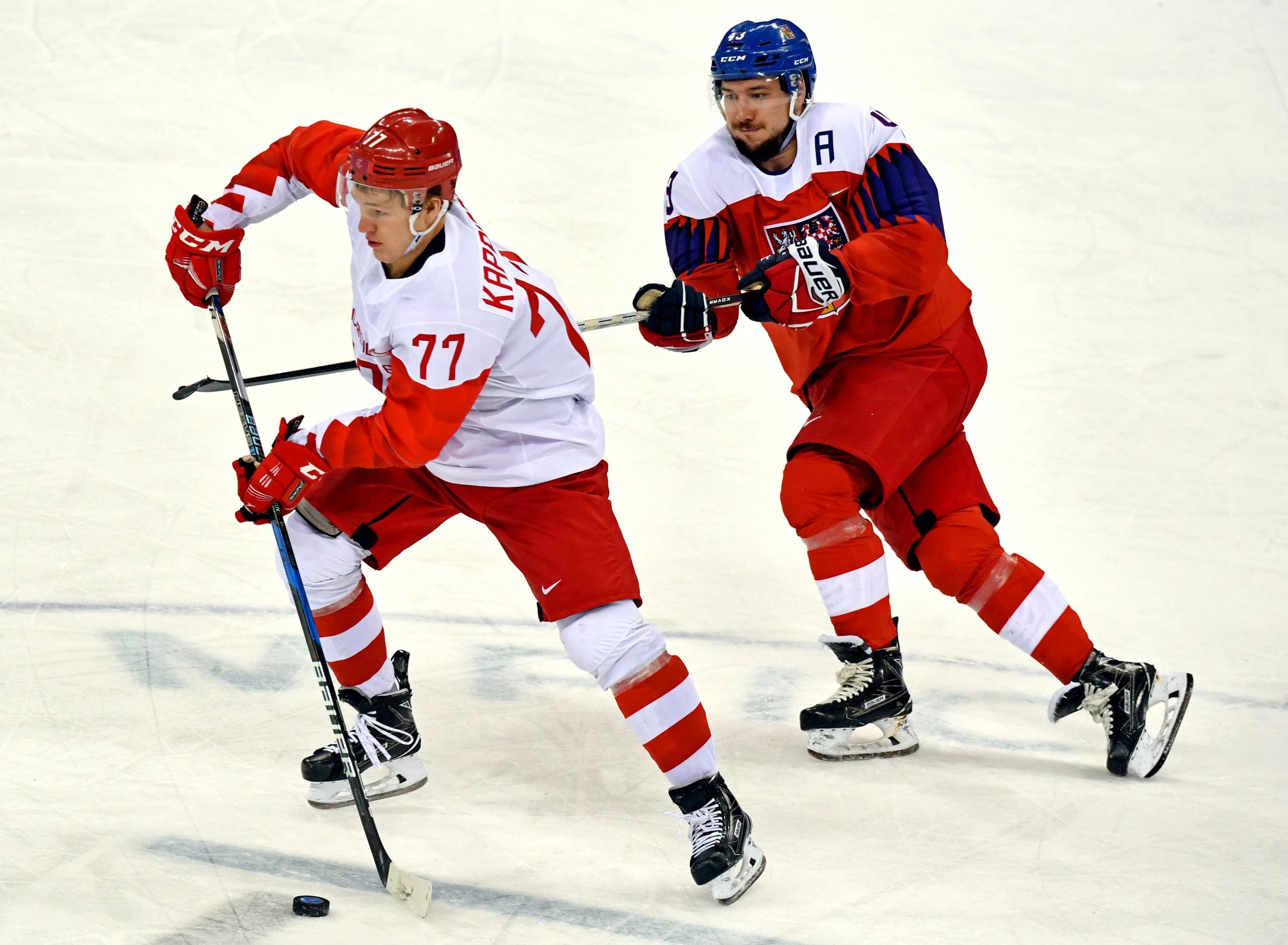 With the news that Minnesota Wild GM Paul Fenton visited Europe earlier this season to visit draft pick/Russian sensation Kirill Kaprizov, Wild fans got pretty excited. It's easy to see why, as one could literally spend hours watching all of the 21 year old's highlights.
Kaprizov is still currently stuck in hockey purgatory, under contract with the KHL's CSKA Moscow until the end of the 2019-20 season, with no options for a buyout of his contract. He's said publicly that he wants to play in the NHL, but also has not had kind words about the previous Wild regime under Chuck Fletcher, and the possibility of Kaprizov spurning the Wild either for staying home in the KHL or wanting to sign with another NHL team is very real.
Wild fans can only hope Fenton's visit smoothed things over considerably.
Kaprizov is definitely the best prospect the Wild have, and arguably the only player they have in their farm system currently who could turn out to be a game-changer in the NHL. Kaprizov has been incredibly productive at a young age, but all of those points are coming in the KHL and international play, so it can be harder to imagine what kind of impact he could have in the NHL.
To even attempt to compare apples to apples with Kaprizov, I want to compare him to some fellow countrymen who also played in Russia and/or the KHL at a young age to try to convert what his future may be. To say the least, Kaprizov fares well with even the very best names to come out of Russia, even one Alexander Ovechkin.
In both of their age-18 seasons playing in Russia, Kaprizov logged 27 points in 53 games while Ovechkin grabbed 24 points in 53 games. In their age-19 seasons, Kaprizov managed 42 points in 49 games, while Ovechkin "only" scored 26 points in 37 games. Ovechkin then made the leap to the NHL at age 20, and blistered the league en route to 106 points in 81 games. Kaprizov moved to the stacked CSKA Moscow team at age 20, and still managed 40 points in just 46 games.
Now, none of that is to say that Kaprizov is going to be the next coming of Ovechkin. I think even that would exceed the lofty expectation of Kaprizov from Wild fans. Kaprizov may be as talented overall as Ovechkin, but his game is slightly different. Kaprizov is less of a pure shooter than Ovechkin, but maybe even more talented as a distributor.
Another comparison might be Ovechkin's teammate and another fellow Russian in Evgeny Kuznetsov, who is definitely more of a distributor. Kuznetsov also tore up the KHL in his teenage years, tallying 41 points in 49 games in his age-19 season, a record which Kaprizov broke. In the end, I think Kaprizov is somewhere in between the two, as he won't rack up assists quite as much as a center like Kuznetsov, but may score more.
However, there are some causes for concern.
Kaprizov has only registered 29 points in 39 games so far this season in the KHL, and may have hit a bit of a slump in production. After flirting with a point per game pace in past seasons, his lowest points per game in the past three seasons. Looking at Kaprizov's numbers in the KHL this year, and running them through the wringer of Manny Perry's NHL Equivalency, or NHLe, to determine what he may score with the Wild. As of right now, Kaprizov's 29 points in 39 games converted by Perry's number (.746), extrapolated to 82 games would come to... 45 points (30 goals, 15 assists).
Part of the points slump this season is due to jarringly low assist numbers relative to his previous seasons. His 0.26 assists per game is the lowest mark he's posted since his rookie season in the KHL, at the ripe age of 17.
On the flip side, his 0.49 goals per game is also the highest of his KHL career, so it appears that after years of evenly mixing his points, Kaprizov is scoring more, and passing less. While the overall points totals may not look great, it's incredibly unlikely a 30-goal scorer in the NHL would only net 15 assists on the entire season.
In fact, only nine players have garnered under 20 assists during a 30 goal season in the last 10 years, and none had fewer than 16. With as dynamic of a passer as we've seen Kaprizov be in the past, I think ultra-low assist numbers are unlikely.
Projecting off these numbers is also tricky given that Kaprizov is just 21 years old, the same age as the young Joel Eriksson Ek and Jordan Greenway, who are also still developing. Kaprizov could still very much add layers and skill to his game, and even though he'll likely face a learning curve coming over to the North American game, his talent suggests that it shouldn't be a steep one. Even if he takes a few years to find his game, ala Mikael Granlund, he could still find his way to the 60- or 70-point plateau in his mid-20s.
If Kaprizov does hit the ground running, he may even put up such ridiculous stats as his aforementioned countrymen, with Ovechkin never having dipped below 65 points in a full season, and Kuznetsov notching 37 points in his first full season, then never dipping below 59 after that. The biggest concern for Kaprizov once he comes stateside likely won't be his talent or production, but the team that he's surrounded with.
By the 2020 season...assuming there is a hockey season... the Wild will only have a handful of players still under contract from this current team. Zach Parise, Ryan Suter, Matt Dumba, Jason Zucker, Nino Niederreiter, Jonas Brodin, Greg Pateryn, Marcus Foligno, Nick Seeler and Devan Dubnyk are all under contract for the 2020-21 season.
This leaves names like Granlund, Mikko Koivu, Eric Staal, Charlie Coyle and Jared Spurgeon as either needing to be re-signed or having left via free agency. The makeup of this team if and when Kaprizov joins the Wild will be Fenton's work over the next summer, and building around him will be a huge priority if it looks like he'll jump to the NHL.
The most glaring issue is that the Wild don't have a single true center under contract for the 2020-21 season, with Staal an unrestricted free agent after this season Joel Eriksson Ek a restricted free agent, and Koivu and Coyle pending UFAs in the summer of 2020. The Staal conundrum is a good one, as the Wild are stuck in almost a no-win position on re-signing him to a deal after this season, and while Coyle isn't really a pure center, he'll be just 28 in 2020, if he hasn't been shipped off to Montreal yet.
Koivu is another interesting case, since he'll be 37 when Kaprizov can join the Wild, and just as likely to retire at that point as he is to sign a deal to play a lesser role with the Wild, if he's even able to.
Unfortunately, there are not many options to backfill this shortage with a big name free agent, either. Matt Duchene, Joe Pavelski and Staal will lead the 2019 class --assuming no one offer sheets Auston Matthews...which could be interesting -- while names like Kevin Hayes, and a few hometown guys like Anders Lee and Brock Nelson could find their way west. Nicklas Backstrom leads the 2020 center class, but things are obviously a bit murkier two seasons out.
Regardless, the probability of Fenton securing a bonafide first-line center to pair with Kaprizov may rely on his ability to swing a trade for one.
Further complicating future roster moves is Kaprizov's left-handedness, which adds to the Wild lefty glut, and is something that is a very real issue for the Wild right now. If the Wild were to add any forwards in the next season and a half, right-handedness may have to become a priority when it may otherwise be an afterthought.
All in all, it's very reasonable for Wild fans to get excited about the possibility of Kaprizov landing in the NHL in 2020. There are plenty of reasons to be negative about the situation, but the pros probably still outweigh the cons at this point, and getting such a dynamic offensive talent is worth any hassles. The countdown clock has been ticking away for a while now, and Wild fans will have a wait a little bit longer for the payoff.
---