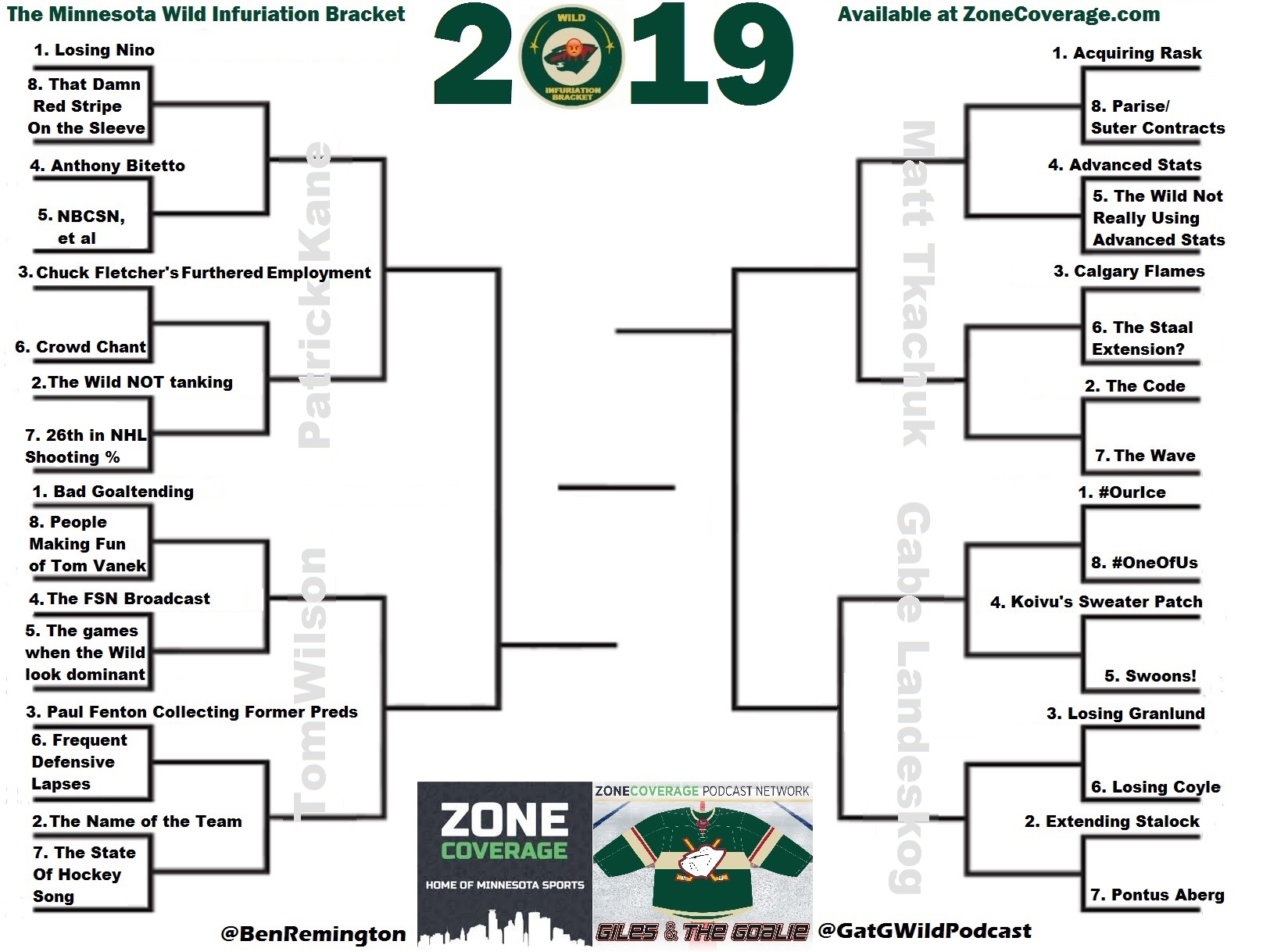 Well folks, it's that time of year again. It's March Madness. While everyone is wasting company time filling out a bracket, Wild fans have their own tradition in March: crippling anger.
This season is no exception, as the Minnesota Wild seem to have found themselves in the worst spot in March in recent memory, on the outside looking in on a playoff spot, with little hope for the immediate future due to some key injuries and questionable moves.
Luckily, I've treated Wild fans to a fun tournament tradition of their own, for the fourth year running. This year, I plan on running a Twitter poll for each and every matchup, for each and every round, until we name a champion. Frankly, I'm ashamed I hadn't thought of that in previous years. One tradition I will keep up, however, is retweeting anyone who prints off a bracket, fills it out and tweets me a picture.

As for the bracket itself, this season's iteration of the Wild provided me with plenty of fodder for contenders. Plenty of deserving rage-inducers didn't make the cut this year, but I feel like roughly the best 32 ended up making the cut. They've been split into four regions named for current players that make Wild fans' blood boil, so let's take a look.
The Patrick Kane Region
Longtime tourney powerhouse 'Chuck Fletcher's Continued Employment' has returned as 'Chuck Fletcher's Furthered Employment' as the former Wild GM found a job after only a few months of non-GM employment. That entry isn't as strong this year, but still made the field based on the rabid hatred plenty of folks had for the younger Fletcher.

This region is really 'Losing Nino's' to lose. Nino was a fan favorite, and an analytics darling to boot, and his only naysayers were folks who aren't likely to own a computer.

Speaking of those folks, 'The Wild NOT tanking' is a strong first-time entry this year, as there are a lot of Wild fans out there upset that the team hasn't traded away every NHL player on the roster in hopes of one of those cure-all high picks.

'NBCSN, et al' is back this year, but faces stiff competition with one of Paul Fenton's most frustrating acquisitions, waiver-wire resident Anthony Bitetto. Bitetto has been frustrating at best, and enraging at worst, and has found his way up the list for many fans.
The Tom Wilson Region
Newcomer 'Bad Goaltending' is an early favorite to take it all, and very deserving of a No. 1 seed. Devan Dubnyk's ill-timed fall from grace has been the lynchpin to the Wild's lack of success this season, it seems. Meanwhile, backup Alex Stalock has done nothing whatsoever to help the situation.

'The Name of the Team' is one of two contenders that have made the tournament every season so far. It's a solid point of contention for Wild fans, and perhaps something that is very enraging for the simple fact that it's never going to get better.

Fenton makes his infuriation debut, perhaps making this region the "group of death" type region, as he's made many enemies in Minnesota with his dealings in his first season.

This bracket also has some potential Cinderella stories, with the always irritating 'FSN Broadcast' making another tourney appearance, and 'The games when the Wild look dominant' and 'Frequent Defensive Lapses' are both capable of driving fans absolutely insane.
The Matt Tkachuk Region
While 'Losing Nino' may be the odds on favorite to win it all, 'Acquiring Rask' has also earned its own spot in the dance, thanks to Victor Rask not endearing himself to Wild fans in the least during his first two months on the team.

This aptly named region also houses the 'Calgary Flames', a team that may not be a natural rival of the Wild, but has certainly stirred up the most bad blood this season. Not coincidentally, 'The Code' has also made its tourney debut this year, after possibly, maybe being responsible for Matt Dumba's ruptured pectoral muscle.

'The Wave' makes its fourth appearance in as many years. Nothing gets some folks' blood boiling like other fans acting like children and not watching a hockey game they paid handsomely to attend, while distracting the fans that actually do want to watch the game with a mindless activity that doesn't at all pertain to the game. But...that's just my opinion.

The first round matchup of 'Advanced Stats' versus 'The Wild not really using advanced stats' is a deliciously divisive fight. Some folks don't understand how math can figure so prominently into such a fluid and un-isolated sport, while other folks may wonder why the Wild employ some very smart analytical types, if they refuse to consult them on nearly every move they make.
The Gabe Landskog Region
#OurIce has been more of a punchline than a rally cry this season, as the Wild are in the midst of one of their worst home seasons in recent memory, if not ever. The Wild's marketing team's pandering has really come back to bite them in the butt on this one, and even though the campaign has won awards (somehow), the sting of so many home loses may just kill it off after two seasons.

'Losing Granlund' against 'Losing Coyle' in the first round could be interesting, although I think it's entirely possible so many Wild fans were so over either player and prepared to see them dealt that neither entry may go very deep in the tourney.

'Extending Stalock' is a new entry, but a powerhouse, as many folks were left scratching their head when Alex Stalock was given a long contract extension for no other reason than being a good hometown guy. This entry could win it all.

Are 'Koivu's sweater patch' and 'Swoons!' related? That's subject to interpretation, but it does make for an interesting storyline in this region, as one entry seems to upset some people a lot, while the other upsets a lot of people some.