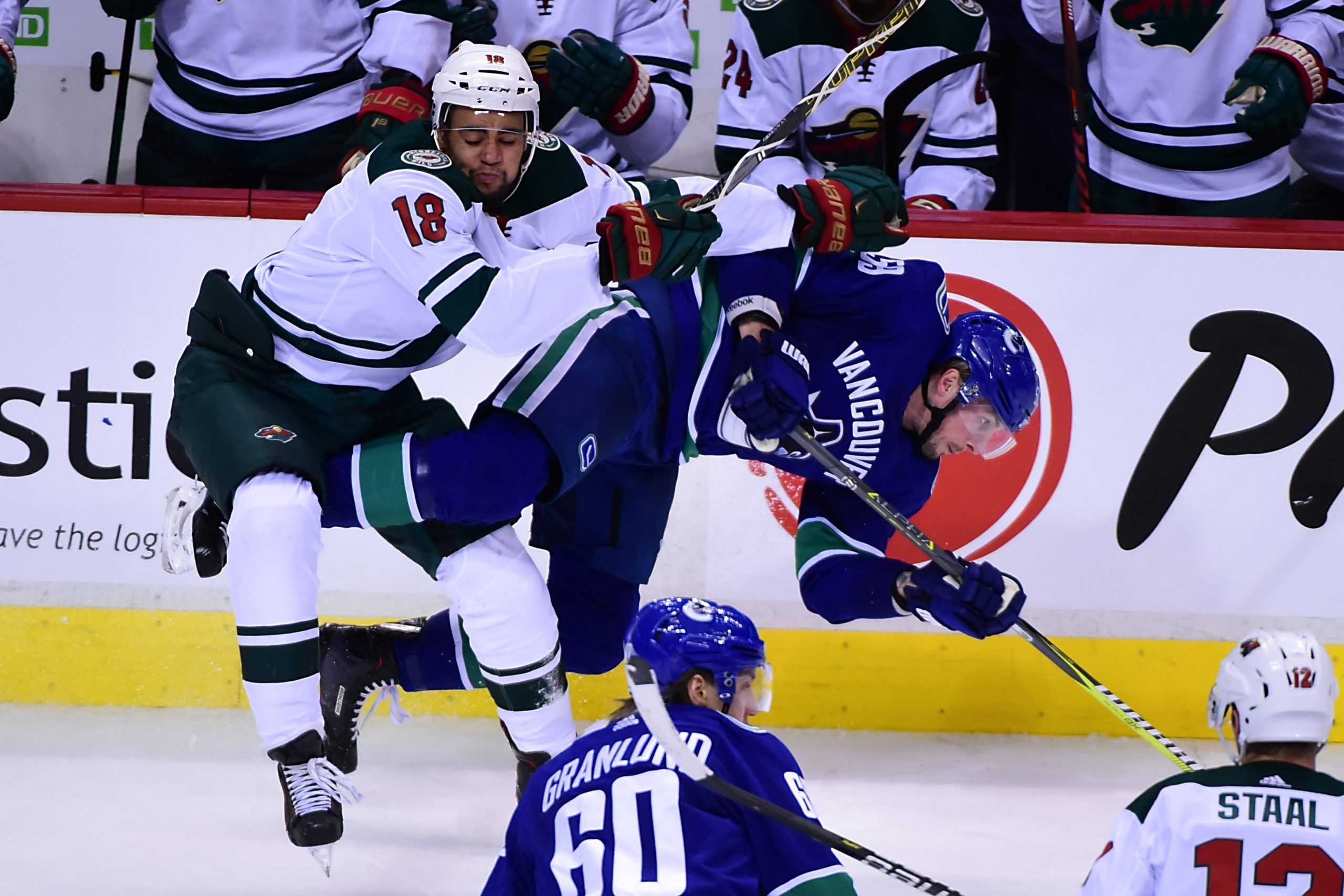 "It's deja vu all over again." - Yogi Berra
The Wild have made the playoffs for six seasons straight, which is a notable accomplishment, but have just two series victories to their credit in that time. They've had some very different regular seasons, sometimes slumping, sometimes streaking, but inevitably always finding their way to a winning record and the postseason.
If you feel like this Wild season is already painfully familiar, you're probably right.
It's early in the season still, but as we turn the page to November, the Wild are 7-3-2, currently finding themselves in the first Western Conference Wild Card position. Playing in a loaded Central Division, the Wild will find it hard to crack the top three, as the talented Predators and Jets are currently ahead of them, in addition to the up-and-coming Avalanche.
The Wild started the season with a thud with four losses in their first five games, but have since righted the ship in quick fashion, winning six of their last seven. The initial start had many Wild fans looking for the life rafts; the recent run has Wild fans riding high.
The real team is where the answer usually lies -- somewhere in the middle.
While the Wild's start may be a little encouraging in that they haven't completely fallen off the face of the earth after an uneventful offseason, it's also concerning, because even the numbers are eerily similar to the last few seasons.
Looking at these charts from The Athletic's Sean Tierney, the Wild find themselves not looking so hot in a few important metrics. Now, they didn't look good in those metrics last season either and still made the playoffs, but that's kind of the problem.
If they want to take the next step on postseason success, the Wild need to improve their play, as measured by these possession numbers. Right now, the Wild are thriving on the back of Devan Dubnyk's red-hot start and some timely scoring, but that isn't likely to last forever.
There are some stats that the Wild shine in, as they've been a "quality over quantity" kind of team for some time now, but even as quality of shots go, they're doing well enough, but not exactly lighting the league on fire.
On a player by player basis, it's more of the same.
The Wild are getting a hot start from Dubnyk, but also Mikael Granlund, Jason Zucker and Zach Parise are producing early. Meanwhile, Nino Niederreiter, Mikko Koivu and Charlie Coyle aren't really tearing things up, and the young players such as Joel Eriksson Ek and Jordan Greenway haven't shown a ton of promise just yet, either.
While there's going to be ups and downs on every NHL roster, the Wild are a team riding the razor's edge of talent and expectations and need all of their players contributing at near-peak levels in order to be a legitimate contender.
As it stands right now, the Wild are projected to finish third in the Central with 95-96 points by The Athletic's Dom Lusczyszyn's model, setting up a first-round matchup with the Predators. With a 67 percent chance of making the playoffs, the Wild are again in a familiar position of doing just enough to make the playoffs.
The Wild certainly seem positioned to make the playoffs again. They've shown they can play with other playoff teams already this season, and have the talent to win the games they're supposed to, as well.
If Dubnyk can continue his hot play, he would make the world of difference in the Wild being a contender for the divisional title or not. In fact, Dubnyk is the biggest factor in the Wild improving upon their playoff record, as well, as hot goaltending is the ultimate equalizer.
While making the playoffs is great, it has ceased to be an acceptable endgame for most Wild fans. With new GM Paul Fenton at the helm, this season may just be a brief trial period in his tenure as he feels out his roster and plans for the future. That may not sit well with the most impatient of Wild fans, because the pressure to win now, even from ownership, is palpable.
Because of this, there may be moves made sooner rather than later. Fenton didn't pull the trigger on any major trades this summer, but after seeing his team live for a healthy portion of the season, that may change.
There's still going to be pressure to make the playoffs, in spite of the lack of success that may follow that, but that doesn't mean that Fenton won't move some pieces to set himself up better for the long run. One would assume players currently struggling would top that list, but they're not alone.
Fenton may want to get extended looks at players like Greenway and Eriksson Ek, or a long St. Paul visit from Luke Kunin, who is doing well so far in Iowa after a knee injury last season. Dealing a struggling veteran would be an obvious track to that, especially in freeing up an obvious top-nine spot for Kunin.
By the same token, he may have seen enough of any of those young players, and want to deal them while they still have some perceived potential and therefore value.
Another interesting chess piece for Fenton is the rights to Russian star Kirill Kaprizov.
Kaprizov won't be able to come stateside for two more seasons, but depending on the state of affairs with the Wild, or how things go in Russia, Fenton could deal those rights for a small fortune in hockey terms. The more crowd-pleasing surprise, however, would be to somehow find a way to get Kaprizov over a year early, despite him not having a buyout option from his current KHL team, CSKA Moscow.
In the end, Fenton may end up sitting on the team as-is for a full season, perhaps in anticipation of Kaprizov's future arrival or the development of some young prospects. Having a full season and more cap flexibility next summer could help Fenton navigate his first full offseason with the Minnesota Wild, and it will be interesting to see if the team takes a different direction at that point if they do not at any point during this season.
The Wild may be on a track to repeat themselves again, but under new leadership this season, that course may change slightly, or not-so-slightly at any point.
---