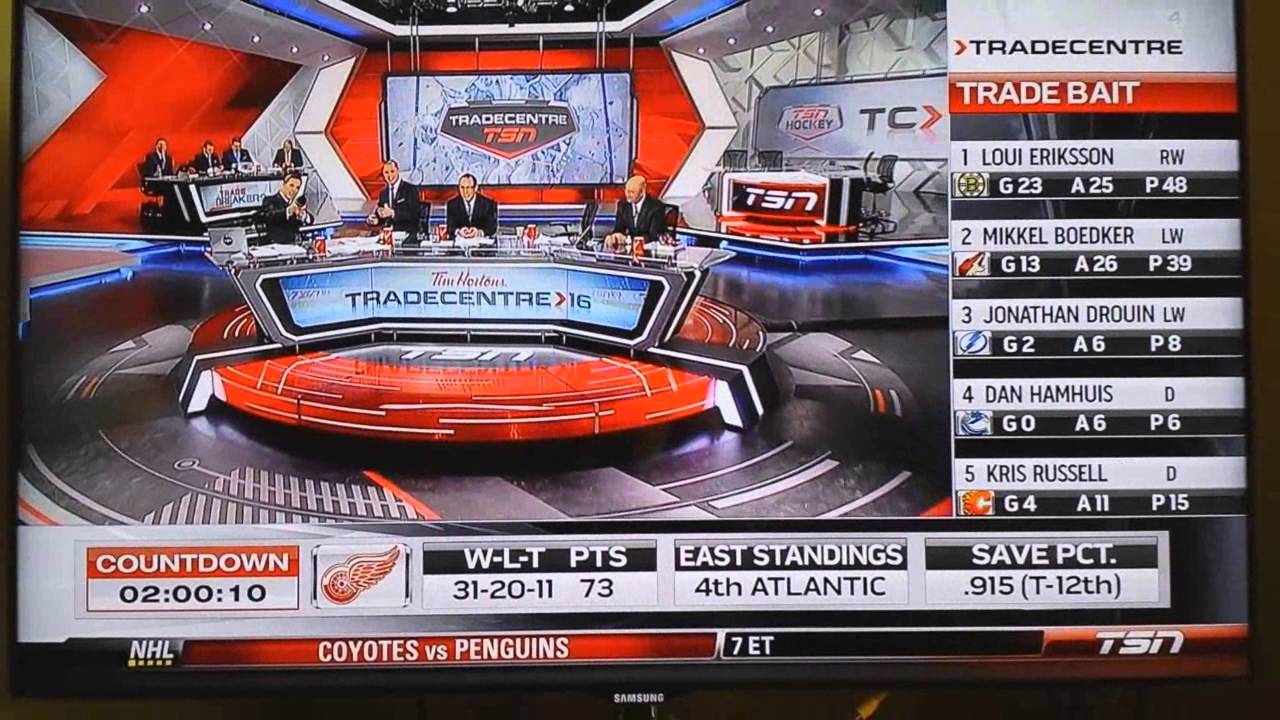 'Tis the season for shrouded front office speak. Everyone, it's the trade deadline. This weekend you'll likely hear lots of different terms thrown around that may or may not make sense at the time, so it involves a little reading between the lines. Here are some standards and misconceived labels that you'll hear, and what they really mean.
Advanced Stats - Loads of gobbledygook numbers that nerds in their parents' basements put together to legitimize their favorite players. Also known as 'analytics' -- the sworn enemy of the beat writer.
AHL - The American Hockey League, where players who aren't good enough to be the in NHL play.
Analytics Darling - A player whose game is favored by advanced statistics. Usually, a third-line winger who allows more quality shot attempts when he is on the ice versus a higher quantity of shot attempts.
Asset - Items including, but not limited to: draft picks, cash considerations, salary cap space, living human beings.
Blue Chipper - A hockey prospect slightly less likely to fail than other hockey prospects.
Draft Picks - The most liquid of assets to be traded, like front office Monopoly money. Only it's taken less seriously than Monopoly money by some, and hoarded even worse than Monopoly money by others.
Fake Twitter Account - A twitter account made to look like that of a real NHL insider, but with at least one disguised misspelling. The intent is making amateur fans look like fools and collect the millions that come along with a popular Twitter account.
Grinder - A player known for his skills such as hitting people, fighting people and getting into post-whistle skirmishes, as opposed to a player who tries to put the puck in the net.

Hockey Player - A player who has little offensive skill is usually labeled as a 'hockey player,' which compliments his hustle, determination and other things any non-talented person can do.
Hockey Trade - One or both teams in a trade did not have enough salary cap space to just acquire a rental player for non salary cap-managed assets, so they had to give up a player who actually has value and a relative cap hit in order to make the trade work. Or: a certain French Canadian team wants to get rid of any non-French Canadian.
Juniors - A series of leagues where NHL prospects play before signing professional contracts, mostly in the Northern United States and Canada. Studied extensively by Pierre McGuire.
Lottery Pick - The order of the first 14 picks of the NHL draft is subject to a lottery, comprising all of the teams that did not make the playoffs, or less than half of the league. This is usually won by whichever team Taylor Hall plays for.
No Movement Clause - This is basically a no-trade clause, but with the added caveat that the player cannot be sent down to the minors, no matter how little they're producing.
No Trade Clause - A contractual clause that a general manager gives to a player that guarantees he will not be traded without the player's consent. Usually leveraged during contract negotiations, immediately regretted by the front office and ridiculed by the team's fans.
http://www.buffalohockeybeat.com/wp-content/uploads/2014/07/Hackett.jpg
Prospect - The second-most likely asset to be traded behind draft picks. Prospects begin as valuable draft picks, become young players that have trade value, then cease to have value as soon as they're traded, with few exceptions. This is the life cycle of a prospect.
Rental - When a team trades for a player who has an expiring contract and therefore will be a free agent in the upcoming summer, and unless your team wins the Stanley Cup, was a terrible trade in hindsight.
Retained Money - When a player is traded but part of his cap hit is retained by the team trading him away, that's retained money. It's helpful for selling GMs to get more assets in return for their rental player, whom the team trading for couldn't fit under the salary cap anyway due to mismanagement.
Salary Cap - The never expanding ceiling of spending each hockey team is allowed. It does not increase in value from year to year because the NHL is unable to create a revenue making product.
Salary Dump - When one team manages to rid itself of a bad contract by adding assets to that player in exchange for essentially nothing.
Spark Plug - When a player joins a team and suddenly the rest of the team tries harder at playing hockey.
Tanking - When a team knowingly makes trades to make their team worse in a futile attempt to defeat the Edmonton Oilers in the upcoming NHL draft pick lottery. (See: Buffalo Sabres since 2011)
Trade Call - An actual phone call made in 2018 with the league offices to confirm that a trade has occurred between two teams. No trade is official until it passes through 19th-century technology first.
TradeCentre - The misspelled Canadian version of a Trade deadline coverage show, where they always hope for more trades to happen than actually happen. They end up booking live entertainment or listening to Bob McKenzie tells stories about margaritas.
Waivers - If a player has to pass through waivers, it means they can be claimed by any other team. It's usually just a scare tactic to keep teams from sending down players with the requisite experience, as players are rarely claimed on waivers -- unless they're Nate Prosser.
---
Never Miss an Episode of Giles & The Goalie!