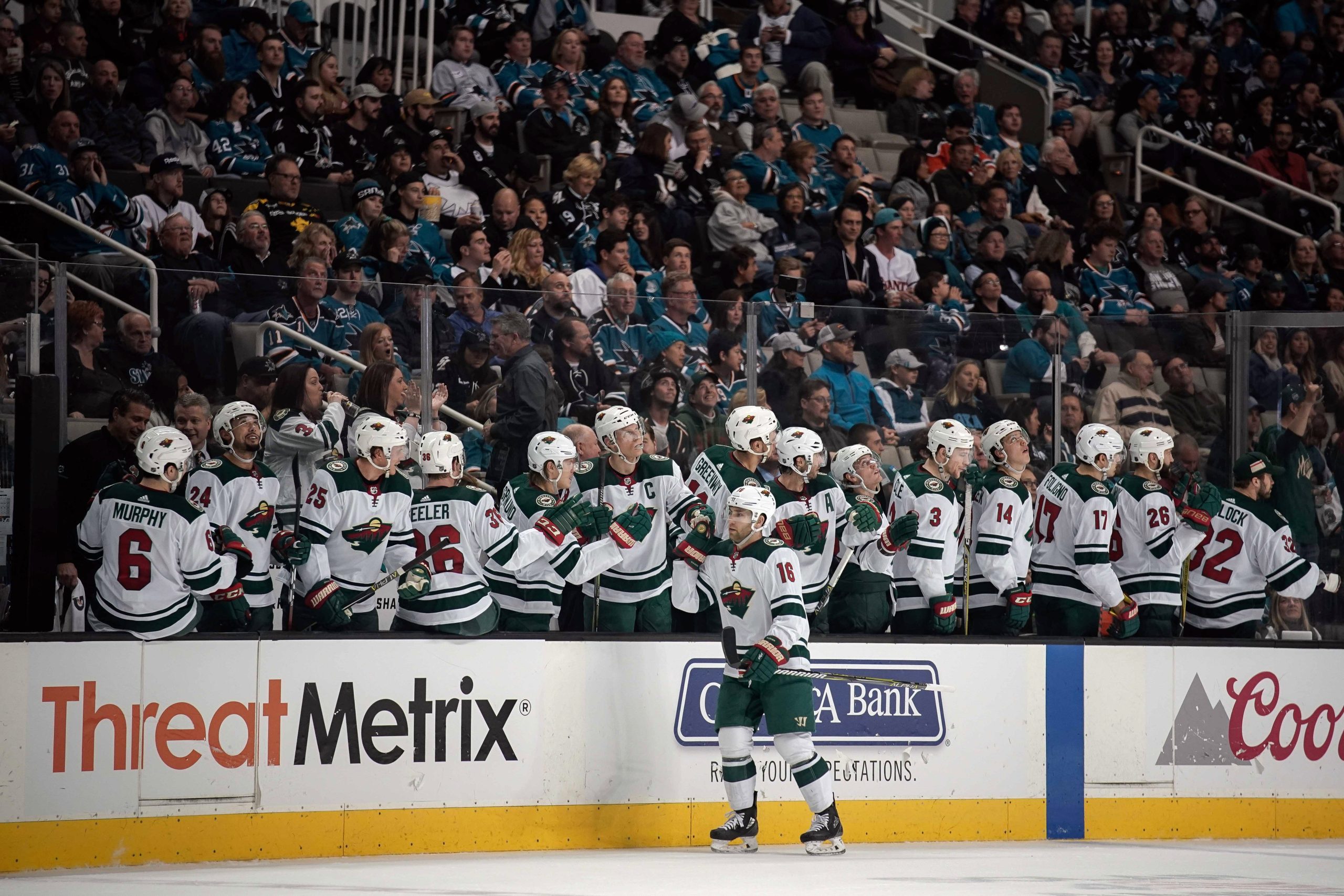 'Tis the season.
It's mid-summer, which means the NHL offseason is reaching its glorious crescendo. Teams are lining up in Los Angeles to talk to this summer's hottest commodity, John Tavares, making bad trades to jockey for cap space position and overpaid players are getting bought out.
It's beautiful, isn't it?
Amongst the chaos, the Minnesota Wild have sat mostly quiet. After promises of "tweaks" from their owner and new general manager, they have yet to make a move, possibly waiting on the ever-important Tavares shoe to drop. Then again, so is the rest of the league, apparently.
Heck, they haven't even made the one move that everyone thinks they should. It's entirely possible that no tweaks are in store, or that they won't come until after free agency.
With that possibility in mind, and the free agency period looming, what should the Wild do come July 1?
Here are a few ideas.
It's easier said than done, but all three RFAs are going to undoubtedly be a big part of the Wild's plans for next season, if they're not dealt before then. Dumba is a stalwart in the top four and just had an incredible year for a 24-year-old defenseman. Zucker finally broke out en route to a 33-goal season. Seeler showed that he belongs in the NHL, and should slot into the third pairing nicely.
He may be even more important than that depending on Ryan Suter's timetable returning from a broken ankle.
[caption id=attachment_38155" align="alignnone" width="3234]

Apr 17, 2018; Saint Paul, MN, USA; Minnesota Wild forward Jason Zucker (16) skates with the puck in the second period against Winnipeg Jets in game four of the first round of the 2018 Stanley Cup Playoffs at Xcel Energy Center. Mandatory Credit: Brad Rempel-USA TODAY Sports[/caption]
Getting these players signed before or around the July 1 marker could pay big dividends for the Wild, as knowing how much cash you've got in the bank is important when you know you'll be close to the salary cap regardless.
Along those lines, not buying out Tyler Ennis yet is frankly a confusing move to me. They're trying everything they can do to trade him instead, as reported by Michael Russo.
Trading his expiring contract won't be easy, and the value that the Wild would give up isn't an ideal trade for them, as Tony Abbott of Hockey Wilderness noted before the draft. My cohort Giles has a differing view altogether and thinks the Wild should just eat the final season and then move on, buyout free.
There is another buyout window in July for Ennis, but that only opens up for the Wild if one of their RFAs files for arbitration.
Look, we all love Minnesota's own Matt Cullen. Some much more than others, but it's pretty fair to say that his (alleged) swan song in Minnesota didn't go great. Without him returning, the Wild may need a bottom six center-type to fill in. Right now they still have Eric Staal, Mikko Koivu and Joel Eriksson Ek up the middle, with Charlie Coyle, Mikael Granlund and Luke Kunin as possibilities to play the pivot as well.
However, of those last three players, I only really want to see Kunin attempting to play center, so it might behoove the Wild to grab an insurance policy.
[caption id=attachment_38154" align="aligncenter" width="460]

Apr 20, 2018; Winnipeg, Manitoba, CAN; Minnesota Wild center Matt Cullen (7) skates down ice in the third period against Winnipeg Jets in game five of the first round of the 2018 Stanley Cup Playoffs at Bell MTS Place. Mandatory Credit: James Carey Lauder-USA TODAY Sports[/caption]
The wildcard to this is Sam Anas.
The Iowa Wild standout from last season has re-signed with the Wild, and may have earned an opportunity to play with the big club after a strong season in Des Moines. If he can lock down the fourth-line center spot and free up Kunin to play wing, it gives the team much more flexibility. Anas could play wing as well, so don't rule out him making a splash in St. Paul this season even if they grab a free-agent center.
Names of interest: Derek Ryan, Riley Nash, Valtteri Filppula, Jay Beagle, Kyle Brodziak...
Look, we all love Minnesota's own Nate Prosser. He bailed the Wild out from the awful, awful Kyle Quincey experiment, and did an OK job at that.
But I think expecting more out of your third defensive pairing is OK, too, and Ryan Murphy may be more an AHL-depth type than a strong contender to play all season in the Minnesota starting lineup. Seeing the Wild grab an insurance right-handed defender would be good stockpiling on their part.
Right-handed shots are tough to come by on the blue line, and the Wild are thin at that position organization-wide, with the fresh out of college Louis Belpedio next up on the depth chart if Murphy and/or Prosser go down.
[caption id=attachment_38153" align="alignnone" width="3203]

Apr 7, 2018; San Jose, CA, USA; Minnesota Wild defenseman Nate Prosser (39) in the game against the San Jose Sharks during the second period at SAP Center at San Jose. Mandatory Credit: Stan Szeto-USA TODAY Sports[/caption]
Suter's injury clouds the defensive outlook for this season a bit, but I'd still rather see them pursue a right-hander because they seem to have decent depth with left-handed shots. Seeler is likely a starter, Carson Soucy could be a decent option if pressed into duty. Gustav Olofsson is there, and even though he's a bit of a reclamation project, he's still only being a year removed from everyone thinking he could play in the NHL.
That's assuming none of those names are moved, of course.
Names of interest: Andrej Sustr, Luke Schenn, Dylan Demelo, Greg Pateryn, Christian Folin...
Look, we all love Minnesota's own Alex Stalock.
While Stalock had a pretty solid first half, his second half reminded Wild fans why he was so readily available, and why he spent the entire 2016-17 season in Iowa. Now I'm not suggesting firing Stalock into the sun like Quincey, or even saying that it's insane if he's the Wild's primary backup this season.
All I'm saying is that the Wild would greatly benefit from some competition. The Wild brought in Niklas Svedberg last summer to compete for a job which was essentially Stalock's, and he had a ho-hum year in Iowa and returned to Europe.
[caption id=attachment_38152" align="alignnone" width="3848]

April 5, 2018; Los Angeles, CA, USA; Minnesota Wild goaltender Alex Stalock (32) defends the goal against the Los Angeles Kings during the second period at Staples Center. Mandatory Credit: Gary A. Vasquez-USA TODAY Sports[/caption]
Now, the Wild have brought over prospect Kaapo Kahkonen from Finland, and may not retain Steve Michalek, leaving an opening in the goaltending ranks. That could be filled by an NHL veteran on the rebound, or a known serviceable AHL starter in Stalock.
If the Wild are able to bring in a former NHL starter or even experienced backup, it might not only help shore up the backup position over Stalock, but pushing Dubnyk to the point where the team could lean on someone else during one of his noted slumps could really come in handy.
Look at how the Capitals were able to not miss a beat this season when Phillip Grubauer stepped in for Braden Holtby. It's not something to be overlooked, and it really shouldn't cost the team an arm and a leg.
Names of interest: Andrew Hammond, Petr Mrazek, Jaroslav Halak, Jonathan Bernier, Anton Khudobin...
Fly to Russia, and kidnap Kirill Kaprisov.
I'm only partially joking.
---
Stay up to date on the Wild offseason with Giles & The Goalie!