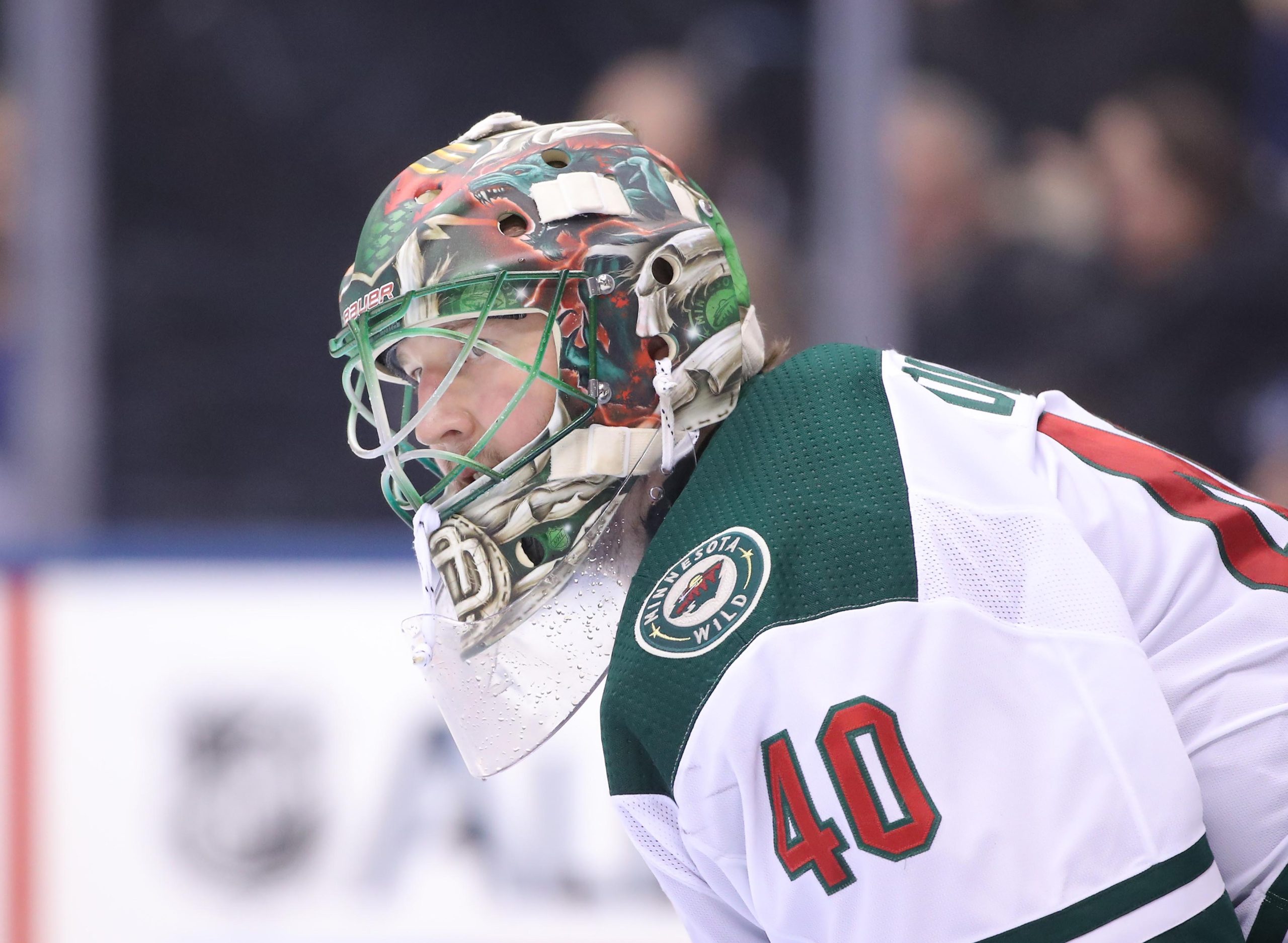 Hello dear reader,
This month I did another mailbag, as I do every month during the Wild season. I asked my twitter friends for questions relevant or not to Wild hockey, and here's what they asked.
https://twitter.com/ZbytheZ/status/1080961970961108992
I would say not very. Devan Dubnyk is a weird case study, especially from a Wild fan's perspective. While he was just named to the All-Star game, he's a mere 25th place in the league in Save Percentage. That being said, he's finished every season with the Wild with at least a .918 save percentage, and is third in the league in save percentage in that time as well, while only having a cap hit somewhere around 20th among goalies the whole time.
Do I think Dubnyk is a top-10 goaltender in the NHL? It's very borderline, to be honest, but the Wild could do a lot worse. By that token, ask teams that have had trouble finding a goalie for a while now, like Chuck Fletcher's Flyers for instance, how easy it is finding a legitimate starting NHL goalie via trade or free agency.
Spoiler: It's not.
If the Wild did decide to move Dubnyk, it would likely only be for a deal that blows Paul Fenton's mind. Multiple first-round picks or high-end prospects, or something around there. There would probably be a handful of suitors, as even with his struggles, Dubnyk would be an upgrade at goaltender for nearly half the NHL, and at a great price and remaining term.
The Wild have been fortunate enough to have a string of pretty solid, though maybe unspectacular, goaltending throughout their history. Perhaps their fans have been a bit spoiled by that, having never suffered through extended periods of bad goalies. Simply put, any goalie who would be an upgrade over Dubnyk, would be nearly impossible to acquire.
The Wild have to hope that Kaapo Kahkonen is somehow a Vezina winner diamond in the rough for Dubnyk to be replaced anytime before his contract is over two seasons from now. And don't get me started on starting Al Stalock.
https://twitter.com/JBGo4Fan/status/1080619806590730240
It really depends on who you ask. And not by the level of crazy in the person you ask -- but that matters too -- but rather in their expectations for the local hockey team. Fletcher's Wild teams made the playoffs in six straight seasons, something only one other NHL team can beat (Penguins). And even though he never made it to the Conference Championship, there's something to be said for that kind of prolonged success.
Conversely, never really winning anything is a stink that's going to stick to Fletcher until his Flyers win something big. Landing Zach Parise and Ryan Suter out of proximity more than team appeal was nice, but he did do some things to squander the team around them, with a few ill-fated signings and trades, and probably some overly conservative drafting with the picks he had remaining.
In all honesty, his perception's fate might rest with Fenton. If Fenton can turn the Wild around, Fletcher might be looked at as the guy that couldn't do it. The moves Fenton ends up making will be heralded as better than Fletcher's, and both men's legacies will follow as such. But if Fenton's future Wild teams fall flat on their face, fans may be pining for the days of playoff appearance past, much like Timberwolves fans were. A few missed playoff seasons and a slow and painstaking rebuilding process could turn many Fletcher-haters nostalgic for Chuck.
I've never really been big on resolutions, and even bigger on not following the ones I do think of. For the last few years, I've "not made a resolution to get into shape" but have tried to make it to the gym and eat better after the first of the year, like most do, and eventually tailed off, as most do. This year is no different. As Garth Brooks once said, "I'm a biscuit shy of two-fiddy," and I intend on getting healthier this year. That being said, last night I ate an entire king size Hershey's Cookies & Cream bar from Christmas while watching TV. They're so good!
On a serious note, one thing I do want to improve is my writing. I feel like I've been stuck in a creative rut for well over a year now, and while the Wild hockey team's redundancy itself is probably part to blame, I haven't been making articles that I can really be proud of either.
I used to write articles that I thought were at least entertaining or informative, or maybe even both, and I don't think I've really done a great job of that recently. It's either good intentions with poor execution, or lack of inspiration altogether, so I'd like to get back to my roots as a blogger and spend more time on the articles I do craft this year.
But I've already broken that resolution by doing a hacky mailbag article. C'est la vie.
That's a fantastic question, Gretchie, I'm glad you asked. As some of you may or may not remember, I did a wonderfully fun series last summer counting down my 100 favorite goalie masks of all time. I had a blast making that, and hope you check it out. Somewhat following that, here's my personal Mount Rushmore.

 

Each is special to me in their own way. John Vanbiesbrouck's Florida mask captured my heart as a kid, and made me passionate about goalie mask art with its simple beauty. Back then I really enjoyed drawing, and had a notebook with 3-4 goalie mask designs for every NHL team at the time. I might still have that... somewhere. Curtis Joseph's consistency as he changed teams always struck a chord with me as well, the colors may have changed, but the dog rarely did. Mike Richter's mask was so iconic that the Rangers made an incredible jersey out of it. Finally, supplanting Felix Potvin as my fourth mask, out of respect, is the one that started it all. Gerry Cheevers, ever the wise guy, started decorating his mask as a joke, and started a movement that today is an art form.

 

https://twitter.com/OhHiTony/status/1080961350237675520

 

It's both right now, I think. The limited size is good that we're not seeing too many egregious decisions made(depending on what you think of Carey Price), but it is bad in that players are getting snubbed. The root of the issue is every team having to be represented. This is something taken from the MLB, who still puts on the ONLY All-Star game worth watching, but isn't really a great idea with minuscule All-Star rosters.

 

I don't necessarily disagree with every team being represented, because at the end of the day, the NHL wants ratings for this thing, and if no one represents a team, that's an entire market with a big reason to not watch their product. However, if they insist on doing so, they should expand the rosters a tad. We don't need to go full-on Pro Bowl-bloat here, just add enough players, a few to each team, so that the guys skating during this gimmicky 3-on-3 tourney don't collapse, every team is represented, and every deserving player goes.

 

Also, decide the teams strictly by GAR/WAR models or face the wrath of #analytics.

 

 

My friend Tony Abbott from The Athletic was kind enough to chip in with multiple questions.

 

https://twitter.com/OhHiTony/status/1080962373853294592

 

Yes. Without a doubt.

 

Parise catches some heat in this market for not singlehandedly carrying the Wild to a Stanley Cup Championship. But this heat is usually from some less than level-headed folks that expect only the best results yesterday. The kind of people who would've traded Ovechkin off the Capitals seven years ago because he couldn't win it all. It's ridiculous, really, especially given the fanfare that Parise arrived with. Finally, the biggest free agent in *any* sport wanted to come to Minnesota, because he was from here, and he signed a fair(although long) market deal at the time.

 

Fast forward a few years, and Parise has the 29th-highest cap hit in the NHL, and is tied for 57th in the league in points, while second on the team to Mikael Granlund. Parise may suffer from a lack of talent around him a bit, and even though he's not racking up points at a top 30 pace, if you divide his cap hit by his points, he's 384th in the league...out of 740 players, according to Capfriendly. Smack dab in the middle. So is Parise a bargain? No, but he's hardly a ripoff either, even at that price.

 

https://twitter.com/OhHiTony/status/1080960918706708481

 

God damn, I love this question.

 

There are so, so many one-liners from Futurama that absolutely rule, many from the great

. But for some reason, my favorite is more subtle, but unsurprisingly uttered by

. It comes from Season 2 Episode 5, where Bender flushes Nibbler down the toilet. To teach him a lesson, the Professor installs an empathy chip on Bender to make him feel Leela's emotions. The guys hold Bender down while the Professor screws off his head.

 

Bender: Hey, what are you doing with my head?

 

Professor: I need to tinker in it.

 

Bender: Why don't you just use a potted plant like Fry?

 

It's that kind of under the radar, but still a bit sophomoric humor that made Futurama great. Potty jokes that make you think.

 
---