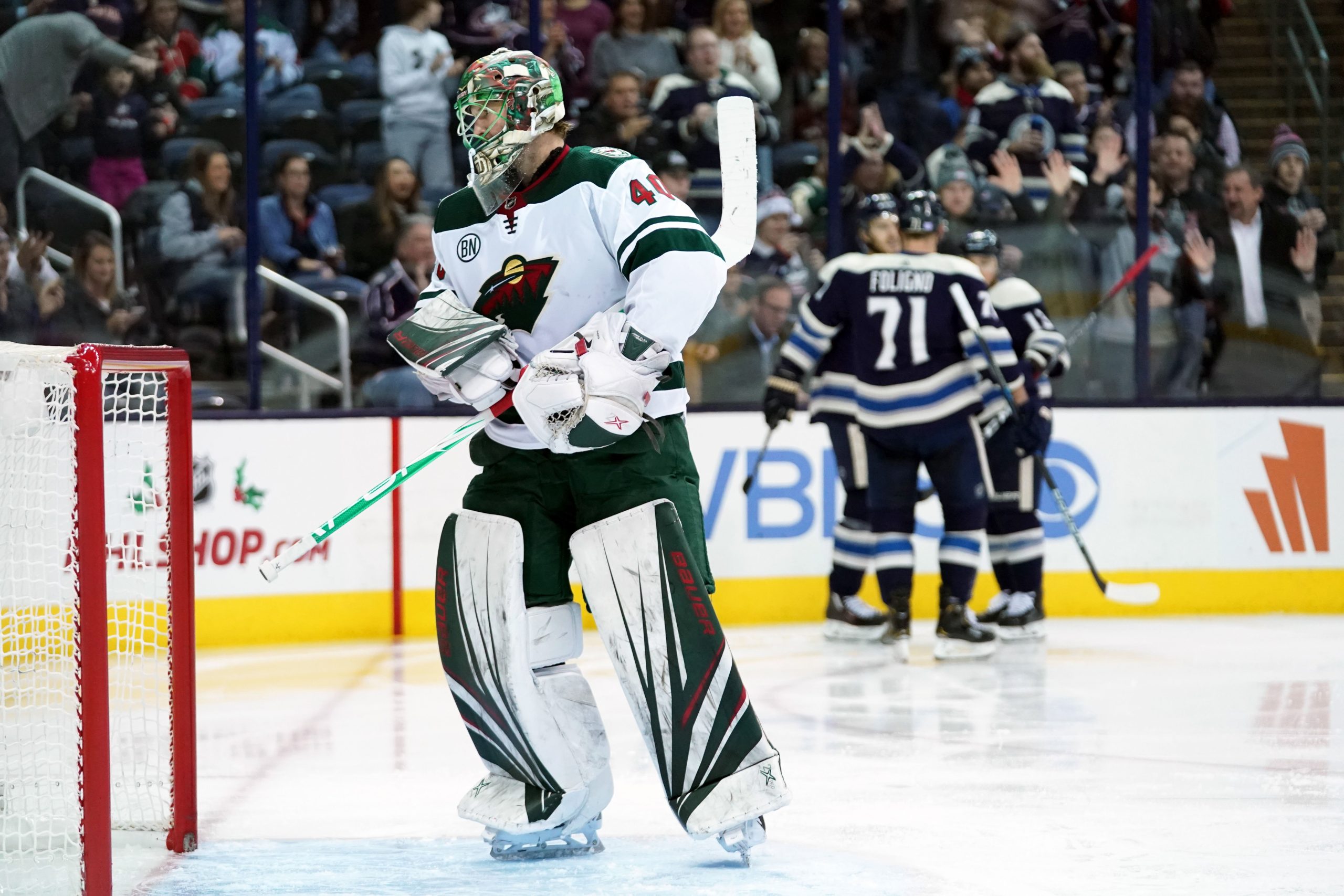 Happy Holidays folks! As I do every month, I reached out for questions from Wild fans and some of my friends, to solve the world's problems. Here's what they asked:
https://twitter.com/DenverWildFan/status/1070002768407089153
Great question -- and yes, as a goalie, it's probably a little bit more of a fickle mental game than the rest of the team. Similar what a closer experiences in baseball, the amount of pressure on the goalie is higher than most, and having a short memory is essential.
For Dubnyk's current situation, I don't know if he has a mechanical problem right now, but I don't notice one, and I trust in Bob Mason's eye to find that if he did. So it's likely that it's a mental thing, as we've probably seen from him in the past.
For goalies, sitting out a game to clear their head might help sometimes. But for the most part, there isn't a huge benefit to not playing, like there could be with skaters, who can observe the game from the press box and maybe pick up things that they're doing wrong.
You'll often hear about a goalie 'not getting enough work' and that's part of the equation too. We see in within games themselves, a goalie stands around on the other end of the ice, not seeing much action, then gets pressed into action and looks cold or off. A great example of that is the third period from Dubnyk against the Coyotes. Goaltending is perhaps more of a constantly honed craft than pure athleticism, so staying warmed up and mentally sharp is very important.
Iowa Wild goalie Kaapo Kahkonen has taken the AHL by storm this season, with a .943 save percentage and 1.67 goals-against-average so far on the young season. In tandem with Andrew Hammond, Kahkonen has Iowa goaltending at a level we probably haven't seen since they moved to Des Moines.
However -- Dubnyk's recent struggles aside -- the Wild aren't in tremendous need for a goaltender at the moment, and calling up Kahkonen after a whopping two months playing North American hockey might not be the soundest long-term move.
Dubnyk is their guy right now, and I think he's playing out of his slump as we speak, and Alex Stalock is playing well enough as the backup for now. Kahkonen could force the issue by keeping up this torrid pace for most of the season, but you also don't want to see him called up to the big show soon, at Stalock's expense, just so he can sit on the bench most nights, instead of the nice split they have going on Iowa. An injury to either Minnesota goalie changes this, obviously, and we even saw Kahkonen NHL (bench) debut when Dubnyk was sick a few weeks ago.
Without an injury when the Wild do finally want to make a move to get Kahkonen up here, it'll likely involve Stalock hitting waivers to Iowa.
https://twitter.com/OhHiTony/status/1069720436575997952
If we can find/photoshop some pictures of Kahkonen in a poo-brown jersey with a cow on it, I think that'll go a long way. We can also put him in an Affliction t-shirt and jeans with embroidered pockets and have him pose outside Valentino's at the Concord Exchange building. Just spitballing.
https://twitter.com/Nickspace65/status/1070740727884382208
You know, there's something to be said for this question not being crazy. I don't personally think Spurgeon is the Wild's MVP, but he's certainly a lot closer to it than most folks think. I think seeing the Wild without Suter and with a hobbled Spurgeon in the playoffs last season was eye-opening for most, and also points to how very, very important those two are to this team. Ultimately, I think the Wild can survive time without just Spurgeon better than losing Suter or possibly Eric Staal, but again, it's not a landslide.
There's a fair amount of truth for it being very similar to living with your spouse before marriage. Conversely, there is a permanence to it that I didn't expect, and although that sounds like the start of a hacky joke, I mean it in a good way.
So many people joke about marriage being the end of things, and that's partially true, especially for most guys, who aren't real big on progressing past habits and lifestyles of their teenage years (myself included). But in reality it's really a huge beginning of things, and game-changing in that now, even before if any kids show up, you have your own family, which can be a little mind-boggling. To think that my wife and I are already a family in every sense is a little wild, given what we think about families consisting of. Like, I'm the same as my dad right now, just younger. That's wild.
Facebook Friend Giles Ferrell: If you were Chuck Fletcher, what is the first move you would make as Flyers GM?
Fire Dave Hakstol (Rah) and replace him with Gritty.

You definitely know how to make my day, Dan. I own several goalie jerseys, and I can't recommend them all enough. Patrick Roy's Avalanche and Canadiens jersey, John Vanbiesbrouck's Panthers, Marc Andre Fleury's Penguins, and most importantly, Dominik Hasek's Black Sabres jersey. However, my favorite goalie jersey might be my 1980 USSR Vladislav Tretiak jersey.
There are  a few goalie jerseys that have eluded my grasp for now, but I think when you're buying a goalie jersey you have to equally weight the jersey with the goalie. Everyone loves John Gibson, but would I be caught dead wearing the current Ducks jersey? Not a chance.
Meanwhile, a goalie like Antii Raanta certainly doesn't have a lot of star power, but would I consider wearing his Coyotes 'Kachina' third jersey right now? Sure. As far as current goalies go, I would recommend Henrik Lundqvist as a premium balance of goalie street cred and a beautiful jersey.
To be honest I haven't really paid much attention to the ugly sweater jersey trend that's gripped the minor league in recent years, as those kind of promotional jerseys never did much for me. But they are a little fun, if only for a glance.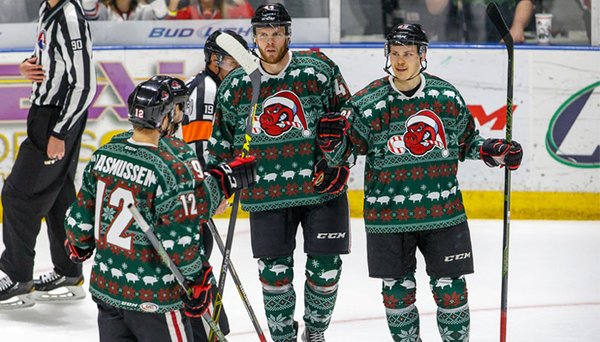 What's even more fun for me, is ugly hockey jersey designs turned into ugly sweaters. I know my Facebook friend Giles has one based on the old Canuck's 'V' jersey. Now, we just wait for this little gem to be converted.

 

http://img.photobucket.com/albums/v167/andykim/stars_3rd_jersey.jpg

 

https://twitter.com/hockeynpearljam/status/1070373863995904000

 

This is a great question, since using 'Crowd Chant' for a goal song sucks in ways that's beyond measure. For me, goals songs should be fun and iconic for that team, which was why 'Let's Go Crazy' by Prince should have worked much better than it did, if only Wild fans could figure out how to sing and/or dance. But if we must get away from that song, I've always thought that the Beastie Boys' 'Brass Monkey' would make for an awesome goal song. Maybe it makes zero sense for the Minnesota Wild -- although it would be amazing for a Hartford Whalers rebirth: Brass Bonanza to Brass Monkey -- but either way, it's a ton of fun.

 

 

In all honesty, it's a shame that Gary Glitter turned out to be a complete monster, because the

had a pretty good thing going on. Beyond that, there's one song that they could use, a WWE song, but a song that has already transcended the wrestling genre. A song used at my own wedding after we were announced husband and wife. A song that the crowd can sing along to, and a song that captures that elation of a goal.

 

 

It would be glorious.

 
---