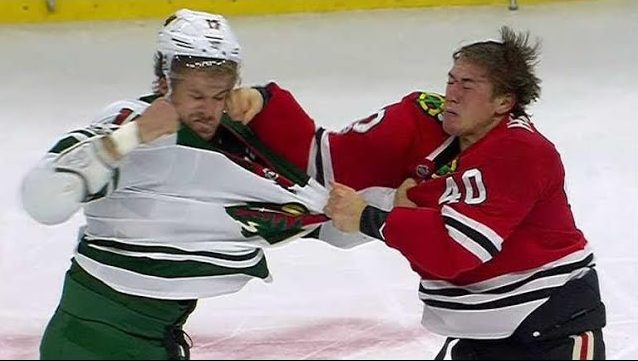 It's been a tough season, Wild fans.
Seeing the stars of this team struggle and struggle to stay healthy has made things increasingly frustrating. It leaves fans wondering which team they're watching.
So much of last season's franchise-best team is still intact, but it feels like a completely different squad at times. Other nights, you see that dominant Boudreau-led team, and are left further confused. This team can run a streaking Florida team out of its building, like Tuesday of last week, then follow it up by no-showing in Colorado the following Saturday night.
This has been the pattern all season long for the Wild, and the observations that this team doesn't really have an identity, or even anything remotely close to hanging their hat on, are on the mark.
As much as last season was a roller coaster of bad and good play followed by similar results, this season is a roller coaster on a weekly basis.
"Who are the Wild?" had become as confounding of a question this season as "What is a Wild?" and that's scary territory, my friends.
Last season, I think the identity of this team was its depth, how they could go three lines, sometimes four lines deep better than any other team in the NHL. They didn't have a superstar, sure, but they had quality up and down the lineup. This summer that was stripped away for the sake of change after a disappointing first-round exit to the Blues.
Last week I set out to write about how the lack of depth was slowly killing this Wild team, as that was the only variable that had changed from last season's team. Unfortunately, it wasn't as easy as just looking at point totals or rates, as I found.
Once I qualified those point totals by the number of man-games each group had played, things did become more clear, and my (everyone's) theory was proven correct.
Case in point- I sorted the Wild forward by time on ice, and found that the bottom end of the roster, all forwards who played at least 5 games, but were seventh or lower in time on ice, and added up their points. This season's bottom end, skaters 7-15, have tallied 91 points through 317 man-games this season.

Last season's bottom end, when the Wild had a bit more of a rotating door on the fourth line despite not having many injuries to deal with, had 97 points in 269 man-games.

Meanwhile, the top-six forwards, mostly similar from each year(only swapping Zucker for Nino) haven't fared well staying healthy, and it's shown. This season, the top six has 152 points in 204 man-games. Last season, it was 197 in 255 man-games.

Zach Parise, Nino Niederreiter and Charlie Coyle are the biggest culprits of losing points from last season, unsurprisingly, as they're the three forwards to miss significant time so far. Parise is down 19 points, having played 39 fewer games, Coyle is down 19 points, but has played 16 fewer games. Nino is down 13 points, but is down 13 games. Only Koivu has seen his point total dip significantly without missing much time, but his struggles have been well documented at this point.

Last season, the Wild finished second in the NHL in goals per game and seventh in goals allowed per game, and that's included the massive stat correction that was the terrible month of March. So far this season, the Wild are 17th in goals per game and 18th in goals allowed per game.
The goals for is an easy explanation: when you've got unhealthy top-end players and non-productive bottom-end players, you're going to score less. The goals against is probably just as easy to explain.
The defense, for the most part, has been relatively the same.
Defensive statistics are hard to really measure, and the fact that the Wild spent most of last season being out-attempted in shots even while they were doing well, negates any comparison to this season where they're mostly being out-attempted while doing not as well.
The real goals allowed issue lies in net, where Devan Dubnyk was superhuman for the entire first half of the season, posting a .936 save percentage through 44 team games, and 35 starts. This season, after 44 team games and 28 starts, he's a fairly pedestrian .918, although he's been shaking off his slow start and playing well lately.
Dubnyk finding some consistency and playing well is a huge key for this team, and he's been better than not since returning from injury in late December. His play can smooth out a lot of wrinkles, and had he played as well in the first half this season as he did last season, he would've helped cover up the Wild's injury and depth issues a little bit, and they might not be stuck on the playoff bubble for almost the entirety of the season.
The good news is, all of these things can change, with the exception of the depth.
The top six hopefully can stay healthy if Nino can return from his nagging injuries soon, and Dubnyk has played well enough lately -- the game in Colorado aside -- that it's not unfathomable that he can still get hot down the most important stretch of the season. Whether that actually happens or not remains to be seen, of course, but it's a better situation than having all of the Wild forwards mired in a Koivu-like slump for the season with little or no explanation.
It's certainly not all roses for the Wild this season, as even when this team has been fully healthy lately it has shown inconsistent efforts. But hopefully, with an extended run of good health, this team can produce and overcome the reduced quality of its depth enough to find their way into the postseason.
Whereas we've found out, anything can happen.
---
Never Miss an Episode of Giles & The Goalie!