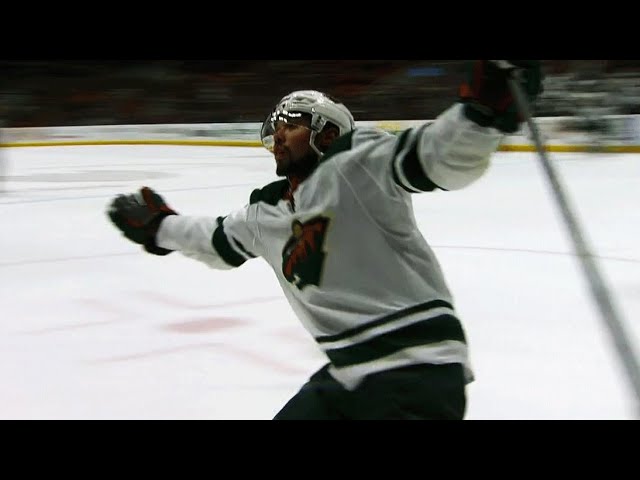 Perception is reality.
It's a saying that really isn't used enough, given its wide-reaching applications. We can trick our mind into anything, really. We can convince ourselves that we're smarter than we are, fatter than we are, are madly in love with inanimate objects or more qualified than an entire radio station full of other people just like us.
In no realm is this truer than in the realm of sports, where our first opinion of a player is often more likely to be the same as our last opinion of that player than anything else.
Enter Matt Dumba.
Dumba came into the league with a little ballyhoo from Wild fans, a first-round pick with a knack for moving the puck and a shot harder than his medium frame would suggest, but perhaps some deficiencies on the defensive side of the ice. He was young, raw and was going to make some mistakes.
And make some he did.
But even though he was second-worst on the Minnesota Wild in 2014-15 at giving the puck away, he was still just 112th of 281 NHL defensemen in giveaways per 60 minutes.
The stigma has stuck with Dumba since then, and he's been the favored name of Wild fans picking a player whose game they hate. On a nightly basis, Dumba's defensive miscues are cited, real or not, while other defenders' mistakes go largely unnoticed or easily forgiven. Dumba's turnovers have become a fixation for Wild fans, and brought up at any opportunity for fans to defend their distaste for the Calgary native.
However, Dumba has grown, he's matured and while he's still kept the blistering shot and penchant for offense that Wild fans were promised, he's shored up the defensive side of his game as well.
He's even improved those pesky turnovers. In fact, of 277 NHL defensemen this season, Dumba ranks 205th in Giveaways Per 60 minutes (1.49). Also, out of the top 62 defenders in the NHL in Minutes (top pairing minutes), Dumba ranks 23rd least in Individual Giveaways, with Wild teammate Ryan Suter ranking sixth.
Being middle of the pack among top-pair defenders in turnovers isn't going to blow anyone away, but it really puts a hole in the narrative.
Turnovers have always been Dumba's chief criticism, and because he's been surrounded by great defensive talent in the likes of Suter, Spurgeon and Brodin his entire time in Minnesota, it's easy to think that he's a bottom-barrel defender just by comparison.
While Dumba isn't winning over fans for his work in the defensive zone, he absolutely shouldn't be losing fans there, either. Have we seen defensive lapses from him? Absolutely, but we've also seen them from Brodin, Spurgeon and even Suter as well.
The Wild have a good defensive corps, not a flawless defensive corps.
Aside from his turnovers, Dumba's overall defense has improved too. Dumba ranks 115th among 277 NHL defenders in xGA (expected goals against), which is a model that measures the quality of shot attempts allowed and made.
While that's relatively middle of the pack, he's ahead of names like Burns, Subban and Pietrangelo.
On the Wild, Dumba also fares well, Ranking fourth in Relative 5-on-5 Corsi percentage, only behind Spurgeon, Suter and Murphy. I've noticed a growth in his defensive skills this season for sure, after him and Jonas Brodin got off to a rough start defensively as a pairing this season, both have rebounded nicely and have been very solid down the stretch.
Something Dumba does bring to this team above and beyond his fellow defenders is offense.
While Suter is having a phenomenal year with 51 points, Dumba is keeping pace with him at 46, and actually has more points during 5-on-5 play than Suter does (28-22). In fact, Dumba is third in the league in 5-on-5 points by defensemen, trailing only Eric Karlsson and John Klingberg. Dumba has the sixth most goals on the Wild overall, and he's also 14th in the NHL among all defensemen.
It's been fun to watch.
The eye test on Dumba's offense has always checked out, but this season he seems to have gotten better with the finer things. He's added stretch passes and some good timing passing to his game, in addition to getting better on pinching in the offensive zone and jumping into plays versus getting back. Dumba is still just 24, and already the most offensively rounded defenseman on the Wild.
He's more than just a hard shot at this point.
I'm not here to throw a bunch of stats out there and try to discount what learned hockey eyes have seen. Wild fans have undoubtedly seen mistakes from Dumba, there's no denying that. He's been a riskier player in the past, and he's had some very frustrating games. I've seen those games, and been disappointed in his play just the same.
But most of the time, the eye test only sees what it's looking for.
If one wants to see Dumba turnovers, they'll see Dumba turnovers. If one wants to see bad pinches, they'll see them. There's enough variety in one hockey player's game for anything one could desire to stand out.
The stats do, however, reaffirm what my eyes have seen.
Dumba is not an elite defender, and I don't think anyone is trying to argue that. What he is, however, is a capable defenseman with immense offensive upside that he's just beginning to tap into. For a fan base that laments the departure of Brent Burns so longingly, Wild fans are hypercritical of a player similar to him in Dumba.
By the way, that's the same Burns who led the NHL in turnovers last season.
Our eyes don't actually deceive us, our minds do. Confirmation bias is a very real thing, and when our mind wants to see something, it can see it.
I don't see Dumba as a defensive trainwreck, because I don't need to see him as a defensive trainwreck. I'm not asking Wild fans to love Dumba or his skill set, I'm simply asking Wild fans to free themselves from the shackles of tainted perception and try to view him objectively.
You might actually like what you see.
---
Stay up to date on the Wild with the Giles & the Goalie Podcast!