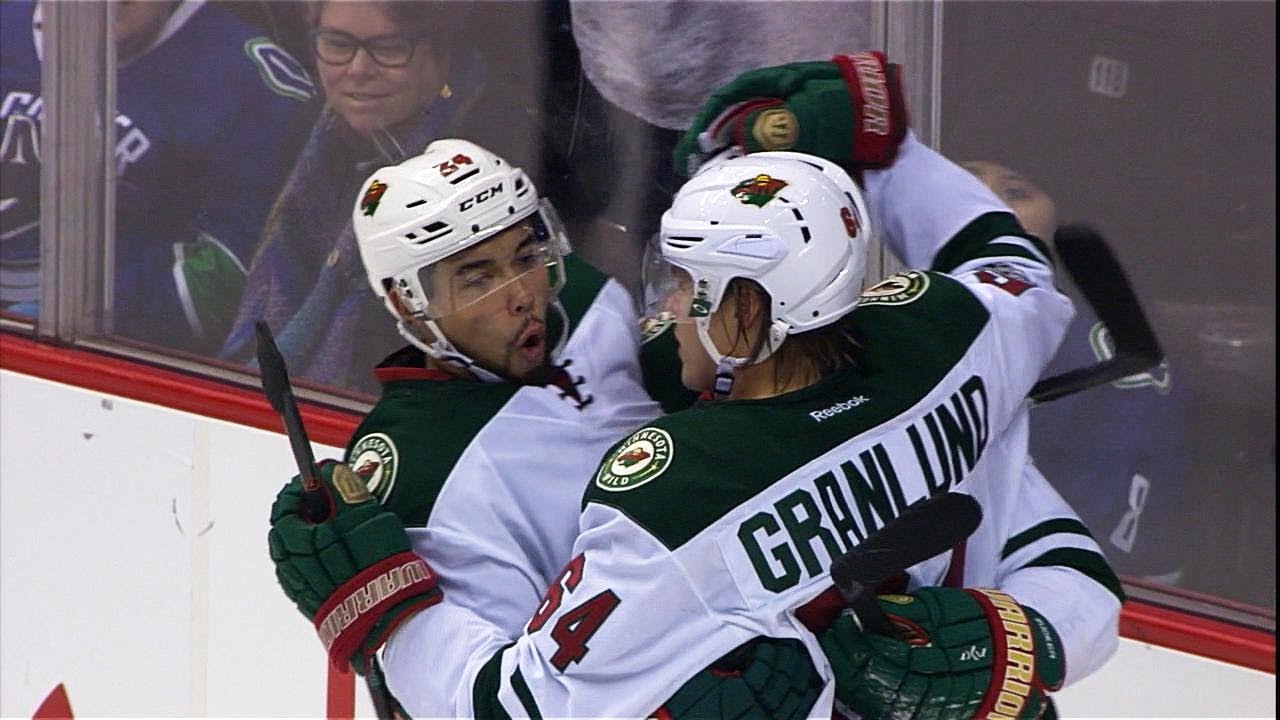 So maybe, just maybe, you've heard someone who's less than thrilled with what the Wild have done this offseason following a quick exit from the playoffs last season.
With so many moving parts, it's hard not to take an issue with at least one thing general manager Chuck Fletcher did this summer, whether you hated losing Erik Haula, loved losing Jason Pominville or questioned Mikko Koivu's two-year extension. Being as objective as I can, I tried to redo the entire summer, and see if I can come up with a team that I like better than the end result that opened training camp last week. I cranked up Capfriendly.com's Armchair GM tool, and tried my hand.
The Expansion Draft 
There was plenty written by plenty of people about how the Wild could approach the expansion draft, and I don't think one of them guessed the scenario we ended up seeing in June, where the Wild sent Haula to Vegas with Alex Tuch, receiving a third-round pick in return.
Plan B
I would've exposed Jonas Brodin instead of Matt Dumba and not played ball with George McPhee and his supposedly tyrannical treatment of fellow GMs, instead calling his bluff on taking the very young and highly regarded Jonas Brodin over Eric Staal, or even Haula on his own volition. The reasons for exposing Brodin are far and wide, but current cap hit and handedness were always tops on my list. With Brodin and his $4.16 million cap hit off my books, it makes navigating the rest of the summer that much easier.
The PominTrade
With the salary cap breathing down his neck, Fletcher made a trade with Buffalo that was met with a fairly negative reaction from Wild fans. Fletcher sent Pominville ($5.6M), Marco Scandella ($4.25M) and a fourth-round pick to the Sabres for Tyler Ennis ($4.6M), Marcus Foligno ($2.8M) and a third-round pick.
Plan B
While this trade did free up a little cap space in the real world -- a whopping $2.2 million -- it just isn't necessary with me letting Brodin take his talents to Paradise, Nev. Fletcher loves Foligno for some inexplicable reason, and speculation that Ennis and Pominville wanted out of their respective situations sure is understandable, but I'm just not doing that to this hockey team if I don't have to in order to free up cap space. As outlined in a recent article in The Athletic from Derek Peterson($), Pominville was more valuable to this team than most Wild fans thought, and Ennis is an injury-prone wild card -- at best. While getting younger players in return is a nice counter to arguably lowering the team's talent level, I don't think that's a priority, either, given that the window for this team is now, and now some more.
Free Agency
The Wild were predictably quiet early in free agency, signing Kyle Quincey and a slew of depth pieces for Iowa, due to the tight cap that they even had in the real world. The team later made an Olympic diving-sized splash by landing Moorhead native Matt Cullen to a one-year deal, fighting off his retirement from the NHL for one more season.
Plan B
With my roster even closer to the salary cap than the real one at this point, the Wild would be even quieter in free agency, but would still add the depth pieces such as Landon Ferraro and Ryan Murphy to the team. I would still bring in Daniel Winnik on a PTO, and give him a minimum deal, in all likelihood. I sadly wouldn't be able to Matt Cullen his return tour with the Wild after keeping Haula, but it's a small price to pay for keeping a 106-point team mostly intact.
RFAs & Contract Extensions
This is where people start getting real frisky about things this summer. Foligno, Mikael Granlund and Nino Niederreiter all received spanking new contracts this summer as RFAs, and Koivu got a two-year extension, along with Mike Reilly, Gustav Olofsson and a few others getting small deals.
Plan B
I really wouldn't change a thing. My team doesn't have to worry about paying Foligno's RFA earnings, and all of the other contracts seemed like fair and logical deals to me, even the Koivu deal, as Tony at Hockey Wilderness outlined this week. Haula's RFA contract he signed with Vegas would remain the same, as it was a fair deal as well.
Results
The Wild end up with a few new faces, and end the offseason a narrow $166K under the salary cap, if the roster shakes out as expected below.
Plan B
My roster ends up being just $133K below the salary cap, with slightly more than an entry-level marketing job less than the Wild's real-life result, but with many more Wild originals, and age factor perhaps a wash when you consider the youth injected through keeping Tuch and Haula.
Overall, I understand what the Wild went through this summer, and am not completely dooming this team to the cellar of the Central Division because I disagree with a trade that was made. When it's all said and done, Fletcher shook up this roster as much as he could without losing anyone too crucial, and most of the top-nine forwards and top-four defensemen are familiar faces. For those who craved changed following a disappointing playoff outcome, hopefully their cravings were satiated.
I was in the camp of trying to keep the team together as much as possible, as I believed in this team to be good enough to win, despite Jake Allen's ridiculous antics in April. I would've liked to see another run from that same team, given the season that they had, instead of the wild card Wild fans have been dealt now. Only time will tell if Fletcher's gambles will pay off, and his legacy, Bruce Boudreau's legacy and the Wild's franchise legacy may indeed hang in the balance, but it also can't be said that he didn't make an effort, at least. Whether his effort can beat mine will never be known, but it's fun to ponder.
---
Never Miss an Episode of Giles & The Goalie!