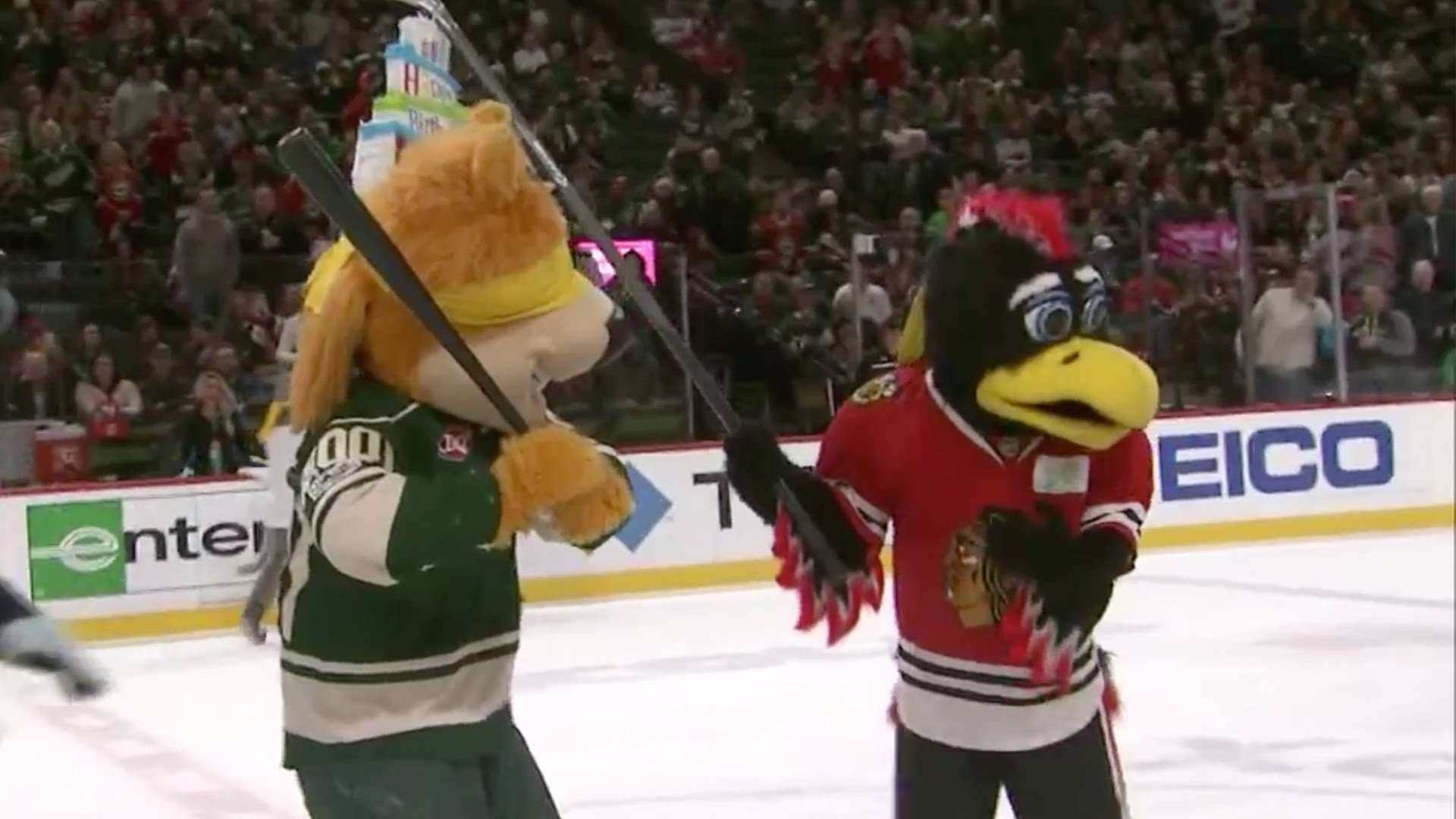 The NHL season will soon be upon us, and with that, your favorite team will be facing the rest of the NHL at some point. You may enjoy cheering for your team, but I'd also like to give you a reason why to hate the team they're facing, because rooting is always so much more fun when there's some vitriol involved. Today, I'm focusing the anger on familiar foes in the West.
Anaheim Ducks - This one is easy. The Anaheim [scrubbed] Ducks took something fun, something cherished from their fans' childhood, and absolutely shredded it to pieces. Not only that, but they took a logo that was beautifully timeless and wonderfully unique and relegated it to shoulder patch duty while a nasty duck foot, probably covered in weeds and algae, became the more important logo for that franchise. And I'm not even mentioning the punchable duo of Getzlaf and Perry and their tomfoolery.
http://content.sportslogos.net/logos/1/1/full/13090612365867.jpg
Arizona Coyotes - Where are you Coyotes? Are you in Phoenix? Are you in Arizona? We know one thing, you're sure as hell not in Winnipeg. A recurring theme during this article will be teams relocated to the south during the 90's, ruining beautiful history in traditional northern cities, but none have burst into flames quite as spectacularly as the Coyotes. From a hockey loving Canadian city to constant financial ruin and location headaches, if you want a case that moving NHL teams to the Sun Belt was a bad idea, the Yotes are Exhibit A.
Calgary Flames - Calgary was the original name thief of the NHL, stealing the Flames from Atlanta, and nonsensically keeping the Flames name that was a Civil War reference in Atlanta but has little to do with the Oil and Cattle industry of Alberta. Now, no one really feels sorry for Atlanta, especially after losing not one, but two hockey teams, but the lack of creativity for a team just assuming another cities' moniker has always bothered me. At least the Tennessee Oilers and New Orleans Hornets realized they were wrong eventually and did the right thing. It's too late for the Flames to change now, but that doesn't mean they're off the hook.
Chicago Blackhawks - How much time you got, buddy? I'll make one point, just to keep things brief here. For some reason no one outside of Illinois will ever understand, Patrick Kane is the face of the NHL, at least in American markets. Every damn commercial and NHL promotion features 'Ol Patty Cakes, and it baffles me beyond belief. I'm not here to tell you what Kane did or did not do, because I'm not a lawyer, but the guy isn't exactly foreign to trouble. Is he good? Sure, but there are LOTS of players who are just as good, or better than Kane, and given that Kane has as much personality as a hockey puck. You can't tell me he's more marketable than a guy like Connor McDavid or Alex Ovechkin. Even Sidney Crosby has at least kept his sniffling nose out of trouble off the ice. If the NHL thinks it's growing the game by featuring a player *already* known in its most featured TV market, they're either confused or being bribed by NBCSN.
Colorado Avalanche - This relocation south isn't a terrible, awful example, since Colorado is actually a decent hockey town. But! Never forget that they took these jerseys from our lives, even if it saved us from these. Also, between Patrick Roy's late summer implosion last year to Joe Sakic's summer vacation that started two months early this year, the team is an absolute dumpster fire of mismanagement that can be blamed on too much former player nostalgia and a brazen lack of common sense. Also, this:

Dallas Stars - As a Minnesotan, I'm well aware that my levels of butthurt here are off the charts, but... stealing a great name to a team is a heinous crime. Minnesotans have already been screwed by this once, by mostly Lake-less Los Angeles, and it happened again. Other hot weather cities stole hockey teams too, but at least all of the rest of them had the common decency to rename those teams, in case hockey returned to the area again. Sure, you can make the arguments that Texas being 'The Lone Star State' qualifies the Dallas Stars as being a fitting name to use for a team, but it is the Lone Star State. As in, one freaking star. But, naming the team the Dallas Lone Stars would have been too obviously stupid, so they amputated the word North, let it shrivel up and die, never to be used again, like some perfectly healthy prick that's not an organ donor. IT'S LITERALLY A JOKE IN THE MOVIE AIRHEADS THAT THE BAND IS THE LONE RANGERS BECAUSE YOU CAN'T PLURALIZE SOMETHING LONE.

 

*Yes, I am aware that there is but one North Star. However, North Star doesn't, by linguistic nature, mean that there can only be one. There are lots of stars, perhaps residing in the North. End of discussion.

 

Edmonton Oilers - How many times can one team win a draft lottery? In the NBA, where everything is rigged and the draft lottery is the most shining example, no team has had the luck that the Edmonton Oilers have had. Most frustrating of all, is that they kept winning draft lotteries, but still managing to screw up building a winning team, until the most unlikely of their lottery victories, where they won the right to draft franchise savior McDavid. I'm not sure if the run the Oilers had winning draft lotteries is proof that the NHL should be rigging their lotteries and aren't, or if the NHL is rigging their lotteries, and have some kind of misguided obsession with Making The Oilers Great Again.

 

Los Angeles Kings - Everybody can envy success, but what's really infuriating about the Kings success is that no one really cared. Sure, they have good attendance, and it's not like any one of their three championship parades had tumbleweeds going through them, which shouldn't be surprising for the second most populous area in the United States. But it's still a basketball town in Southern California. Roughly 9.5/10 people in the Los Angeles area cared more about Kobe's rotting corpse on the basketball court than those Anze Kopitar/Jon Quick-led Stanley Cup victories. The only celebrities their games could muster at their games were Matthew Perry and Justin Bieber, because they're both native Canadians.

 

Minnesota Wild - What is a Wild? Seriously. The Wild name is one of the most ridiculous professional sports team names in modern history, in an era with the Binghamton Rumble Ponies and New Orleans Baby Cakes. YES WE GET IT MINNESOTA HAS NATURE AND THINGS. If it's possible for someone to 'Jump The Shark' immediately after they've been awarded an NHL franchise, the Wild managed to pull it off. For hockey fans in Minnesota, it's flat-out embarrassing, and when other fans call you out on your stupid team name, there's no rebuttal. "What's a Wild?" they ask, and "Hell if I know!" is the only real reply. Confusing matters more is the ambiguous logo and ambiguous mulleted mascot, and the fact that their fans can't even figure out how many syllables are in the word Wild.

 

Nashville Predators - I'm happy for Nashville in getting credit for being a decent hockey market and all that, but when your entire city's nightlife revolves around drinking heavily and listening to country music, gathering a crowd to watch a hockey game... while drinking heavily and listening to country music isn't quite as impressive. Also, couple this with the fact that the whole throwing catfish on the ice bit is a shameless and somehow even more gross rip off of the Octopus in Detroit, and there isn't as much pure hockey fandom as there appears.

 

St. Louis Blues - There are just some things that should be left well enough alone, and one of those things was Martin Brodeur's career. Brodeur left the Devils in 2014 at the age of 42 after a wonderful Hall of Fame career. The following year, Brodeur got the itch to return despite an obvious dip in ability, and the St. Louis Blues enabled him and signed him to a one-year deal after starter Brian Elliott was injured. Brodeur played in a whopping seven games, with a lovely .899 save percentage, and was so confused that he didn't even know how to properly decorate a helmet for a different team. Shame on you, St. Louis Blues.

 

http://2.bp.blogspot.com/-jtD-jq4o5Fw/VKYe3zW4O8I/AAAAAAAATq0/FdBM7xuIdTI/s1600/460475868.jpg

 

San Jose Sharks - Perhaps being the most infamous choke artists in the recent era of the NHL isn't something hateable, but it should be. The Sharks gloriously pissed away Joe Thornton's career, along with countless others, and Patrick Marleau may have just escaped this now-sunken ship just in the nick of time. Also, they added orange to their uniforms a few years back, like, just because. Just because it's was f'n stupid.

 

Vancouver Canucks - Look, I understand the disappointment of having never won a Stanley Cup in a hockey-crazy market. Ask any Minnesotan how they feel losing in the Cup Final in 1991. But did we almost torch our city to the ground and make complete asses of ourselves? No. Vancouver did, not once, but twice. Upon losing in the Cup Final in 1994 and 2011, Vancouver natives didn't wallow in their alcohol like a good little sports fan, they decided to literally riot over the outcome of a sporting event. If they were trying to dispel the stereotype of the boring and mild-mannered Canadian people they did a real bang up job, but perhaps just created an exception to the rule that Canadians of the Vancouver variety are

.

 

Vegas Golden Knights - The Vegas Golden Knights clearly didn't learn from the Minnesota Wild that it's important to nail the whole name thing right off the bat. While we knew the NHL put a kibosh of anything gambling related (because the NHL hates fun, as we all well know), the Golden Knights could've gone with something maybe a little less wordy, maybe something a little more fun, or even fought back on the whole gambling bit a little, since, you know, that's basically the only industry there. I'm fine with the team dropped 'Las' from Las Vegas "to cater to the locals"(because everyone calls it Vegas), but the odds are still 1:1 that this team will be called the Las Vegas Knights within about 10 years. Also, as long as we're going with 'The knights', just give the people what they want.

 

https://www.youtube.com/watch?v=dhRUe-gz690

 

Winnipeg Jets - So they got their team back, that's awesome. They even made it to the playoffs, killer! They got to do that white thing you supposedly invented! But they didn't win any games, in that one time they went to the playoffs in six years back in the 'Peg. So what did the Jets brass do, in their infinite wisdom? They gave their coach and GM mega-extensions, ensuring this kind of mediocrity into the next decade. Way to go, good job. That kind of fan-abuse may be funny to those of us close to Winnipeg, but it deserves some ire.

 
---
Never Miss an Episode of Giles & The Goalie!