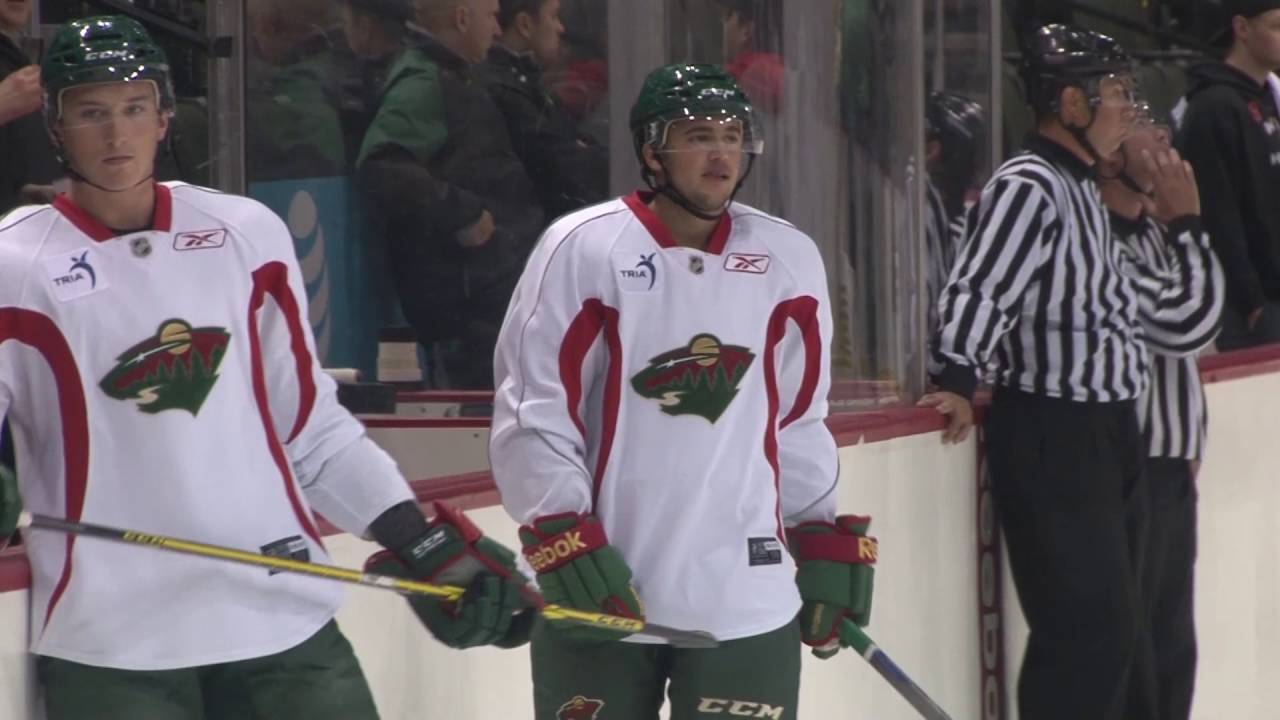 As with any game that I go to live, I have random thoughts. Thursday I went to the open scrimmage as part of the Wild Development Camp, which was followed by the Wild Block Party across the street.

It's always fun going to a hockey game in July. I do enjoy the abyss that is the hockey offseason after free agency, but one little taste of the sport during that time just to remind you that you love the sport doesn't hurt.

I made a run to the Hockey Lodge before the scrimmage and was confused to find that there were no new Wild jerseys to purchase -- not that I was going to -- and that they weren't really blowing out all of the old Reebok merchandise. I know they had a sale a few weeks back, but they're clearly waiting until the season to backfill the store with all that spanking-new Adidas merchandise.

They had one concession stand open. It wasn't a big one, and some fans were not thrilled. However, they did have several powders available to shake onto your popcorn for flavor, which is dynamite. More places should do this.

I saw afterward that there were 1,800 fans there, and that looked about right. The crowd there is always a good one, usually very family-heavy, since if you're going to drag one of your brats to a hockey game, hey, might as well make it a free one.

Watching warm ups for me usually doesn't teach you much about the players, but at the very least, you can get familiar with what players look like. Also a fun thing for me is seeing goalies in equipment that doesn't match the Wild color scheme.

Braydyn Chizen is a massive human being. The 6-foot-9 seventh-round pick from last summer certainly cuts an imposing figure out on the ice, although his play doesn't really lead you to think he's comparable to Zdeno Chara.

Ryan Edquist looked great all night, as he blanked the talented green team in his 30 minutes of play. You may remember him from his time at Lakeville North, where he was a Gopher commit. College hockey expert Nate Wells tells me he decommitted from the U and went to Boston College to avoid playing another year in juniors and not being stuck behind Eric Schierhorn. He's obviously not property of any NHL team at this point, and unless he gets more playing time at BC, he could end up not getting a chance to play pro, which is too bad, because he was pretty impressive.

Also impressing me was another Lakeville Gopher commit that followed through on attending Minnesota after being drafted by the Wild, Jack Sadek. As a seventh-round pick, he's a flier for the Wild, but I liked the way he moved the puck through the neutral zone, connecting on a few stretch passes. It'll be interesting to see if he blossoms further for Don Lucia in his junior season.

Jack Walker was in attendance as an invitee again, and he was hustling his rear off, again. He had an impressive season with 72 points in 70 games in the WHL last season, it'll be interesting if the Wild ever make the move to sign him, given how often they've had the Edina native in camp.

The local flavor was a theme of the night, as usual, as the Wild invited 10 players with Minnesota ties to camp. It's not a bad move, and not something you'd want to go crazy on in, say, Carolina, but it works here, and many of these kids looked like they belonged.

Something new this year was a few non-North American kids being invitees, in defenders Artem Minulin from Russia and Yusuke Kon from Japan. I wasn't blown away by either one, but it can only really be a good thing that the Wild are looking outside of the U.S.-Canada box to find prospects, even with so many deserving kids right in their backyard.

Yes, I mentioned Russia in this article. Does that make it #fakenews? I don't know.

I'm writing this while watching Beat Bobby Flay. All of the crap talking in this show is so forced and manufactured, along with the crowd reactions and stuff -- it's just awful.

Despite that, I still like the show, because Bobby Flay is a ridiculous chef, philandering as he may be.

Back to hockey, I was encouraged by Avery Peterson tonight, he's certainly taken the tough road through college hockey after being drafted by the Wild in 2013. It seemed like he was everywhere on the ice, and had some great chances, even though he didn't find his way to the score sheet.

Re-reading that last sentence, he'll fit right in here.

I wanted to keep an extra close eye on a few players, and Dante Salituro was one of them. He's smallish, but seemed like he looked quick out there and found his way into some plays. Sounds vaguely familiar...

...because he was dealt for local favorite Jordan Schroeder, who you could say fits that profile. It's not that I don't understand that trade, but even though I liked what I saw from Salituro, Schroeder could've been cheap depth -- he signed in Columbus for $650,000 -- but it seemed like the Wild brass and both coaching staffs never really cared for him for whatever reason.

Along the lines of that trade, it seems like a major focus for Chuck Fletcher this summer was bolstering Iowa. So much so that I declared Iowa the winners of NHL free agency this year. While that's definitely a good thing, I'm not sure exactly how much it'll help the big Wild this season, unless Chuck's tarot card reader predicted several injuries to bottom-six forwards and bottom pair defenders this season.

But yeah, if I were an Iowa Wild fan, I'd be jacked. But I'd also be living in Iowa...

I've actually come to enjoy Beat Bobby Flay more than Chopped, which used to be a staple of my television watching, but I've grown increasingly tired of it.

Its like, Chopped could feature more up and coming chefs and all that, there's no shortage of those, but instead every episode is a special episode featuring gym teachers, or grandpas, or worse of all, some kind of E-list celebrities. Like I really want to see the Chocolate Rain guy screw up making a quesadilla.

Jordan Greenway is also a massive human being. When I first saw Chizen, I said "Holy crap he's huge!" out loud, and my girlfriend immediately chimed in with, "Yeah, and look at #49!" Greenway looks like a manchild out there, and he's one of the few bright spots left in the Wild's increasingly bare cupboard.

Mason Shaw -- a 2017 pick -- earned the Hustle Award from the Wild, and he looked like he earned it during this scrimmage. He scored late in the game thanks to a screen from the massive Greenway, and was around the net beaver-tailing his stick for the puck later on in the stanza. He had a huge season with Medicine Hat, scoring 94 points in 71 games, and finding scoring punch like this late in the draft is going to be essential for the Wild, given the picks they have to work with.

Brandon Duhaime was another guy I wanted to see -- being a touted 2016 draft pick -- and he ended up winning the most improved player award from the Wild. To me he looked like he maybe tried to dangle a little too much out there, but his pass to Adam Plant in the closing minutes for a goal was great.

Another 2016 pick that I'm even more excited about seeing was Dmitri Sokolov, who wasn't at last year's camp due to injury, and this year... was injured as well. He scored 48 goals this season, in the OHL, which is good competition, albeit an offense rich environment, but I wanted to see if the knocks on him being slower than the second coming of christ were true. Alas.

I still giggle when I see Sam Anas' name. I'm 12.

Like you don't.

In true minor league fashion, the Iowa Wild could embrace it. I'm not sure how. Making a pun on Star Anise probably wouldn't be fun enough, but having an Anas Fissure promotion probably is a little too far. Have to find a happy medium there.

Number one on my list of players to watch was Luke Kunin, for obvious reasons. While I liked what I saw from him in some small nuanced plays, his night on the whole wasn't an incredibly impressive one, for me. I was really hoping this kid on the doorstep of the NHL would look like a man among boys out there, and he merely looked like a pretty good player.

Kunin did show everyone something unexpected by dropping the gloves in a legitimate beef with Giorgio Estephan, after a little rough stuff in the corner, Estephan lost his stick shoving Kunin, which Kunin responded with a sharp slash to the ankle, and then the gloves came off. Seeing an edge from Kunin was welcome for me, and even though I'm not an avid hater of face-punching, I think Kunin showing some fire and a willingness to defend himself are positives.

When things switched to 3-on-3 towards the end, Kunin's speed was more evident, as he took advantage of the open ice. He also fired a thunderous shot wide of the net during the shootout, which is disappointing, but the sheer volume of that puck hitting the boards was encouraging, at least.

I'm in no way, shape or form discouraged about Kunin's talent after this, as everyone has bad games, and his wasn't even so much bad as it was uneventful. Perhaps the fight late in the scrimmage was his frustrations boiling over a bit, but again, I'm glad to see that verses acceptance.

Someone who did look good out there was invitee, Swede and Gopher star Leon Bristedt. Bristedt rifled a shot past Adam Vay late in the scrimmage, and scored twice on Vay in the shootout. Maybe not with the Wild, but if Bristedt has a solid senior season with the Gophers, he could find himself signing as a college free agent, like Justin Kloos did this summer.

Speaking of Vay, he didn't look great. After a forgettable season in Quad Cities last year, he's definitely more of the organization depth-variety goaltender than one with the potential to make it to the NHL.

Some kids in the third row in front of me were desperately, desperately trying to start the wave several time during the end of the scrimmage, including during the shootout.

Parents: It's OK to tell your kids to sit down and shut up. Encouraged, even.

Following the scrimmage, I took advantage of the Hockey Lodge's sale on shirseys that they knew were not high in demand.

Following that excellent $10 purchase, we wandered over to the Block Party, which had a solid selection of food trucks, plenty of family friendly activities and a line about a quarter-mile long to get autographs from Jared Spurgeon and Tyler Ennis.

Have you heard that they're best friends?

 
---
Never Miss an Episode of Giles & The Goalie!