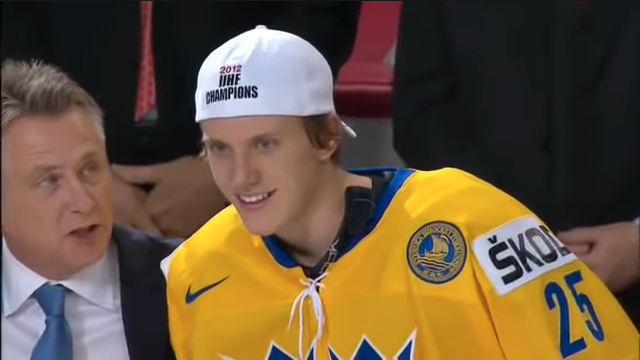 The World Junior Championships was hardly the Minnesota Wild's tournament in their first decade of existence. You might argue it's because they never had any good prospects, but that's not entirely true.

 

Marian Gaborik, Mikko Koivu, Pierre-Marc Bouchard, and Brent Burns were all big-time prospects, but they never quite got to pop at World Juniors. Gaborik (two goals, three points) was a relative disappointment for Team Slovakia, and the others hovered around an unspectacular point per game.

 

Contrast this to this season, where the Wild will bring eight prospects to the tournament. And not just any prospects, big-time contributors. Goalie Jesper Wallstedt holds Team Sweden's hopes in his glove and blocker, and winger Liam Öhgren will be a key part of Sweden's offense. A third of Team Canada's defense consists of Wild prospects, including headliner Carson Lambos. Captain Brock Faber and Jack Peart will no doubt play huge roles for Team USA.

 

That action starts tomorrow, but it wasn't always like this. After those Big 4 Inaugural Wild prospects, they had a drought of several years where they got almost no impact in the draft. The best thing you could say about any Wild prospect from like 2004 to 2009 was that future journeyman Patrick O'Sullivan netted them Pavol Demitra.

 

But this changed in 2012. Before we watch the 2022 version of Wild prospects in the World Junior Championships, let's remember the first time Minnesota prospects put themselves on the international map.

 

You can't start this retrospective without mentioning the enormous hype surrounding Mikael Granlund before the tournament. The 2010 first-round pick saw his star rise in Finland for two years as Wild fans watched from an ocean away. Fans had not only not seen much of Granlund in action at this point, but they didn't even know if he'd sign. (He did that summer, before the Wild's window to do so closed.)

 

Granlund also shone on the international stage during the World Championships in spring 2011. He scored a lacrosse goal so pretty that Finland put it on a postage stamp.

 

 

It made for a great combination of excitement and dread. Granlund settled into a productive Top-6 winger, which makes us forget how much hype he had at the time. In 2012, this was the Wild's No. 1 Center. Granlund was finally going to be the mythical offensive complement to Koivu.

 

He didn't disappoint in his first impression to many Wild fans. Granlund notched a third-period insurance goal in the group stage, putting Finland up 3-1 in a 4-1 win over the United States. He added another six assists in two games against Teams Denmark and Czechia.

 

His best game, though, came against Team Slovakia in the quarterfinals. Slovakia had Finland in a 2-2 tie after the first 20 minutes, and then Granlund took over.

 

 

Granlund scored the go-ahead goal to put Finland up 3-2, then added two more assists to his brother to extend the lead to three. He added another assist in the third period to make it 8-4 for good measure.

 

He was quieter in the semifinal, losing the puck in the shootout to cement a loss against Sweden. Overall, though, it was a successful tournament. He finished tied for second in the tournament with 11 points and made the All-Tournament team. He delivered on the hype in that moment, at least.

 

Meanwhile, the Team USA Wild prospects had more individual success than team accomplishments. Jason Zucker captained the team and scored three goals and seven points in six games. However, five of those seven points came in the relegation round (yup, USA wound up in the relegation round!) and an 11-3 group stage romp over Denmark.

 

Charlie Coyle scored four goals and added another assist, but that also was fueled by Team Denmark, against whom Coyle had a hat trick. The closest they came to a big moment was a too-little, too-late comeback attempt where they scored a third-period goal each in a 3-2 loss to Team Canada.

 

Fortunately, Wild fans got a taste of gold between their three Team Sweden prospects. Johan Larsson captained a Team Sweden squad, scoring six assists in six games. Johan Gustafsson filled in for Anton Forsberg after the latter went down with an injury, and the backup goalie took Team Sweden all the way to the Gold Medal game. He earned the shutout against Russia in a 1-0 overtime win.

 

But none of that may have been possible without Jonas Brodin patrolling the blue line. When Brodin was on the ice, great things happened for Sweden. This held true in the most significant moments. In Sweden's biggest group stage test against Team Russia, Brodin registered an assist on the overtime-forcing goal, then was on the ice as Sweden won the game.

 

However, the real showcase of his talents came in the Gold Medal game. Not only did he help Sweden hold Russia scoreless, but he helped Sweden out-shoot them 58-17. Seventeen shots against! In over 70 minutes! During the Gold Medal Game! Against a team featuring future Hart Trophy-winner Nikita Kucherov, future NHL star Evgeny Kuznetsov, future KHL star Nikita Guse, and stud prospects Nail Yakupov, Mikhail Grigorenko, and Alexander Khoklachev.

 

Brodin played a quintessential Brodin-style game. He played great defense, steering high-octane opponents to the outside. Once Russia lost the puck, he'd scoop it up and start the play with simple but effective breakouts. Nothing flashy, but extremely efficient.

 

Re-watching the 2012 Gold Medal game, you can pinpoint

where Brodin relies on his entire skill set. With 11 minutes remaining in the second, Khoklachev tries to charge the offensive zone. But Brodin holds his ground, forces a dump-in, then dumps Khoklachev for good measure.

 

The Russian forecheck sends the puck behind the net, but Brodin's there to get it and skates around an incoming Yakupov. Yakupov gets his body on Brodin, but it's too late, and the puck's moving north. An errant breakout pass comes back the other way a few seconds later, but it doesn't matter. If the pass had been on target to Kuznetsov, Brodin was in a perfect position to poke it away, rendering a rush harmless.

 

You could call it underwhelming that this group never powered Minnesota to a championship, but this was one of the more exciting, hopeful times in Wild history. Not only that, but without these players, fans would have less to look forward to this week.

 

When Minnesota traded Zucker in 2019, they got back a pick that turned into Lambos in 2021. Lambos will be a top defenseman again on Team Canada's roster. Without Granlund, there's no one to trade for Kevin Fiala, meaning there's no path to either Faber or Öhgren to the Wild. The 2012 WJC doesn't only exist as a pleasant memory. It's a tournament that actively shaped the franchise, even a decade later.