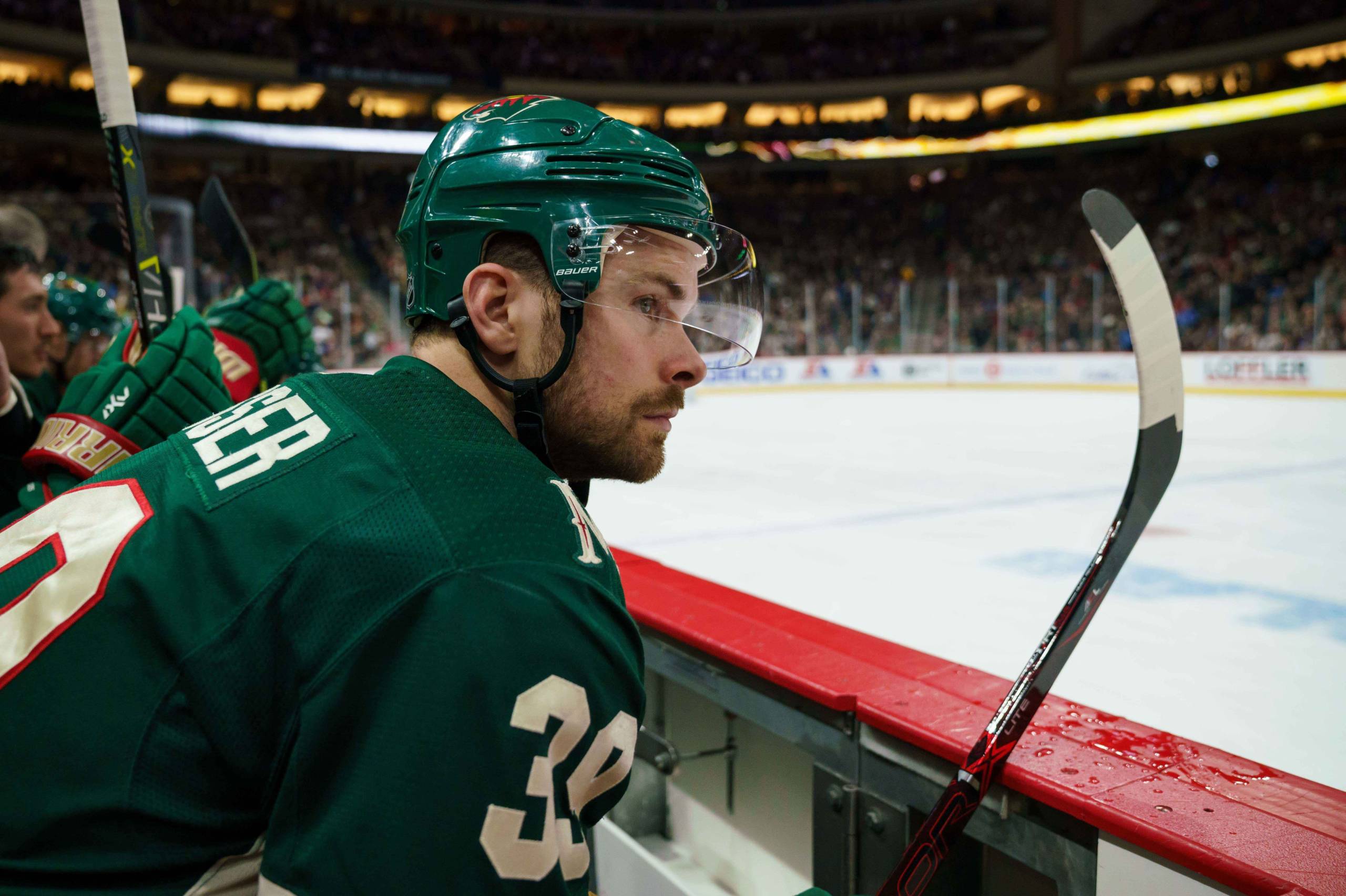 The Minnesota Wild have been here for 20 years, so get ready for a lot of retrospectives. Most will revolve around the best players in franchise history. You'll have debates like: Who would you rather have: Marian Gaborik or Mikko Koivu? The correct answer is Gabby in a walk.
Who won't you hear about, though? The humble Guy. The ones that come in and fill the bottom of the roster, play a role and more or less get forgotten about as time passes. They will not be forgotten today, though, as we're listing off 20 Guys who defined the Wild.
The immediate question that comes up is: What is A Guy? It's a hard quality to define, but here are the parameters we set:
A Guy on this list played 75+ games with the Wild, with no current players considered

Prime Kyle Brodziak is the cutoff. Were you were better than Kyle Brodziak? Then you aren't A Guy. If you're worse, you are. If you're as good as Kyle Brodziak, you're Kyle Brodziak.

Generally, it should be an odd occurrence to see someone wearing A Guy's jersey
With that, let's go!
Branko Radivojevic went from being non-tendered by the Philadelphia Flyers to starting alongside fellow Slovaks Gaborik and Pavol Demitra on Opening Night. "Radio" put home a goal and assist, but couldn't hold the spot for long, bouncing around the lineup for the rest of his short stay in St. Paul.
Minnesota went through a phase where they had to have at least one Very Big Guy on the blueline. Clayton Stoner was one of the best, averaging 16-plus minutes over 224 games. Sadly, the most memorable moment he had was threading a perfect pass to Chicago Blackhawks forward Marian Hossa, who scored the only goal in an April 2013 loss.
Antti Laaksonen was a pioneer of the Minnesota Wild, being the franchise's first Random Finnish Guy. He was a Jacques Lemaire favorite who offered some speed and penalty killing. Still makes Minnesota his home and does a lot for local charity events.
For a hot minute it looked like Ryan Donato would be more than a Guy. He burst onto the scene, being a shot machine and compiling 15 points in his first 15 games. A slump and logjam put him on the fourth line, and he got relegated to a footnote in Wild history this fall when he was traded to San Jose.
Minnesota signed Pascal Dupuis as an undrafted free agent in 2000, and he was absolutely a success story. His 2002-03 year looked like a breakout, where he rode a hot start to a 48-point season. It wouldn't last, however, and he became A Guy. No shame in that, though, as he scored two goals in a Game 7 vs. Vancouver and found a second act as A Guy Who Plays With Sidney Crosby.
Greg Zanon, Defense (2009-2012)
Greg Zanon was put on earth to do one thing: Block a lot of shots. He loved it. In his two full seasons in Minnesota, only Dan Girardi blocked more than the 408 pucks Zanon got in front of. While blocking a lot of shots usually means you just don't have the puck, Zanon managed to rate as a rare bright spot on a bad blue line.

Darby Hendrickson was Minnesota's first Hometown Guy. The Richfield native and Gopher alum made his name in the Wild history books for scoring the first home goal in team history. He even got a nice playoff moment, scoring the go-ahead goal in Game 7 vs. Vancouver.

Minnesota picked up Chris Stewart as a deadline acquisition in 2015 when he was drowning on an atrocious Buffalo Sabres team. Once he got to St. Paul, he turned things around, chipping in on offense (11 points in 20 games) and fitting into the Wild's system. Minnesota let him go in free agency, but then brought him back in the following year.

 

Stewart was too much of a defensive liability to play a regular role in his second stint, but showed some good scoring touch in limited minutes. He was also one of the few players to keep things light in a locker room that all but banned fun, and his "

" became a fan favorite.

If you could say one thing about Antti Miettinen's tenure with the Wild, it would be "He sure was Koivu's linemate." Miettinen spent 69.9% of his 5-on-5 minutes with Prime Koivu and got 600-plus minutes of power play time in three years. He managed to come away with 120 points in that span, trailing Koivu by 80 with the same number of games. It's almost like he insisted on being A Guy, which is why we salute him today.

Minnesota has been blessed with having most of their goalies being pretty good. You couldn't really call Dwayne Roloson, Manny Fernandez, Niklas Backstrom, Josh Harding or Devan Dubnyk "Guys". Which brings us to Darcy Kuemper, who is the best example of being A Guy Who Got Way Better After He Left.

 

Kuemper took the Wild net on-and-off for four years, finding absolutely no consistency and had a knack for letting things snowball out of control. Since leaving Minnesota, he's gone from being A Guy to being The Man, posting a .924 save percentage these past three years. Wild fans won't be over it anytime soon.

The 6'5" Kurtis Foster made a splash in his first season, using a booming shot to score 10 goals and 28 points in 58 games. The story of Foster's career, however, involves his amazing comeback from a broken femur in 2008. Foster was able to rehab and return, playing 229 games after the surgery, including a second stint with the Wild.

Eight players in Wild history scored a playoff overtime goal, but only one Guy accomplished the feat. That was Richard Park, who helped end Patrick Roy's career by winning Game 6 vs. Colorado in 2003. It still stands as one of the biggest goals in franchise history, period.

Colton Gillies might have the most bizarre career path in franchise history. Minnesota took a beating in the 2007 playoffs, figuratively (losing in five games to Anaheim) and literally (With Chris Pronger chopping Kim Johnsson's leg in half). In order to get tougher, they traded up from 19th to 16th, giving a second-round pick to Anaheim in order to select Gillies. Gillies had just 30 points in the WHL, but showed toughness in racking up an absurd 148 penalty minutes.

 

Gillies played NHL 45 games in his age-19 season, then just seven over the next two years. By the time he got another shot in the NHL, the front office had changed. Chuck Fletcher saw 37 games of Gillies before moving on. The total: 88 games, three goals, seven assists, and most unexpected of all, no fights.

Another Gophers alum to go on to being A Guy for the Wild, Schroeder was a first-round pick for Vancouver before landing in Minnesota at 23. Schroeder was Minnesota's first call-up from Iowa while he was here, but the speedy winger never forced his way into an increasingly deep Wild lineup.

In 2009 Fletcher traded the underwhelming Benoit Pouliot for the underperforming Guillaume (or, Gui, French for "Guy") Latendresse. Latendresse went on to undress goalies over the next 55 games, scoring a whopping 25 goals. Tragically, concussions struck him early the next season, limiting him to 27 games. In total, he scored 33 goals in 82 games, making him the Guy Who Might Have Been.

If you were an analytics guy in the mid-2010s, you loved Justin Fontaine. His Points per 60 numbers were fantastic. He could drive play. He did little things to drive offense. For a certain type of observer, he was everything you'd want in a third-liner. The Wild and NHL didn't agree so much, as he was let go by the team in 2016 and never played another NHL game again. For those three years, though, his Corsi Candle burned bright.

Martin Skoula and Matt Cooke are, in their own ways, a special kind of Guy -- The Guy Everybody Hates. Over a decade later, the name "Skoula" invokes spectacular defensive blunders, but at least he also couldn't score. Wild fans were also not big fans of Cooke's unique tactic of trying to murder people on the ice.

We're now in the Wild Guy Hall of Fame. Nate Prosser was an institution in Minnesota, keeping a decade-long career with the Wild despite being claimed off waivers in 2017 and a GM change in 2018. Prosser was close to being the platonic ideal of a replacement-level defenseman who was liked by his teammates and great at pissing his opponents off. He was fine sitting in the press box, and if pressed into duty, he was perfectly passable. Prosser is 21st in franchise history with 353 games played. No defenseman has been more of A Guy for longer.

With 426 career games with the Wild under his belt, Stephane Veilleux is the Mikko Koivu of Guys. He's the Nate Prosser of forwards, with exactly 0.1 Wins Above Replacement for his career. His most memorable moment: The fact that he killed penalties. We remember that Veilleux killed penalties, and that's about it.

 

Veilleux shows that while other Guys leave their mark by tantalizing you with flashes of skill, or by frustrating you with mistakes, other Guys work tirelessly under-the-radar, asking for no recognition. That's Stephane Veilleux, and we honor his service here.

Cal Clutterbuck almost didn't make this list, as he was one of the Wild's most beloved and notable players in his time here. He makes it, because he got his fan favorite status by virtue of being the Ultimate Guy. They do not make Guys better than him.

 

So many factors come together to give Clutterbuck this distinction. His tendency to hit everything that moved. The fact that only about half of those hits were legit, but we all pretended they were the real deal anyway. His mustache that he looked like he was 33 since he was 21. Having the name "Cal Clutterbuck." They'll one day name a Guy of the Year Award the Cal Clutterbuck Trophy.

 

What guys do you remember? Tweet us @10KRinks!