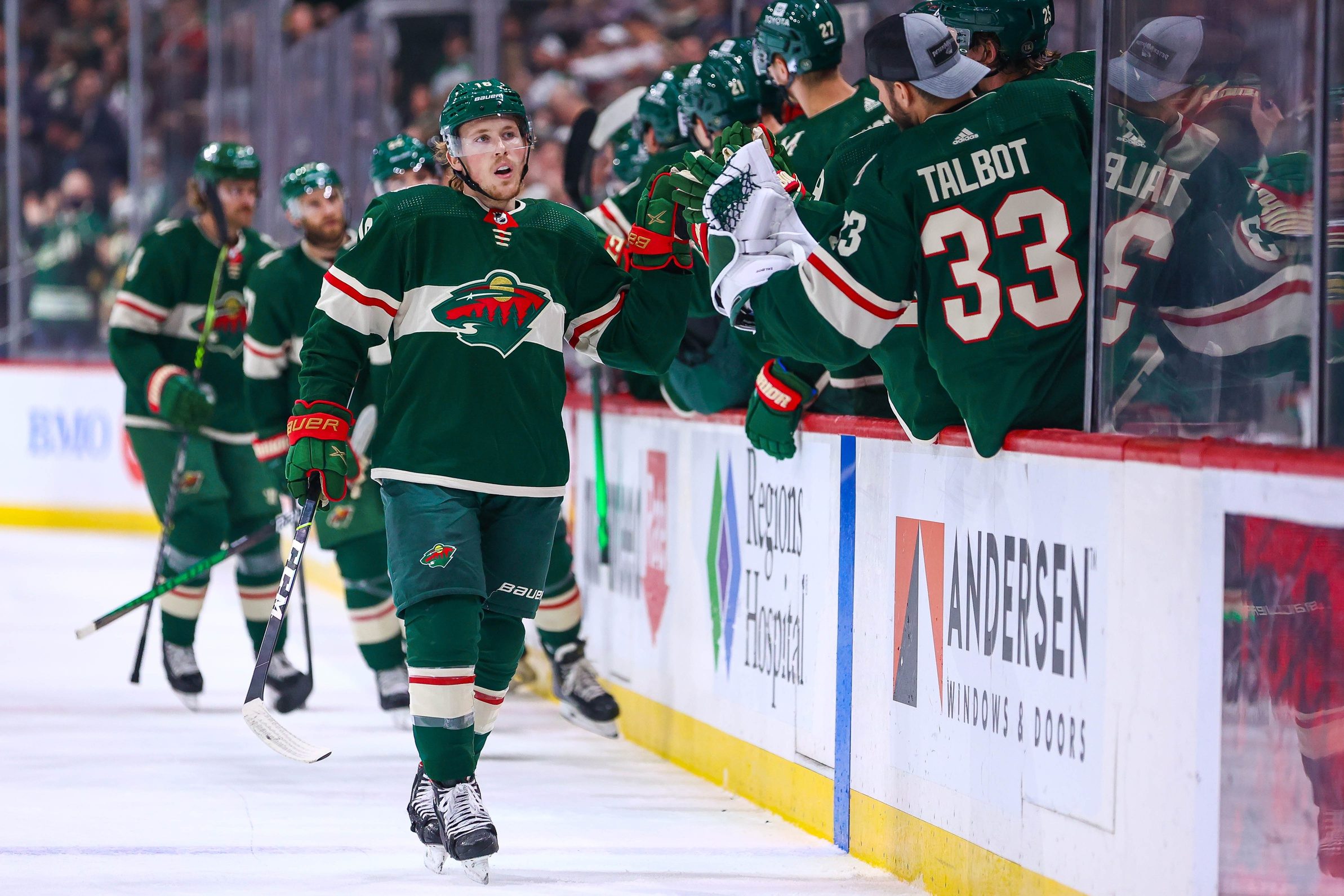 Besides two pretty big buyouts you may have heard of, Bill Guerin's decision to claim Minnesota native and Minnesota Golden Gopher alum Rem Pitlick off of waivers was the biggest surprise of the offseason. The move had ripple effects that could've created controversy through a Wild roster that already was deep. Despite that, it may prove to be the best player acquisition during Guerin's time as Wild general manager so far.
The claim caused initial confusion, but the logic was sound. Pitlick showed he could score at every level. His 2015-16 season with the USHL's Muskegon Lumberjacks was special. He led the Lumberjacks with 89 points (46 goals, 43 assists) in 56 games. That led the entire league in points, and his 46 goals rank third all-time in the USHL in single-season scoring.
Once Pitlick got to the University of Minnesota, he became one of their top goal scorers. Pitlick led the team with 45 points (21 goals, 24 assists) in 38 games by his senior year. All were career-highs, and he was 8th in the nation for goals. He had a solid AHL tenure, but the Nashville Predators made him available when they cut him in the pre-season.
Pitlick's Wild career got off to a good start. He made his debut north of the border in a matchup with the Vancouver Canucks. Pitlick recorded his first Wild point on an assist on Matt Dumba's game-winning goal four minutes into the third period. Then, four games later, Pitlick notched his first career goal and first career hat trick against the Seattle Kraken.
Pitlick has shown he can contribute in the lineup nightly over the first 16 games. In 8 of his first 10 games, he slotted into the right wing position opposite Kevin Fiala. Pitlick may be the best winger that Fiala has played this season, outside of Kirill Kaprizov for half of an uneventful game. Pitlick has shown that he can match Fiala's speed and has been able to support him in offensive attacks in ways other wingers haven't been able to do.
After right wing Mats Zuccarello was injured in the Black Friday game against the Winnipeg Jets, head coach Dean Evason made a bold move and placed Pitlick on the top line with Kaprizov and Ryan Hartman. Against back-to-back Stanley Cup Champion Tampa Bay Lightning, no less! In that game, Pitlick recorded an assist on the eventual game-winning goal from Hartman in the 3rd period of a 4-2 win.
Pitlick has been a valuable asset to the Wild this season, showing that he can play next to anyone on any line. Pitlick has also been on the fourth line playing with Nick Bjugstad and Nico Sturm. He fit in just as well playing on a high-energy fourth line as he did with skilled players like Fiala and Kaprizov. Pitlick was productive when he was placed there and brought the same kind of tenacity the Wild depends on from that line.
Pitlick finds himself in great spots to give himself or his teammates scoring opportunities. As seen in the Seattle game where Pitlick recorded his first career hat trick, Pitlick found himself behind the Kraken defense on two of his three goals. While this wasn't all of his doing -- Hartman deserves a ton of credit for finding loose pucks and then Pitlick -- he was where he needed to be and generated the most out of his given opportunity.
Pitlick hasn't played since Dec. 7, but it isn't because of poor play. Despite coming in and out of the lineup and playing just 10:14 a night, he's still putting up impressive numbers. His five goals are still tied for 6th on the team, and his 10 points are tied for 11th. If Evason ever finds himself in need of scoring punch, Pitlick gives him an obvious option at a moment's notice.
Over the limited sample size we have seen of Pitlick, it's clear Guerin has made a great addition to an already very deep team. Pitlick provides Minnesota with a player who's showing he isn't just a guy who can put the puck in the net in the USHL, NCAA, or AHL. He can play in the NHL, too. When given the opportunity, he's impressing on a near-nightly basis and can help this team in its quest to make a deep run in the playoffs.