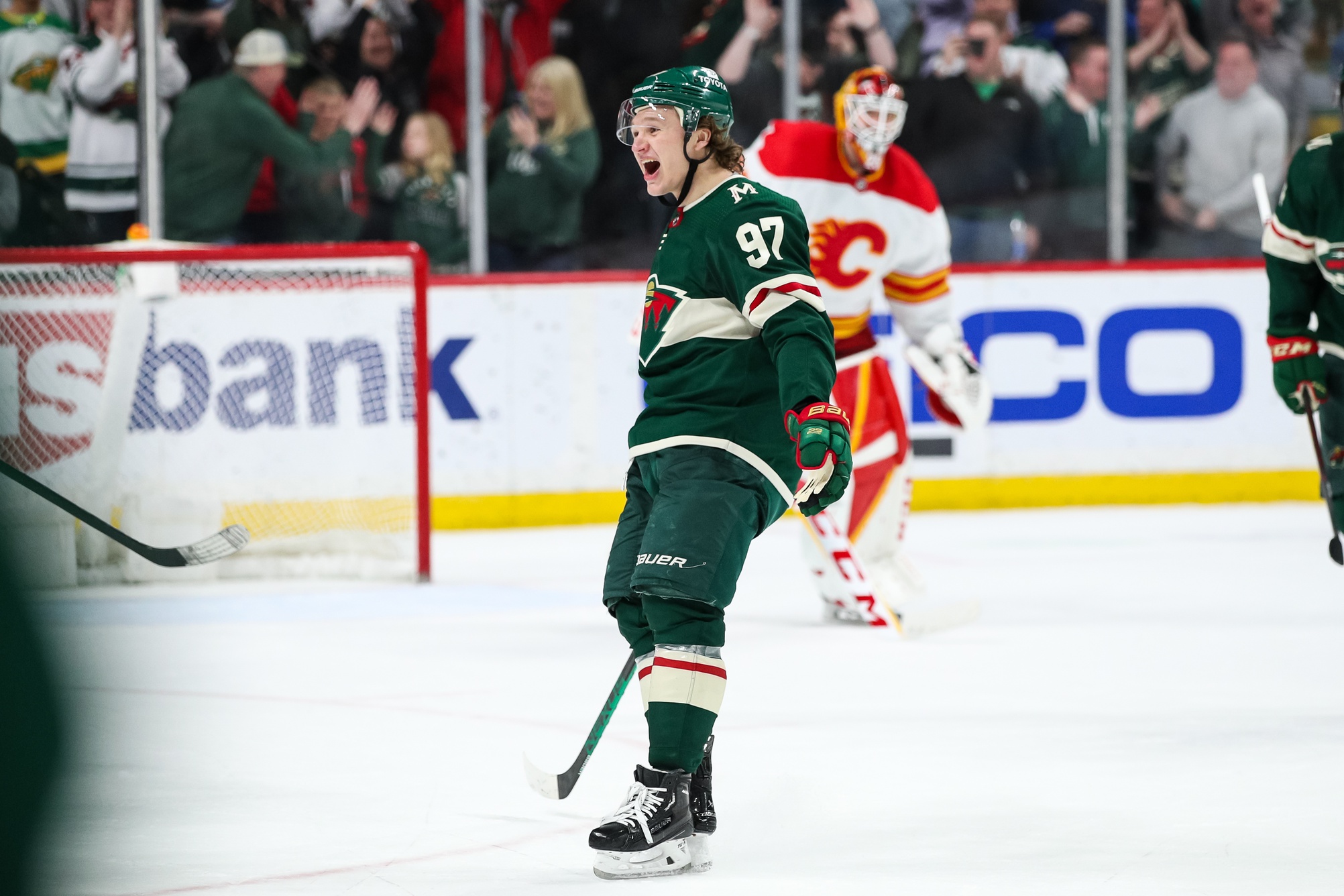 The Minnesota Wild were 14-32 in games decided by 3-on-3 overtime with Mike Yeo, John Torchetti, and Bruce Boudreau behind the bench. But Minnesota is 19-7 in two-plus seasons with Dean Evason behind the bench. In this season alone, the Wild won 11 of 14 games decided in overtime. For comparison, the Wild won 11 overtime games in three full seasons under Bruce Boudreau (2016 to 2019).
So what changed? Does Evason have the secret overtime sauce? Or is it merely a coincidence that his tenure coincides with the Kirill Kaprizov and Joel Eriksson Ek era? Whatever it is, it gave Wild fans plenty of memorable game-winners this season.
Let's revisit and rank the 11 overtime game-winners that made this season such a thrilling and memorable year.
11. Ryan Hartman vs. Anaheim (10-23-2021)
Well, one of them has to come in last place. After the Ducks killed a Wild power play earlier in the extra frame, Mats Zuccarello made a nifty move at the blue line to find Hartman jumping over the boards. Hartman carried into the zone and blew one past the glove of John Gibson, giving Minnesota its second straight overtime win.
Hartman's goal doesn't have the pretty passing play, incredible solo effort, or timeliness that others on this list do. Because of that, it comes in last place.
10. Jared Spurgeon vs. Columbus (03-26-2022)
The second of three consecutive overtime winners for Minnesota, this Spurgeon game-winner suffers from simply not being as incredible as the other choices in front of it.
Spurgeon and Kevin Fiala execute a lovely give-and-go that drags Columbus Blue Jackets defenseman Dean Kukan way out of position, leaving Spurgeon wide open in the slot for the return pass. Spurgeon makes one quick move to his backhand and roofs it over the shoulder of Elvis Merzlikins.
9. Joel Eriksson Ek vs. Vancouver (03-24-2022)
Eriksson Ek displayed just how far the offensive side of his game has come with this crafty game-winner against the Vancouver Canucks. Kaprizov sent Eriksson Ek through on a breakaway with a well-timed head-man pass. Eriksson Ek gives Thatcher Demko a shimmy before sliding it past him on the forehand.
Eriksson Ek is as dominant as they come defensively, but his offensive game has grown leaps and bounds under Evason. He routinely has these little moments where he flashes great puck-handling ability, much like he did against St. Louis this season.
Eye-test-wise, this is just your average game-winner. Jordan Greenway crisscrossed with Foligno at the blue line, swung wide, and found Foligno in the slot for the game-winner.
Not only was this a Hockey Day in Minnesota game-winner, but it also came at a crucial juncture in Minnesota's season. The team had just gotten back to winning ways after a five-game losing streak, and the win over Chicago was one of ten straight games where the Wild earned a point.
7. Dmitry Kulikov vs. Nashville (04-24-2022)
The unlikeliest of overtime heroes, Kulikov scored with 1.3 seconds remaining in the extra frame to beat the Nashville Predators in the final meeting between the two teams.
Eriksson Ek outmuscled his man along the boards, kicked it to himself, and fed Kulikov on a breakaway for the game-winner.
His goal scores points for the timeliness and saving fans from having to watch a shootout.
6. Jared Spurgeon vs. San Jose (04-17-2022)
A sensational shift from Fiala set up Spurgeon's game-winner in a crucial game against San Jose in the race for home-ice advantage. Fiala displays some Kaprizov-like edge work as he circles the zone and fires the shot that is eventually tipped home by Spurgeon.
This was one of his best moments in a second half where Fiala did something ridiculous every night.
5. Kirill Kaprizov vs. Calgary (04-28-2022)
It took Kaprizov just ten seconds to capitalize on Rasmus Andersson closing his hand on the puck in the penultimate regular-season game.
This game saw Dean Evason deploy four forwards (Kaprizov, Hartman, Eriksson Ek, and Fiala) on the 4-on-3 advantage. The off-puck movement by Fiala and Kaprizov makes this play work. Kaprizov and Fiala interchange positions, leaving Kaprizov alone in the slot for the easy one-time game-winner.
Bonus points here for a Marc-Andre Fleury assist. This was just a really fun goal. Fleury jumps on a loose puck and head-mans it to Gaudreau, who gives Jason Robertson a fake before cutting to the middle and blasting it past Scott Wedgewood.
Gaudreau froze Wedgewood, and his reaction really says it all. Just a great pass from Fleury to Gaudreau, who made no mistake in blowing one past Wedgewood.
3. Kirill Kaprizov vs. Ottawa (11-02-2021)
A tremendous effort from Fiala set up this game-winner from Kaprizov. Fiala outmuscles Tim Stutzle to create a 2-on-1 with Kaprizov, who easily puts it in the back of the net.
This was the first of 47 goals this season for Kaprizov, and what a time for it. It's rather remarkable how Kaprizov scored 47 goals after such a slow start to the season. It makes you wonder, what's he capable of in a season where he doesn't start as slow as he did this year?
2. Kevin Fiala vs. Colorado (03-27-2022)
https://twitter.com/mnwild/status/1508246308204728324?s=20&t=Yi2cro5_CcM6oXNNARuxBw
What a moment this was. Minnesota wasted no time with the overtime power play. It was Tic-tac-toe: Kaprizov to Eriksson Ek to Zuccarello to Fiala to the back of the net in three seconds.
A great passing play capped off by a thunderous one-timer from Fiala. Bonus points for coming against the division-rival Colorado Avalanche in a playoff-like atmosphere at the Xcel Energy Center.
1. Joel Eriksson Ek vs. Winnipeg (10-19-2021)
https://twitter.com/SpokedZ/status/1450659948388667395?s=20&t=Yi2cro5_CcM6oXNNARuxBw
Eriksson Ek's hat trick game-winner in the home opener against the Winnipeg Jets has to take the top spot on this list.
What a fantastic sequence by Minnesota. Talbot plays the puck after making a big save on a 2-on-1. Kaprizov, Fiala, and Eriksson Ek execute a textbook 3-on-1, with Eriksson finishing off at the back post.
Eriksson Ek's goal would be tough to top on an all-time Wild 3-on-3 overtime goal ranking. A hat-trick game-winning set-up by a crispy passing play to cap off an improbable comeback in the home opener.