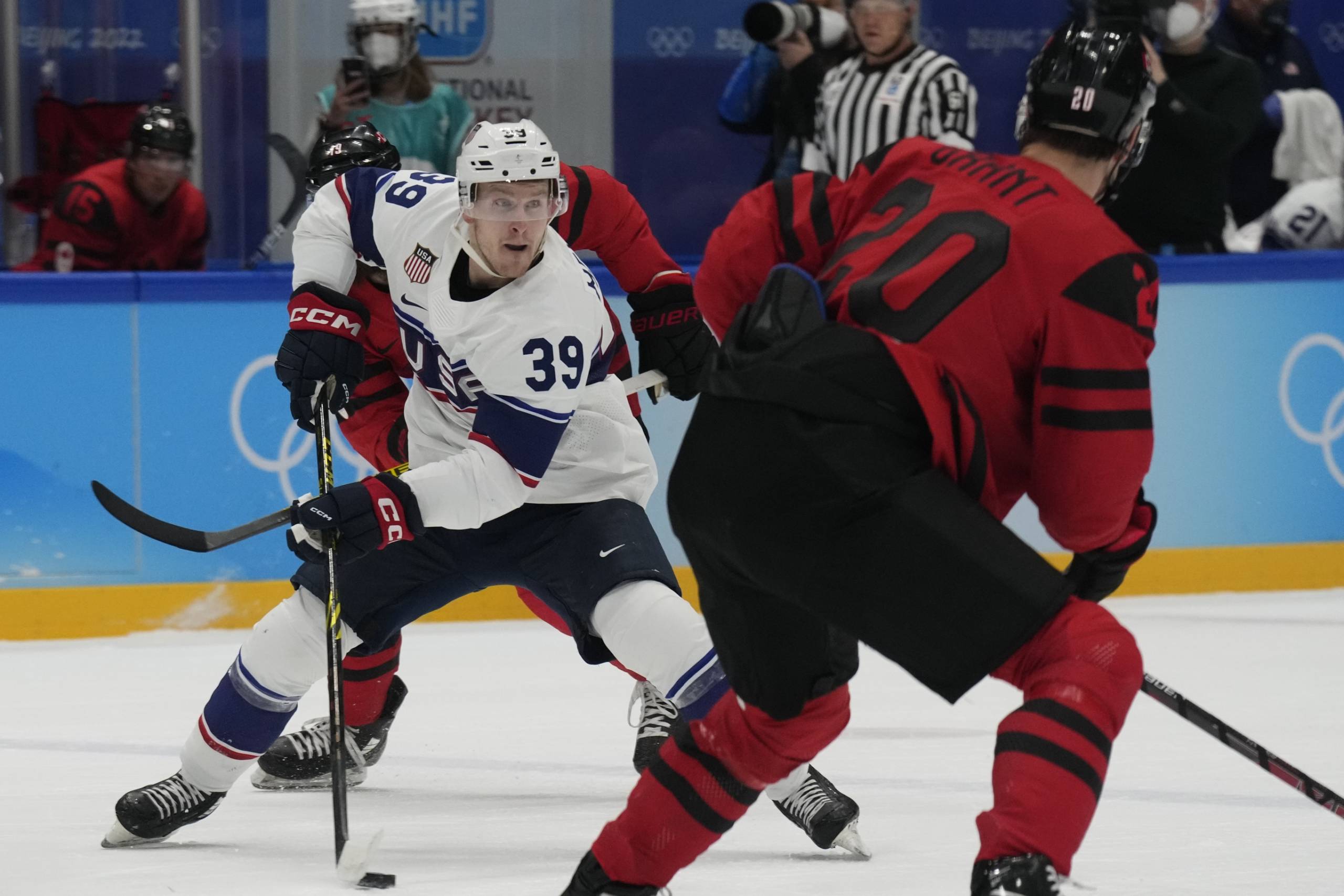 College basketball doesn't have a monopoly on the madness of March. College hockey is also concluding with conference tournaments and the bulk of the national tournament leading up to the Frozen Four in early April. The Gophers hope to be one of the four teams left standing in Boston. The University of Minnesota men's hockey team rallied at the end of the season for big wins over Ohio State, Michigan, Penn State, and a sweep over Wisconsin last weekend to snag the Big Ten regular-season championship. Raising another Big Ten banner vaulted the Gophers to a No. 2 ranking in the USCHO poll.
Bob Motzko knew this team needed to get older when he took over head coaching duties after Don Lucia. But getting older is tougher to accomplish when NHL-drafted players make up most of the roster. It's no surprise that Motzko has leaned on junior forward Ben Meyers to help lead the way this season. At 23 years old, he's an undrafted player who spent a couple of seasons in the USHL before jumping into college hockey. He's precisely the kind of player Motzko desired for his Gopher squad.
However, Motzko is facing the same ol' problems this season, specifically on Meyers. A long line of NHL teams will come calling on Meyers as soon as the Gophers' season ends. His 34 points in 29 games is quite good in a competitive NCAA landscape. Not to mention, he's gone from standing out at Delano High School to being co-captains with Sammy Walker. Add in his four points at the Beijing Olympics, and Meyers has earned every bit of the many teams taking notice.
That included the Minnesota Wild.
As Michael Russo of The Athletic reported on a recent podcast, he believes the Wild "will go hard after Ben Meyers." His report comes at the same time Minnesota badly needs an injection of energy. They dropped Sunday's game against the Dallas Stars, losing for the eighth time in 10 games. Their recent skid exposed some holes in the Wild roster, and the lack of center depth has been the most glaring since last season.
Going the college free agent route is enticing because it allows the GM to add a new player to the roster for free. They don't have to surrender picks or prospects like in a trade, and teams can immediately insert the player into the lineup. 
Minnesota is no stranger to the college free-agent market. Casey Wellman, Nate Prosser, Justin Fontaine, Christian Folin, and Sam Anas were all players the Wild signed once their college careers ended. Nico Sturm is perhaps the best college free agent they signed in the last five years. There's no doubt that dipping into the CFA market can help the team.
However, how much can signing Meyers really help? At most, college free agents are stuck in between leagues. They can be great for the AHL club but have difficulty cracking the top-6 in the regular NHL lineup. Bringing in Meyers isn't going to displace Ryan Hartman in between Kirill Kaprizov and Mats Zuccarello. He won't break up the line of Joel Eriksson Ek, Jordan Greenway, and Marcus Foligno. Could Meyers step in between Kevin Fiala and Matt Boldy? He has the size, hands, and speed to jump onto that line and help, but is that too much pressure to put on a guy making the jump to pro hockey for the first time?
Signing Meyers would put the nail in the coffin for any hope Marco Rossi could get a call-up the rest of the season. And that may be by design for Bill Guerin, who has salary cap incentives for keeping Rossi in the minors.
A Meyers signing has implications on other Wild prospects as well. Connor Dewar has played well since his call-up. He's been strong in a fourth-line role (51.7 CF%), taking on a heavy defensive load (62.4% defensive zone starts) while also picking up time on the penalty kill. Does Meyers force the Wild to send Dewar back down to Iowa? 
Wild drafted players like Jack McBain (Boston College) and Sam Hentges (St. Cloud State) are also hoping to sign on when their college seasons come to a close. McBain, who represented Canada at the Olympics, opposite Meyers and Hentges, will also be looking for the same guarantees in playing time if he signs. During his career, the former 3rd rounder has been a consistent player for the BC Eagles. However, he exploded in production this season, equaling his total goal output before this season once Alex Newhook and Matt Boldy turned pro. McBain might not sign with Minnesota and instead choose to go the free-agent route if he feels like he will get blocked by Meyers.
Meyers is a very good player. He's a bit of a jack-of-all-trades, master-of-none kind of player. In the AHL or NHL, coaches won't have any problems plugging him into any holes they have on their team. For Minnesota, he seems like a player they can get full use out of in the next couple of years. He's talented, and he'll come at a manageable price.
If the Wild were in an optimal situation, they'd sign him without any questions asked. Why not add a player who can help in Iowa in the worst-case scenario and St. Paul in the best? With Minnesota, the questions about whether or not he can make the jump to the NHL and help now is a huge question. Add in the logjam for the next wave of prospects, and the situation gets muddy. There's no such thing as having too many options when you're an NHL GM like Bill Guerin. That is until you have to figure out how they all fit into the organization. Guerin will have to make decisions on players. Can he make the right ones? That requires more time to see it all play out.