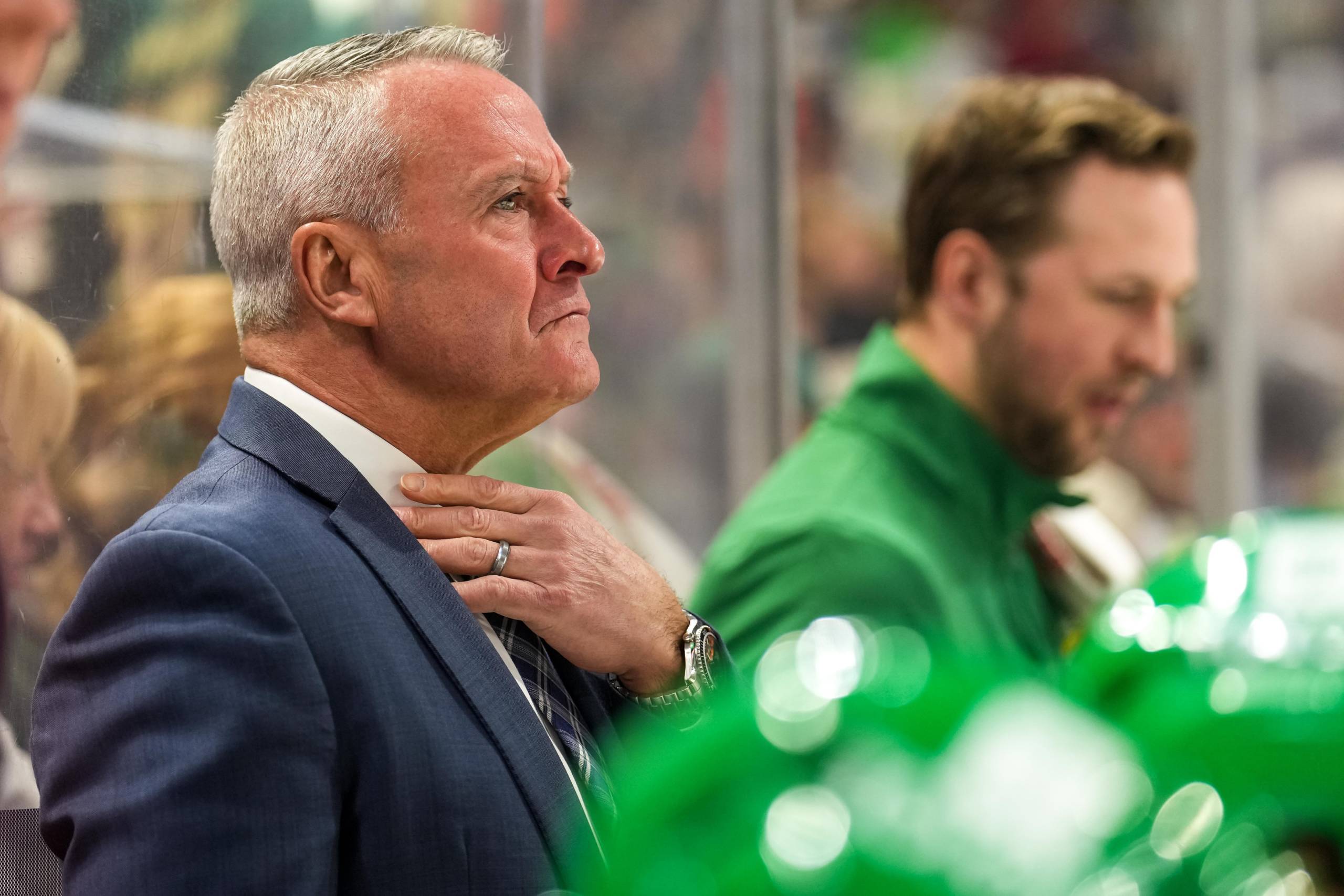 Somehow, someway, the Minnesota Wild are now on top of the Central Division standings even without Kirill Kaprizov. The Wild, Dallas Stars, and Colorado Avalanche have been playing a game of musical chairs with that No. 1 seed the past few weeks, with Minnesota claiming the seat once the music stopped Saturday night.
There's no doubting how impressive Dean Evason and his staff have been during this stretch. Things looked bleak when injury sidelined Kaprizov on March 8, and the team announced he would miss most of the remainder of the regular season. They were virtually a lock to make the playoffs, but it looked unlikely that they could ascend to the Central Division throne and avoid a first-round matchup with Dallas or Colorado.
Instead, the top seed in the Central seems destined to face the Seattle Kraken, Winnipeg Jets, or Nashville Predators. The Wild would be favorites against all three to win their first playoff series in eight seasons. Should they finish second or third, Minnesota would be underdogs against the last two teams to represent the Western Conference in the Stanley Cup Final.
In short, securing the No. 1 spot is imperative for the Wild's chances at a lengthy playoff run. The good news is they have kept pace with Colorado and Dallas in the standings, even with their leading scorer injured. However, anyone watching the games can the games are tight, even against weak opponents. They picked up just a point in a shootout loss to the struggling Philadelphia Flyers on Thursday, and held on tight to beat the Chicago Blackhawks Saturday in the last two minutes.
Now is the time for Evason to stand up and make his case for the Jack Adams Award. But what can he truly fix in his lineup until Kaprizov returns? It's not ideal to field a top line of Ryan Hartman between Mats Zuccarello and Marcus Foligno. And yet, what are his alternatives? Switching Foligno with a faster skating Brandon Duhaime? Placing Sam Steel back into the lineup? There just isn't a good fit for that left wing position on the roster right now to ignite it again.
Evason certainly isn't going to mix up his second line anchored by Joel Eriksson Ek between Marcus Johansson and Matt Boldy, a.k.a., "Matt Goaldy". That only leaves his bottom six, which comprises of interchangeable parts who all could play with each other in any given combination. Yet, their offensive impact would remain roughly the same.
So where can Evason make his adjustments? A recent trend has made it seem fairly obvious. It's time to revamp his powerplay. Not just in personnel either but strategy.
If you examine their seven games without Kaprizov, the Wild have converted on 20.8% of their powerplays. However, that rate has plummeted to a ghastly 8.3% if you isolate the last four games played. The reason? Simply put, the Wild have been deploying players in wrong spots on the ice.
We discussed this very topic last summer when the St. Louis Blues eliminated the Wild from the playoffs, and again this fall before the season started. And while Minnesota's powerplay has been a top-10 unit for most of the season doing it their way, now is the time to start mimicking other top powerplay units across the league.
Before Kaprizov went down with injury, it was clear the PP ran through him, and his creative genius allowed it to flourish. With No. 97 out of the lineup, it's looked disjointed and lacked any sort of plan. If Evason wants to truly chase down that No. 1 seed in the central, it's time to deploy a more traditional 1-3-1.
When you think of sustained dominance of PP units in the NHL, you think of the likes of the Washington Capitals, Tampa Bay Lightning, and the New York Rangers. All of them have great players. But even more importantly, they prioritize handedness in relation to their position on the ice.

Here is how the Wild are choosing to deploy their 1-3-1 personnel without Kaprizov.

The most important positions here are F1 and F4. The best powerplays not only have skilled players here, but also the correct handedness, allowing both players to be one-timer threats from high-danger scoring areas on the ice. Think of Niklas Backstrom and Alex Ovechkin, or Nikita Kucherov and Steven Stamkos.
Ideally, you would want the handedness deployed exactly as shown in the first graphic, but these are the most important spots to get right. With the left-shot Johansson opposite of Boldy, he doesn't threaten to score immediately following a cross-seam pass. With that, the opposing penalty killers can afford to shade closer to Boldy and limit his time and space. So, how should the Wild be deploying their top PP unit?

It's only natural for Boldy to take Kaprizov's spot as F1 and have the power play run through him. Zuccarrello remains as the support down low with a mix of either Klingberg or Addison running things from up top. Eriksson Ek is not the ideal right-hander we would prefer to see in the F2 "bumper" position creating off left-shot players like Boldy or Kaprizov, but he has performed well there all year on his off-hand, so it makes sense to allow him to continue there.
As you can see, nothing here looks all that different except for Spurgeon sliding down to the F4 position to be that high-danger threat opposite of Boldy or Zuccarello. And yet it makes all the difference in the world in a traditional 1-3-1.
Thing is, this spot is nothing new for Spurgeon. Most of his offensive success comes not from the blue line, but instead, from when he is allowed to slide down in the zone and let his creativity and hockey IQ take over.
He's even shown the ability to be a scoring threat on the power play in this exact same position before.
And if you haven't seen the Canadian perspective on this goal, there exists a transcription of Canada's most refined and articulate broadcasters breaking it down:
Spurgeon may not be the typical scoring forward you see in this position, but the Wild lack an elite right-shot forward and Spurgeon is the most natural fit here. It never made sense to me why he was pushed into "quarterbacking" the powerplay after Minnesota bought out Ryan Suter. Spurgeon has long been heralded for being one of the top-10 defensive defensemen in the league for quite some time now. However, we don't talk enough about his ability to create offense deeper in the offensive zone, and that is something Minnesota really should be utilizing.
One simple personnel change on their powerplay could energize it back into being a difference maker for the Wild. With just 10 games remaining and a chance to position themselves for their best chance at a playoff run since 2008, this is the most influential button he can press. The answer lies within his Captain.
Spurgeno to the rescue.