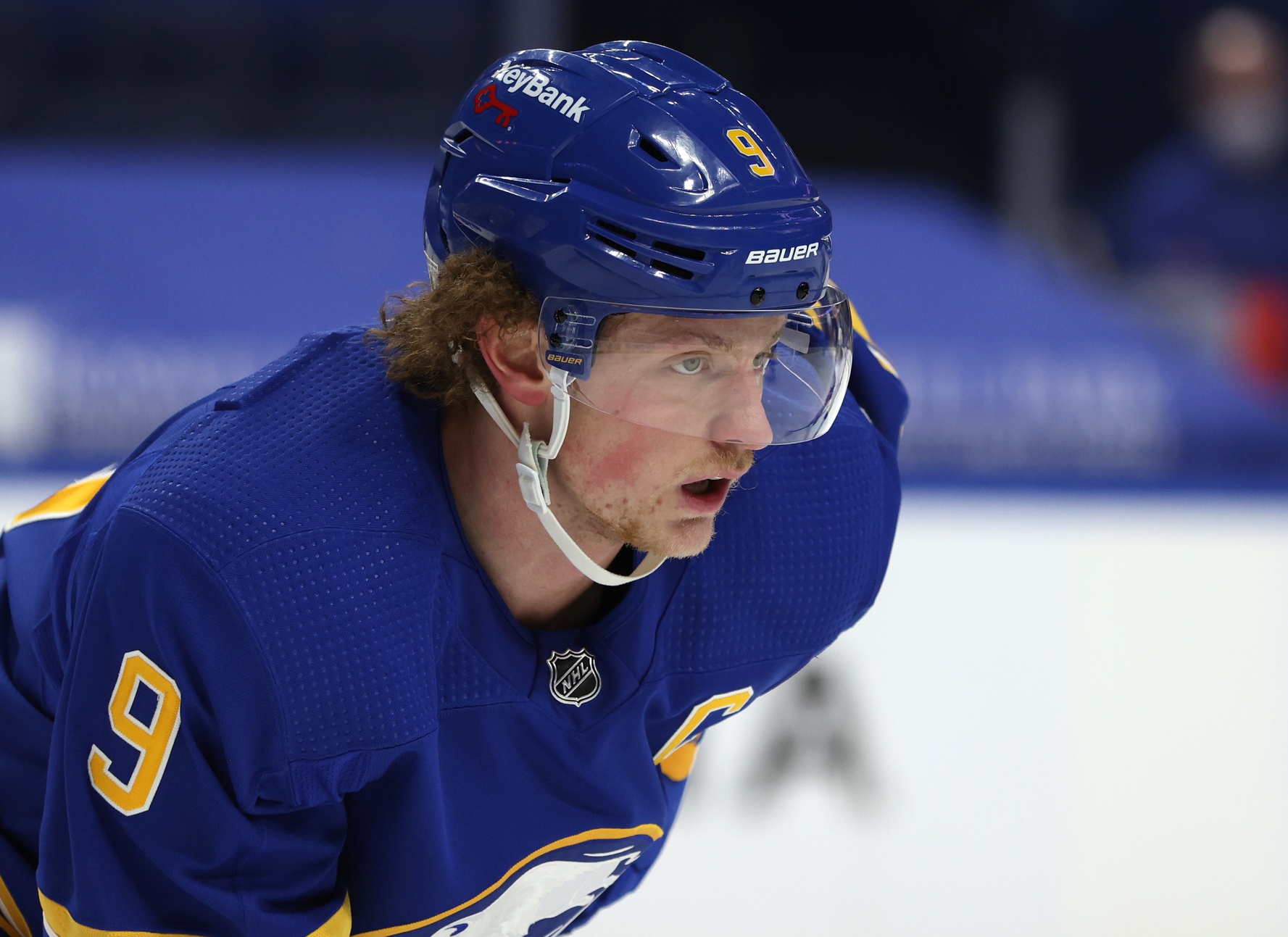 There are a million reasons to believe that the Minnesota Wild will never acquire Jack Eichel in a trade. Eichel's a 24-year-old center who drives play and scores 30 goals per 82 games throughout his career. Nobody trades that player. You get one like that through the draft, and usually by winning the draft lottery.
Even if Eichel is (justifiably) disgruntled by the Buffalo Sabres wasting his early career, why would he land in Minnesota? Big-market teams like the Los Angeles Kings and the New York Rangers could assemble compelling offers for Eichel, and the Wild always get out-bid for available centers (See: Dubois, Pierre-Luc).
Then there's the price. According to TVA Sports (Montreal) reporter Renaud Lavoie, Buffalo is seeking "four pieces that are first-round picks, or players that are playing if not in the NHL or elsewhere in the NCAA that are first-round picks that are having success."
That price would put a crater into Bill Guerin's patient rebuild and prospect-accumulation strategy. Minnesota had both a robust farm system heading into the season and plenty of future draft capital. They've got eight top-96 picks in the next two drafts, including two first-rounders in 2021.
So Wild fans could expect to wave goodbye to Matt Boldy, their 2019 first-rounder who's having a great year in college. Unless Buffalo wants a Jordan Greenway or Joel Eriksson Ek, three first-rounders are probably out the door, too. Then they've got to throw in a big-salary player like Matt Dumba, and (if in-season) expiring money to make the salary cap work.
If Lavoie is correct, and this is the type of package Buffalo wants, it's steep. Guerin should still be willing to pay it. It's impossible to overpay for Jack Eichel.
Don't Get Precious With Prospects
It's easy to dream big and get excited about prospects. Fans closely watch these players develop and can over-project promise and upside.
This happened with Minnesota around the start of the 2010s. Mikael Granlund and co. were supposed to hit the NHL and raise the Wild to Cup-contender status. They instead merely became perfectly fine complementary pieces to Zach Parise and Ryan Suter. None of them became stars.
The State of Hockey then saw Kirill Kaprizov, Luke Kunin, Greenway, and Eriksson Ek become The Future. The book isn't written yet, but while Kaprizov appears to be a star, Greenway and Eriksson Ek seem like good complementary players, and Kunin was traded to the Nashville Predators.
Fans should get excited about their prospects. Odds are, there are good players in there, players that can help Minnesota win. Maybe even great players.
It's a safe bet that none of them will be Eichel. Prospect data analyst Byron Bader gives Boldy a 37% chance to score more than 0.7 points per game in the NHL. That's really good, but odds are that Eichel (0.95) will outproduce him by a wide margin.
Even less likely to hit stardom would be those first-round picks. Minnesota's on pace to have the 21st (via Pittsburgh) and 24th pick in the 2021 Draft. If Guerin flipped both for Eichel, plus a first-rounder next year (also likely to be in the 20s), what are the odds that those picks hit? For every David Pastrnak or Brock Boeser in the 20s, there are five solid but unremarkable players, and five busts.
And if Boldy or a pick became a home run for Buffalo, why should Minnesota care? They'd have Eichel, who's well worth it.
Salary Cap Squeeze?
Another part of the price of acquiring Eichel is his cap hit. He'll have five years remaining on his eight-year, $80 million deal.
With a flat cap set at $81.5 million for next year and probably beyond, that's a tough fit. Particularly with the Wild's current salary commitments. Presuming Dumba would move in an Eichel trade, Minnesota would have roughly $62 million tied up in just 13 players.
To make matters worse, that cap space is largely spoken for. Kaprizov, Eriksson Ek, and Kevin Fiala are all due raises this offseason. The Athletic's Michael Russo speculates that Kaprizov's deal could amount to $9 million per season. Fiala figures to command at least $6 million per year, and Eriksson Ek will easily double or triple his current $1.5 million cap hit.
That takes Minnesota pretty much to the cap, requiring them to get creative to make room, and forcing them to rely on cheap depth and prospects to get by.
Fortunately, Minnesota has just that. Even with an Eichel trade eating a hole in their prospect depth, the Wild still have reinforcements coming. Marco Rossi, should he make a full recovery from coronavirus complications, is a star center coming in on an entry-level contract. Alex Khovanov and Adam Beckman are a step down from Rossi or Boldy but figure to be NHL-ready in the near future. Defenseman Calen Addison is knocking on the door in Iowa.
There aren't guarantees with any prospects, but when added to a top-six that would include Eichel, Kaprizov, and Fiala, they'd certainly be in a position to succeed. To have that high-end star power to go with solid forward depth and a still-strong blue line is at least a salary cap headache worth having.
Once in a Lifetime
The opportunity to trade for a player like Eichel — a young, bona-fide star center — almost never happens. Look at what teams are willing to give up for centers even a step below Eichel. The Winnipeg Jets gave up a potentially generational goal-scorer in Patrik Laine for Dubois. Nashville gave up a 21-year-old Seth Jones for Ryan Johansen.
Now the real deal is on the verge of forcing his way out of Buffalo. Look at how the Dallas Stars became contenders shortly after trading for Tyler Seguin. Or how the San Jose Sharks became perennial Cup contenders after getting Joe Thornton. Does anyone think they wouldn't have done it again, even at twice the price? There's such little downside to getting a center of that caliber.
Minnesota may have a lot invested into future assets, but Eichel is a rare player who would help the Wild hasten their competitive window and extend their future. Those five remaining seasons on his contract take him to age 29, basically locking him down for his entire prime.
With Eichel, Eriksson Ek, and Rossi arriving soon, the Wild would finally have the type of center depth to match up with anyone in the league. Between Eichel, Kaprizov, and Fiala, they'd have starpower that can go toe-to-toe with the Colorado Avalanche. He's the kind of top-10-caliber player a team can build a championship around. How much is that worth?
Everything. If he's available to Minnesota, it's nearly impossible for Guerin to come on the losing end of that trade.