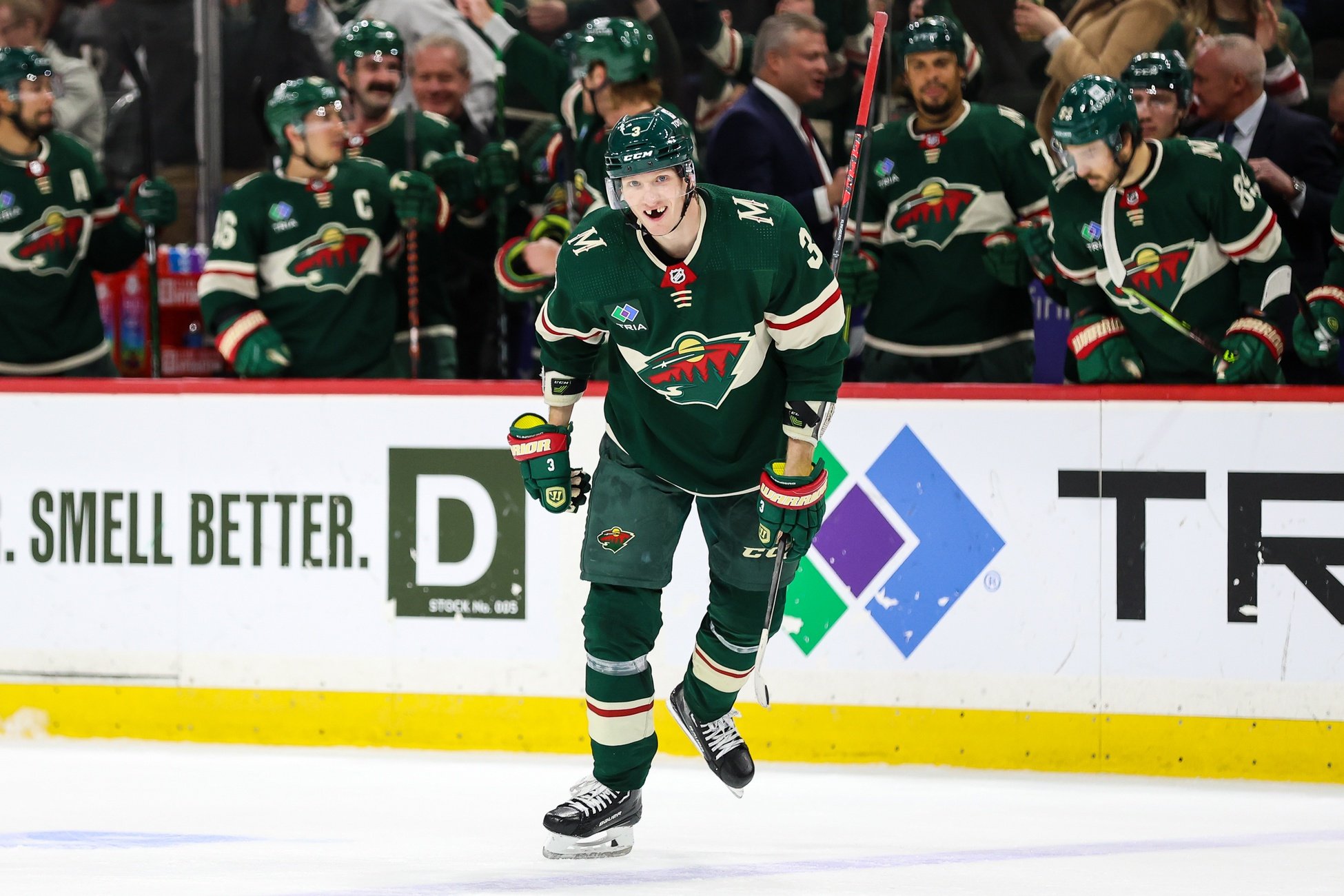 Image courtesy of Photo Credit: Matt Krohn-USA Today Sports
The "experts" are lukewarm on the Wild, and we're gonna figure out why.
Nobody Believes In Us is perhaps the most overused quote in sports. Teams are always looking for an extra edge to motivate themselves, and proving doubters wrong can add fuel to an athlete's competitive fire. In theory, there's nothing wrong with that. But also, maybe a team like the Kansas City Chiefs, for example, shouldn't break that line out when they snap a three-year Super Bowl drought with the best quarterback alive.
Sometimes people believe in you, and that's okay! Hopefully, say, the 60-win (and counting) Boston Bruins will remember this if they win a Stanley Cup this year.
It's increasingly rare these days, but some teams do honestly come by the notion that no one believes in them honestly. The Minnesota Wild are shaping up to be one of those teams.
The Wild might be just tied for ninth in the standings entering Sunday night, but they're indisputably one of the hottest teams in hockey. Their recent 16-2-5 run has been nothing short of incredible, considering half of that success came after superstar Kirill Kaprizov got injured. They have the Western Conference's best goaltending and a superstar who posted seven goals in six playoff games last year. That's a recipe for a legitimately threatening team.
Or, at least, you'd think. But the experts aren't buying it.
ESPN's Kristen Shilton put Minnesota at eight in her recent rankings last Friday, behind the Vegas Golden Knights and Los Angeles Kings. The Athletic's Sean Gentille and Dom Luszczyszyn also released power rankings on Friday, with Minnesota down in ninth place, buried behind the Edmonton Oilers, Vegas, and Colorado Avalanche. Defector doesn't post power rankings, but Lauren Theisen's article, "The Wild Are Getting Lucky At The Perfect Time" puts her skepticism on display.
This is the hottest team in the league. Why aren't people outside of the State of Hockey buying in?
You might call it a battle between vibes and stats.
The Wild's vibes as of late? Elite. Winning will always produce a good feeling surrounding the team, but they seem to be especially good in the State of Hockey. Up close, we get to see Matt Boldy tapping into megastar energy. Fans get to see the fire (on and off the scoresheet) of a fourth-line led by Ryan Reaves. Both of their goalies are sock-sewing pranksters who even approach fights the same way you'd approach a shy dog.
Enjoy 🌸 x 🥊#mnwild pic.twitter.com/U2X2h4ouYK

— x - Minnesota Wild (@mnwild) March 16, 2023
Look at how this team deals with adversity. Kaprizov goes down with an injury after producing something like 40% of the team's offense. What does the team do? Oh, you know, just score more goals than all but four teams since then. No big deal.
How did the Wild rebound from two devastating losses on Saturday, between a loss to the Vegas Golden Knights and the even bigger loss of Mason Shaw, a top-tier vibes player in his own right? By hanging tough in the next game, taking those same Knights to a shootout.
But are the vibes enough?
Maybe they are, and maybe they aren't, but if you're not watching this team up-close, you aren't seeing those vibes on a day-by-day basis. You see what the Wild are actually doing on the ice. And while no one would say Minnesota is a bad team, are they, statistically, among the best in the league?
No.
We'll start at 5-on-5, where Minnesota plays most of their minutes. Right now the Wild rank tied for 15th in the NHL, controlling 51.5% of the expected goals share. They're tied with the Tampa Bay Lightning, which is pretty solid. But they're just one place ahead of the Ottawa Senators (50.4%), which maybe shows some holes in assuming the Wild are as good as the peak Tampa Bay teams.
In terms of actual goals, the Wild don't fare that much better. They're scoring 52.6% of the goals at 5-on-5, which is smack between the Edmonton Oilers and Los Angeles Kings. Again, solid and definitely on the right side of 50%. But it's not at the level of, say, the Seattle Kraken (56.5%) or the Dallas Stars (53.9%).
And definitely not the 56%-plus top Eastern Conference teams like the Boston Bruins, Toronto Maple Leafs, and Carolina Hurricanes.
Even among the stuff the Wild are elite at, they're competing with other teams that are more well-rounded than Minnesota.
The Wild have two things going for them: Defense and goaltending. That's awesome. You can win in the playoffs with that. They're behind only the Bruins in allowing goals at 5-on-5 (2.04 per hour), and tied for second in surrendering expected goals (2.35, tied with Boston, behind only Carolina).
Boston doesn't just give up fewer goals than the Wild, though. They give up way fewer. Their 1.73 goals per hour is about a third of a goal fewer per hour than Minnesota. Going the other way, the 0.31 per hour gap is basically the difference between the Wild and 12th place Tampa (2.36).
Not to mention, Boston scores way more frequently than the Wild, ranking second in the NHL. Minnesota is still only 28th in the NHL in 5-on-5 goal-scoring. The Winnipeg Jets (at 23rd) are the only other playoff team in the Bottom-10, and they're at the edge of the playoff bubble. It's not a one-to-one comparison with the Hurricanes, but they also score significantly more than the Wild.
As for the best goaltending teams, we have Boston and the Colorado Avalanche hanging around them in the top-3. Let's talk about the Avs. They've also had offensive struggles this season, but the injuries they sustained far exceed Minnesota's.
Cale Makar and Nathan MacKinnon, their two best players, missed 10-plus games each. Injuries kept Valeri Nichushkin out for about 30 games this season. Up-and-coming star defenseman Bowen Byram missed three months. Captain Gabriel Landeskog has yet to play a game this year.
And yet, they're basically still doing what the Wild are doing this year: succeeding based on guts, defense, and goaltending. They're a Top-5 defensive team that still manages to both score and generate chances at a greater rate than Minnesota.
Now, the team we're seeing in St. Paul is much different than the one we saw for much of the year, thanks to a big trade deadline re-structuring. But does that mean they're better?
From the start of March, when Bill Guerin started wheeling and dealing, to today, the Wild do like a different team. They're not just getting a lot of good shooting now, but they rank in the Top-10 in generating expected goals (xG). They're ninth with 2.84 xG per hour, which is really good!
All it cost them is their defensive identity. Since March, Minnesota's now middle-of-the-pack defensively, giving up 2.63 xG per hour, which is 14th in the NHL. Overall, it translates to 51.9% of the overall share, which you might notice is slightly lower than they were beforehand.
And it's nowhere near matching their dominant share of the goals. Minnesota's scored 67.7% of the actual goals while coming much closer to breaking even on scoring chances. The experts are always going to look at that and expect regression. There's good reason for that — that's how these streaks almost always end.
The good news is, you, as the fans, only need to care about that to the extent you'd like. If you want to ride the vibes, go for it. That's what fandom is about. Just forgive the experts for not quite buying in. It's perfectly reasonable to be suspicious of the Wild, even if they continue their strong play.
You might not like it now, but at least if the Stanley Cup goes down West 7th Street, you can come by the phrase Nobody believed in us honestly.
This article was originally published on April 4, 2023. All data via Evolving Hockey unless otherwise stated.