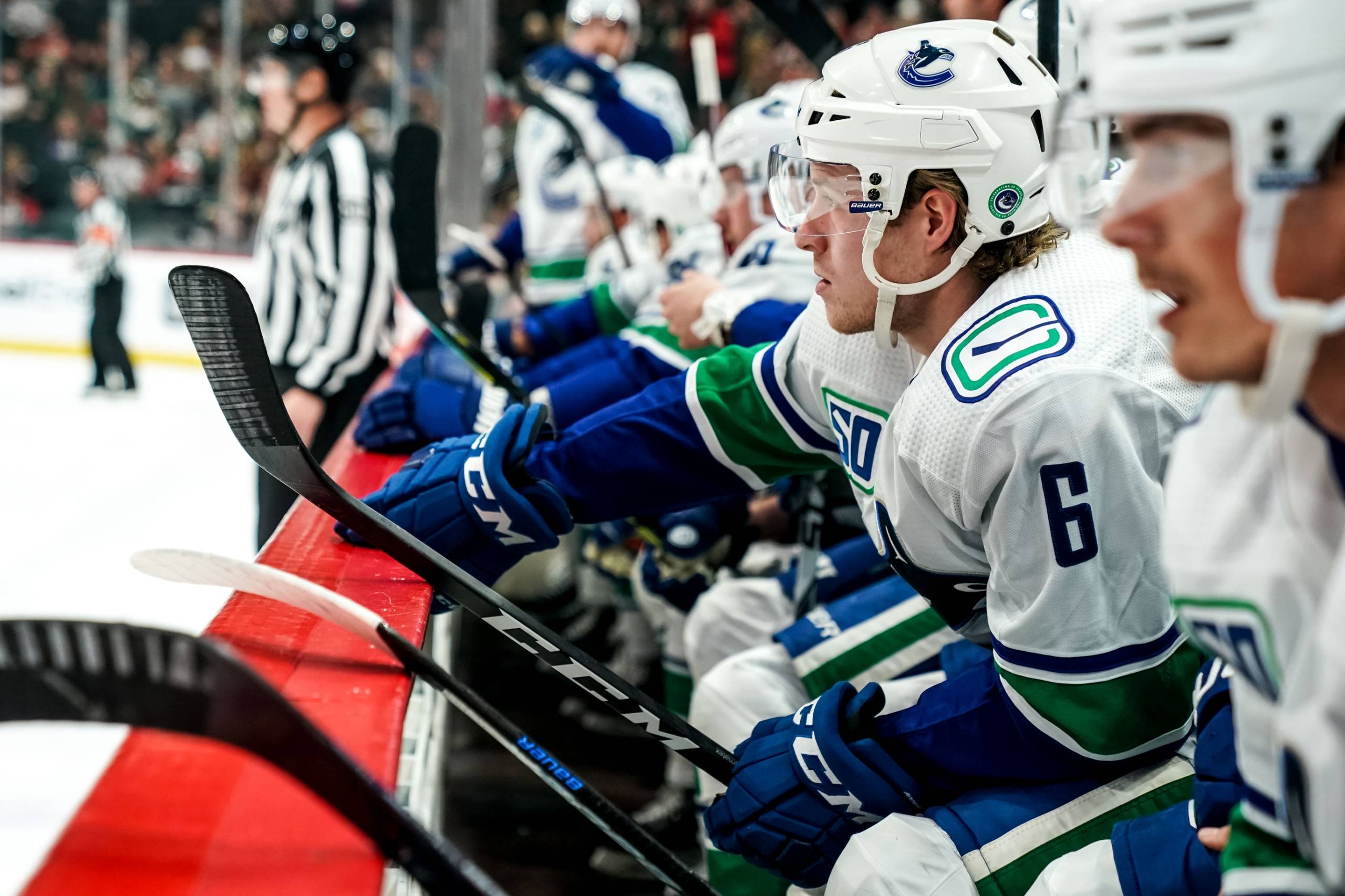 Ever since Brock Boeser was passed over by the Minnesota Wild in the 2015 draft, it has felt like he was the one that got away. Well, he was the one that got away. Chuck Fletcher and his scouting staff had the entire state of Minnesota to scout and instead chose Joel Eriksson Ek. Now Boeser is a star on the rise with a crop of young studs in Vancouver.
So when a report by a TSN 1040 radio host Matt Sekeres drops a bomb on Nucks Nation last Friday about Vancouver GM Jim Benning exploring his options for trading the Minnesotan, local fans' ears perked up.
https://twitter.com/TSN1040/status/1281714298847399938
The reaction has been an avalanche of "What-if?" articles on this team or that team trading for Boeser.
Of course a team would love to have a right-shot right winger on their team capable of scoring 30-plus goals per season. Thoughts of him in this Wild lineup with Kevin Fiala or Kirill Kaprizov are tantalizing. 
Except it's not happening for the Wild. Sure, Boeser hails from Burnsville, his agent is Minnesota-based Ben Hankinson, and he still calls Minnesota home. But when looking at this potential trade there's just too many complexities.
Flush at Wing
Minnesota would be better served making a move for a first line center. Following the conclusion of the 2019-20 season, the Wild have only have 35-year-old Eric Staal, Eriksson Ek and Victor Rask under contract who play center. Mikko Koivu's is off the books and Alex Galchenyuk is an unrestricted free agent. Getting a top line center for the likes of Fiala, Kaprizov and future prospects making the jump to the NHL has been identified as a key to getting the team deeper into the postseason. 
The Wild are also flush with personnel on the wing. When Kaprizov makes his debut next season, the Wild will have nine wingers. Zach Parise and Mats Zuccarello both make too much money to sit. Kaprizov and Fiala won't be coming out of the lineup if they're healthy. That leaves Marcus Foligno, Ryan Hartman, Jordan Greenway, Luke Kunin and Ryan Donato fighting for the last four spots. 
That's not even taking into account players in Iowa and prospects not yet turning pro who will need to find a home. Put bluntly, the Wild has a logjam at wing. Adding Boeser doesn't solve that.
The Cap is Flat
When the NHL and Players' Association agreed to the Memorandum of Understanding to extend the current Collective Bargaining Agreement it was announced that the salary cap was going to remain flat for the next three years. The league can't gauge the harm the hiatus and lack of hockey-related revenue the remainder of this season will cause. Of course, when it's safe to attend sporting events en masse again, the NHL expects fans to come back. The shutdown, this time, wasn't due to labor strife. Every professional sports league is feeling the pain of the global pandemic.
However, an $81.5 million salary cap maximum is going to curtail spending on free agents. And any additional contracts will put a squeeze on available cap space. It's going to force some decisions by Bill Guerin. Kaprizov will need to be paid after next season. Fiala will be due a new contract at that time as well. Kaapo Kahkonen, Greenway and Kunin are restricted free agents after this season. Another trade, some creative contract negotiations or savvy navigation of the Seattle expansion draft will be needed to retain top players.
This is before mentioning that making a move for Boeser's $5.875 million contract will require getting the money spot-on. The Canucks likely don't have an appetite for more dead money on their books. They already are paying the $3.033 million per year for Roberto Luongo's cap recapture penalty. But more than that, $1.033 million buyout of Ryan Spooner and over $2 million buried with Sven Baertschi's contract in the minors.
Minnesota will have the Tyler Ennis buyout coming off after this season. However, dead money decreases a team's overall spending ability. And when a potential buyout might be needed on Rask, or even Zuccarello, wasted money won't be kind to any team in a flat cap era.
It's just plain hard to make a trade in the NHL. The Wild have been in on trades the last several years with three different general managers. It takes more than just two to tango. It's been that way since the NHL adopted the salary cap. Now, when the cap isn't expected to move and budgets get tight, trading will be even more difficult.