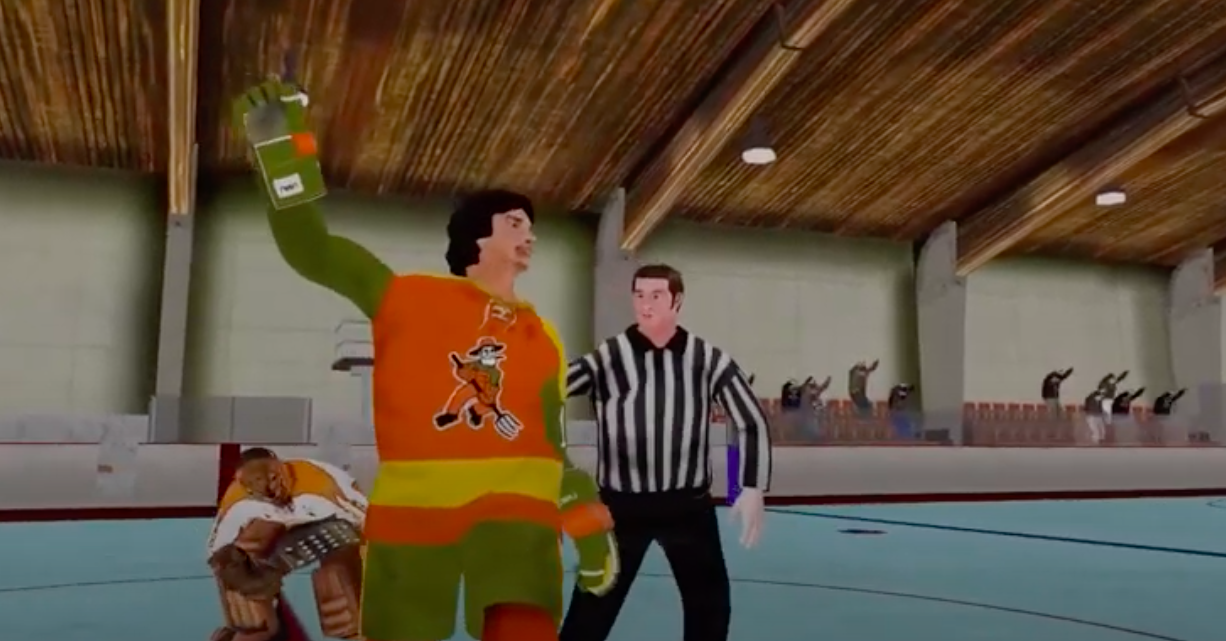 Video games may never have looked better. But we hardly live in a golden age when it comes to sports games. We can see this when it comes to hockey video games. About two decades or so ago, EA and 2K battled it out with competing simulation-style hockey games. Not only did you have options when it came to realistic hockey games, but there were also options that were more bombastic, silly, and arguably, more fun. Midway's NHL Hitz series brought arcade-style hockey to consoles, and the results were a hit.
Hitz has been a dead franchise for nearly two decades, while EA's exclusive agreement with the NHL means EA will still move units without having to do much more than a yearly roster update. And if you're a fan of arcade-style hockey games? You're out of luck.
You've also been mostly out of luck if you're a Nintendo Switch owner wanting to play hockey. Super Blood Hockey, a violent take on 8-bit-style games like NES Ice Hockey, is the only hockey title to release in the Switch's first five years.
Until May, that is. V7 Entertainment has ported 2017's Bush Hockey League to the Switch. Not only does BHL bring a modern hockey game to the console, but it also is a love letter to an old-school brand of hockey, classic hockey games, and the lesser-known histories of hockey hotbeds.
BHL recognizes that Boston, Detroit, and Minnesota aren't legendary hockey areas because of games in massive arenas like Boston Garden, Joe Louis Arena, or the Met Center. Their love of hockey was created in half-empty barns in Charlestown, Grand Portage, and Warroad. The team you'll play with in BHL gives you that side of hockey.
"We aimed to provide an experience that was not about the biggest stage and the brightest lights," V7 told 10K Rinks via email. "We wanted to represent places where hockey has a history and is woven in as a way of life. Places where hockey was born."
Places like Warroad, home of the Warroad Ice Anglers, who occupy a special place in BHL lore. The Ice Anglers are one of the two original teams in the league. To V7, it was essential to highlight Minnesota's contributions to hockey history. "We knew we wanted a team in the state of hockey because the towns in Minnesota have a long lineage and strong pedigree of players."
No doubt, countless people are fuming in Hibbing, Edina, and Thief River Falls right now. So we have to ask, why Warroad?
"I wish we could tell you we scouted and visited locations for the game, but we didn't have the budget to do that on our indie game," V7 said. "So honestly, we landed on Warroad because our research unmistakably told us there is a strong grassroots hockey history there."
As for choosing the admittedly rad name Ice Anglers, V7 explained, "Digging into hockey history, we learned that teams back in the day were formed by people who worked together and had a shared love for playing hockey. We wanted to tie in the lake and how ice fishing is a great activity, so we imagined a group of Ice Anglers came together to form a semi-professional hockey team."
The aesthetics of the game are delightfully old school. The 70s-era Slap Shot influences are worn on their sleeves with players with names like Dr. Hook, amazing hockey hair (both flow and facial hair), and classic-looking jerseys. Those range from basic (Cobalt Silvers) to colorful (Charlestown Stonemasons) and even a tribute to the Vancouver "V" jerseys (Warroad). Each team has an alternate jersey, all of which can be unlocked by entering the Konami Code on the title screen.
What about the gameplay? There's a lot to like. You can play with Advanced (analogous to the modern EA skill-stick style) or Retro (buttons, which I prefer) controls. It goes for, and for the most part accomplishes, that NHL 94 feel. There are the arcade touches I want, Batman-style "BOOM"s when laying a big hit is always fun to see, but with its realistic skating physics, it feels pretty familiar to those from the simulation side of the spectrum.
"We wanted to capture a balance between the arcade gameplay, but still rooted in understanding the game of hockey," said V7. "Video Games don't often provide an easy way to experience games of yesteryear, so our game provides a bit of what the old games were like without trying to completely modernize them."
If there's a complaint with the gameplay, it's that playing with the puck, particularly passing, doesn't quite feel as fast and snappy as most hockey games. Whether it's the physics being too real (for example, the players needed to collect the puck with their sticks before firing off a one-timer) or a lag issue, it's hard to say without knowing more about games. It's a bit jarring, but after a game or two, you start to get a feeling for the timing of a one-timer or rebound shot.
Speaking of slower paces, the loading times before games take about 90 seconds. It's understandable for an indie game, especially on the limited hardware of the Switch, but it still feels like a long wait in between games.
Another disappointing potential casualty of being on Switch is the lack of "Beer Mode" on this version. Beer Mode is a control set-up present on other versions, designed to play the game in one hand while holding a beer in the other. It wasn't made for use with the Joy-Con in mind, but it feels like a match made in heaven and a tragic omission on the Switch.
That doesn't mean the game isn't fun, these are just things you should know up-front. If those aren't deal-breakers, you'll probably have a lot of fun with BHL. There is a story mode for one-player, complete with AI strategies ripped straight from the '70s.
That's no joke, either. "We got old ring-bounded hockey coaching books from the 70s and often based how the AI plays off strategies from those times," V7 told us. "Players may unknowingly find themselves playing against an AI who is following the Xs and Os of how the game was played in those days."
But where the game truly shines is with local multiplayer. There's just something so satisfying about winding up for a slap shot, crashing the net for a rebound, or laying a big hit against your friends.
It's definitely not perfect, but as it is in hockey itself, no rookie is. The seeds are there, though, for a formula that could blossom into hockey's answer to the Super Mega Baseball franchise. The aesthetics and personality are there, the uniforms are genuinely fun and cool, and the vision for the gameplay is excellent. With more resources and polish, it's easy to imagine how great a sequel could be.
But as it stands, it's a fun but flawed game for which I'll have no qualms returning to or showing my hockey-loving friends. Just as importantly, V7 deserves praise for attempting to revive a lost and badly missed version of the hockey title. The love of hockey bleeds from every nose and fist in this game, and if checking it out for yourself brings us closer to a more perfect version of this game, that's worth it in itself.