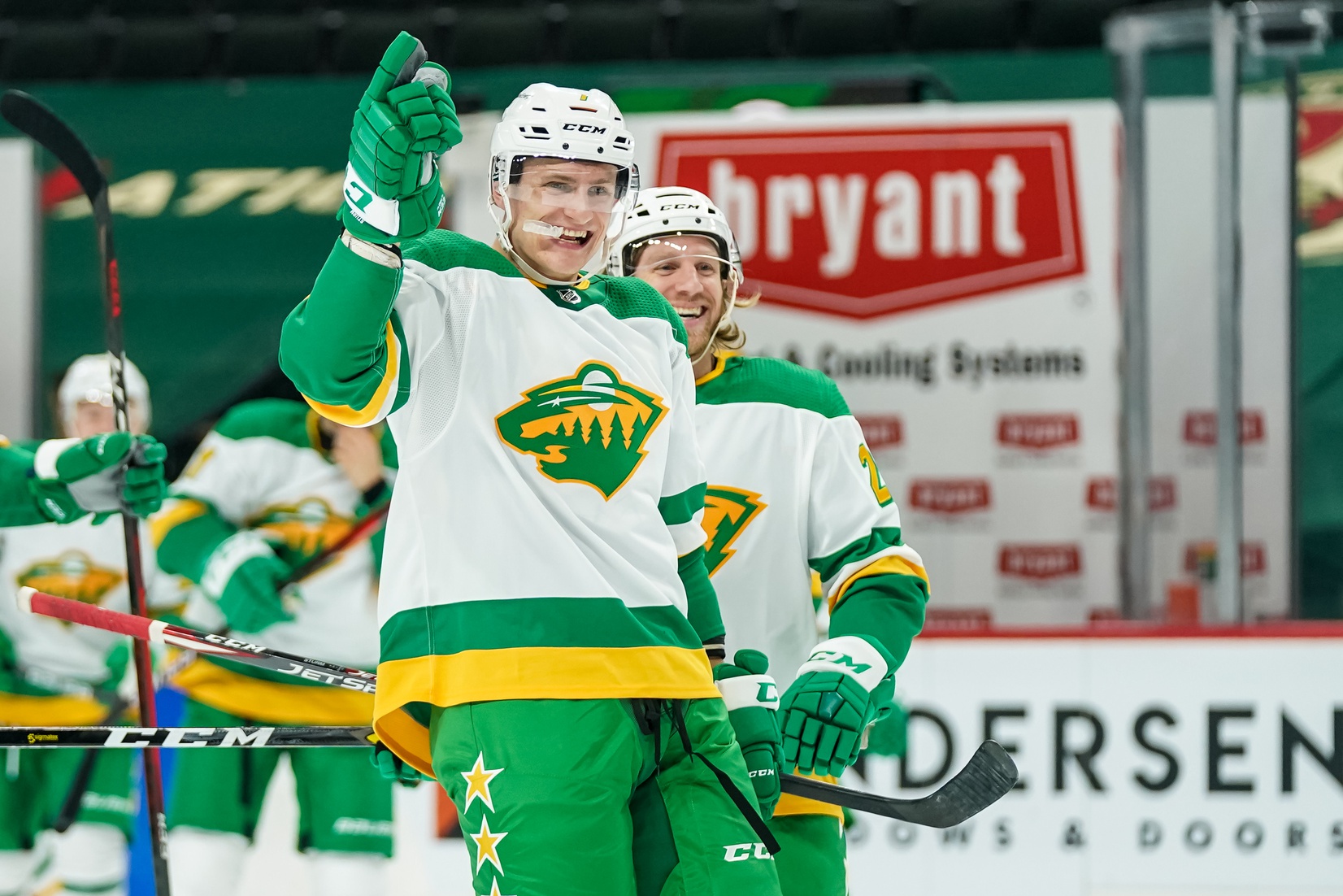 Head coaches are supposed to send out a lineup every night that gives their team the very best chance to win. But putting lines together requires a little more science than just icing the 12 best players the team has at their disposal. There's player performance, chemistry, and mixing and matching skill sets to consider. And when a team is deficient in a specific position, the coach must get creative to cover up that hole in the roster.
With Joel Eriksson Ek's emergence as the Minnesota Wild's best center option, naturally you'd assume he should get slotted in alongside the most talented wingers. However, even when Dean Evason does the right thing and puts him with Kirill Kaprizov or Kevin Fiala, the coach has been quick to move No. 14 back into a checking role. Third-line center is a title that Eriksson Ek knows all too well, and one that's proven tough to shake off.
The coaching staff seems afraid to leave Eriksson Ek as the 1C because they don't have a center capable of filling the void on a shutdown line when the game is in the balance. They're right. That is, if they're only considering Nick Bonino, Nick Bjugstad, and Victor Rask. However, this is just tunnel vision by Evason and company. If they widened their view a little, they'd see that Nico Sturm is up to the task.
Moving Sturm to the pivot makes perfect sense. First, he's no stranger to playing center. Sturm did it all at Clarkson University. He played center all three years in college and was a two-time ECAC Best Defensive Forward in his final two seasons. This, while potting 103 points in 118 career games. Sturm made a collegiate career out of playing defensive, two-way hockey and was a standout in his conference. 
Oh, and if the Wild want to worry about faceoffs, Sturm was the best in all NCAA D-I in the faceoff dot, winning just shy of 62% in his sophomore season. 
He's proven he can do the same in the AHL. Last season Sturm held down the center position on a good Iowa Wild team. His .58 points per game doesn't exactly jump off the page, but it was better than Nashville's Eeli Tolvanen and right behind New York Islanders prospect Josh Ho-Sang. And when he got his first call up to the Wild, he jumped right in. He logged 67 minutes in six games with Minnesota last season and controlled play. While six games is hardly enough to form a complete opinion, a 1.22 expected goals against while on the ice is exactly what the Wild, or any team, need from a bottom-six forward.
Sturm is showing that he can be a strong defensive forward. In fact, comparing Eriksson Ek's first 38 games to Sturm's 39 total career games, Sturm performs slightly better according to defensive metrics.
| | | | | |
| --- | --- | --- | --- | --- |
| Player | xGA | xGA/60 | Min | GP |
| Eriksson Ek | 14.52 | 1.85 | 472 | 38 |
| Sturm | 10.47 | 1.76 | 356 | 39 |
Sturm's been committed to defensive play at each level, and it's born out in his numbers. Compared against his team, Sturm ranks second behind only Marcus Foligno in expected goals against per hour.
However, leading a line at center takes more than just shutdown defense. Sturm must be able to carry a line as well. Through 33 games this season he has been a net positive on shots for, scoring chances for, and even higher-danger chances for. Sturm just needs a chance. 
And to draw one more comparison to Joel Eriksson Ek, the Wild don't yet fully know what they have in Sturm. They need to give him a chance in a bottom-six role with a decent load of minutes. He's been one of the team's harder-working players and showed that his speed can negate icing infractions or provide a strong backcheck. 
The Minnesota Wild don't have many great center options. Evason has to work with the hand he's been dealt. Eriksson Ek should be up on the top line, no doubt. The Wild already have a guy on the roster now who can slide into Eriksson Ek's vacated spot on the third line. It's not the end to all the Wild's center problems, to be sure, but it can help them be more successful right now.