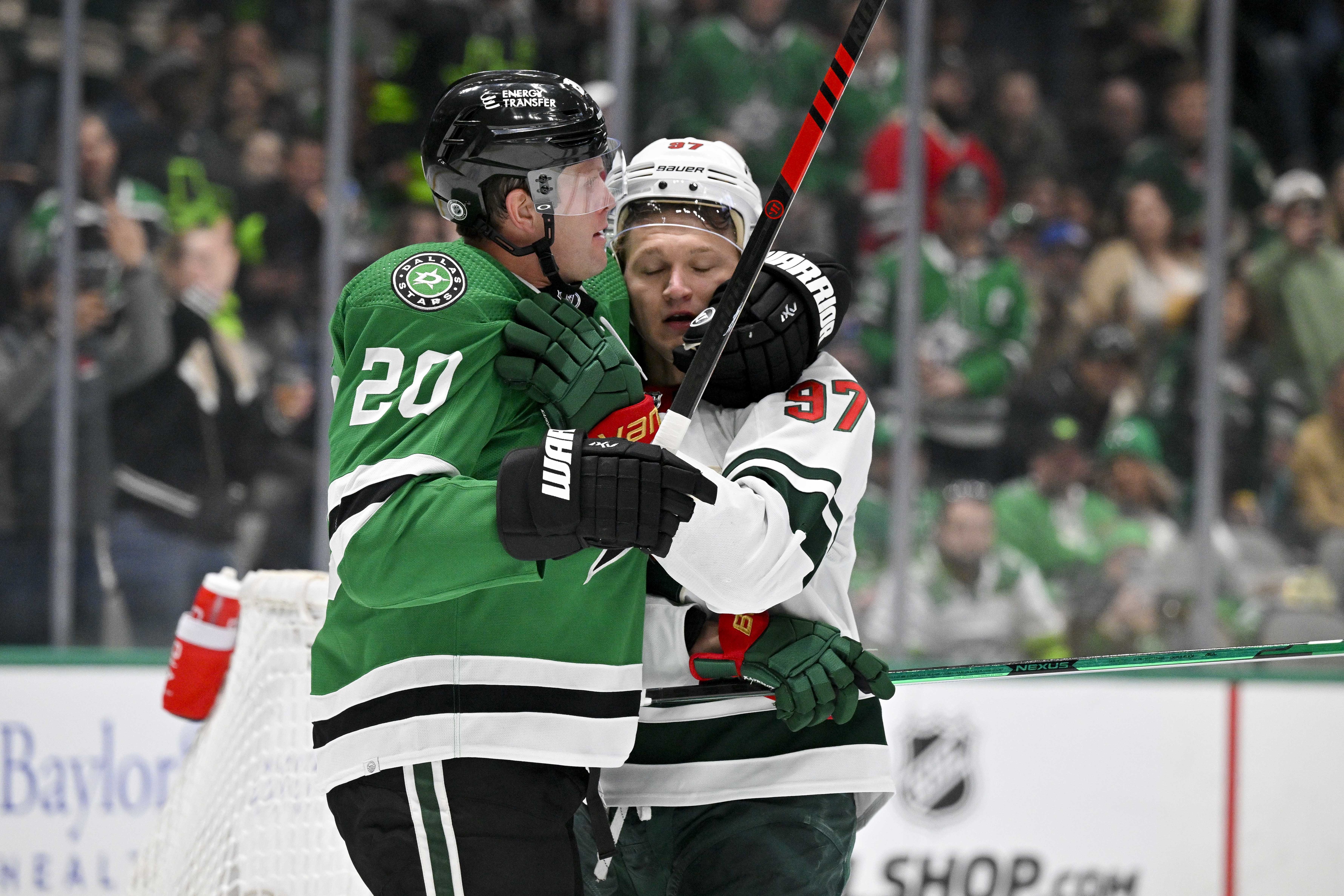 Image courtesy of Jerome Miron-USA Today Sports
Same dog, same old tricks. The Minnesota Wild are finding out you can take Pete DeBoer out of the Vegas Golden Knights, but you can't stop DeBoer from being Vegas' DeBoer.
The series is even at 1-1 now following the Dallas Stars' 7-3 drubbing of the Wild on Wednesday night. Minnesota didn't just get drubbed on the scoreboard, either. Fans were treated to countless moments in both Games 1 and 2 of a helpless Kirill Kaprizov getting hacked and pushed around by Dallas.
One could suggest it's simply just the playoffs. These things happen. Intensity ratchets up and extracurriculars become part of the game. DeBoer is now Dallas' head coach, though, and he has a history of teams who toe the line of what is acceptable, particularly come playoff time. I'm not suggesting they have a blatant intent to injure, but they sure seem to embrace the notion Well, they can't call them all!
In Vegas, DeBoer's team showcased a familiar face Ryan Reaves, the current Wild forward. Reaves has seemed more controlled in his two playoff games donning green and gold. But his role for DeBoer was not that of a responsible checker. Reaves was twice suspended in the playoffs for illegal hits while playing in Vegas. One was for intent to injure Colorado Avalanche forward Ryan Graves. The other time was in Vancouver for hitting Tyler Motte in the head with an illegal body check.
Reaves has been physical in his playing style with Minnesota. But he hasn't done anything close to crossing the line into suspendable territory, as he did in his time under DeBoer's watch.
When it wasn't overly-aggressive enforcers doing DeBoer's bidding, it was the likes of Alex Pietrangelo subtly landing cross-check after cross-check into the opposing teams' star players. The last time Minnesota met a DeBoer team in the playoffs two years ago, Kaprizov was agitated and visibly frustrated.
It's not Petreangelo this year, though. Instead, it's old "friend" Ryan Suter delivering cross-checks between the 9 and 7 on the back of his jersey countless times.
DeBoer's history with this strategy extends further back then just his two most recent stops. During his time in Silicon Valley, the San Jose Sharks were well known for being extremely difficult to play against. And perhaps more famously, he employed it in 2012 with the New Jersey Devils. In preparation for a potential playoff matchup, he started a game in Madison Square Garden challenging the John Tortorella-led New York Rangers to a full-on line brawl.
All this brings us back to Friday's pivotal Game 3. DeBoer's playbook has been open for everyone to see for years. And yet, it seems like the referees and the Wild came into the series woefully unaware this is where it was headed.
It starts with the NHL's unique inability to protect its stars. And it's not just the case of Minnesota this series, but a worrisome trend for years now. The fact that crucial viewership drivers such as Kaprizov continue to go unprotected from excessive targeting like what DeBoer instills in his teams is ludicrous.
Simultaneously, Minnesota should have been prepared to protect their star this series.
The entire hockey world knows DeBoer was going to task his defenseman with the they can't call them all! strategy. The risk of taking a few minor penalties here and there is acceptable if it means minimizing Kaprizov as much as possible. And yet, Dean Evason's response has been reactionary instead of proactive. Kaprizov was so frustrated with his treatment from the Stars and lack of response from the officials on Wednesday that his night ended early. Late in the third period, he received a 10-minute misconduct after his frustration spilled over in retaliation to Dallas forward Max Domi.
The question is, if the refs aren't going to protect Kaprizov, why hasn't his team done a better job of stepping in? Why is their Russian star being relegated to fighting his own battles? Isn't this exact scenario playing out in the playoffs the whole point of having Reaves in the lineup?
Officiating is not going to suddenly decide to protect Kaprizov following years of evidence showing they've decided preventing injuries to stars isn't in their job description. DeBoer will not change his strategy of repeatedly toeing the line once this series heads north on I-35 on Friday. If the rules won't change to help Kaprizov, it's time for the Wild to reverse course and take matters into their own hands.
We're not looking for barbarism. I'm not calling for more fights, or intent to injure in any way. Nobody wants to see this in the NHL. But it is time to return the favor and start making it uncomfortable for Dallas' best players to jump over the boards and onto the ice. To feel what Kaprizov has felt in the first two games.
They owe their Russian superstar that much. 
2