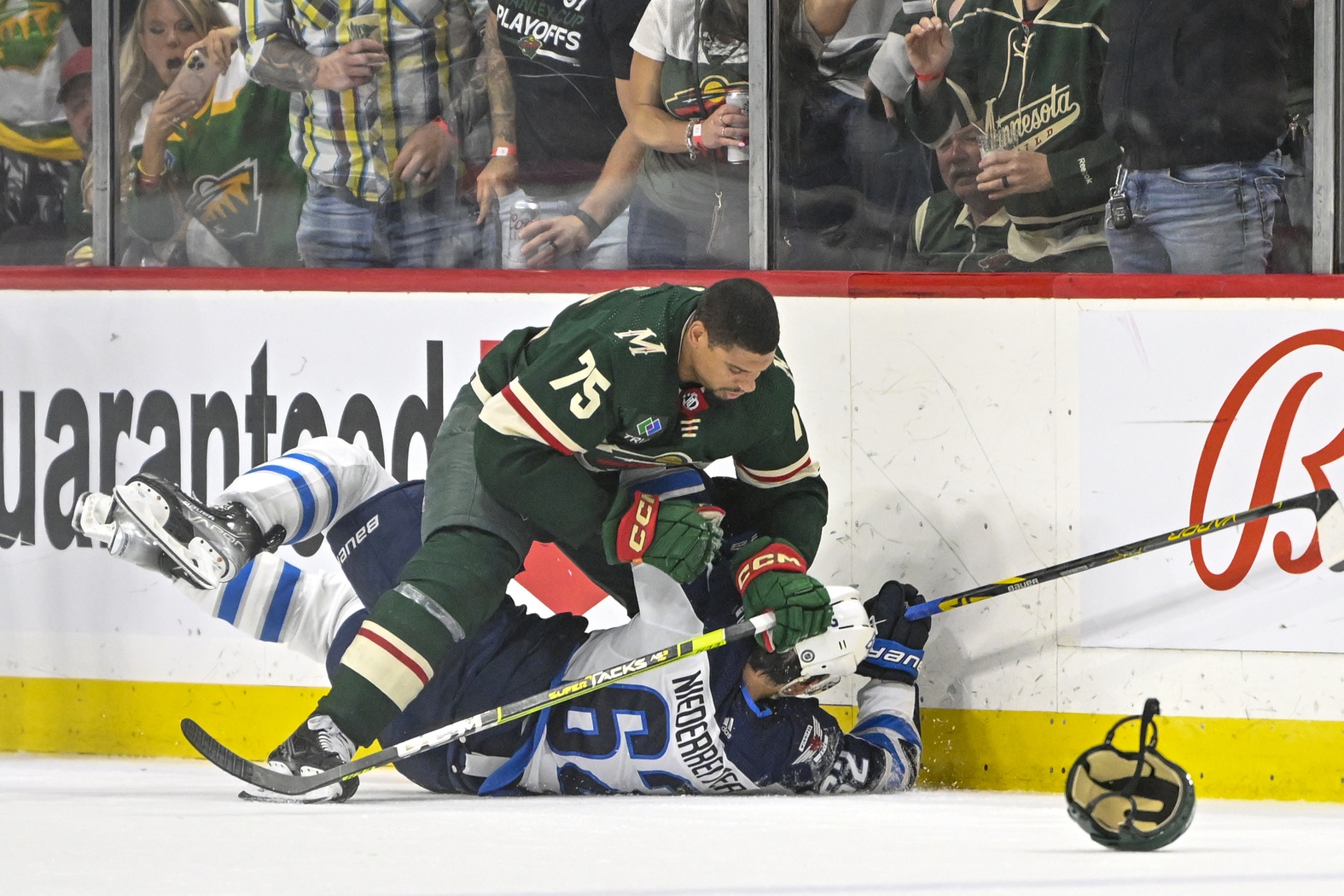 Image courtesy of Photo Credit: Nick Wosika-USA Today
Can the fourth line remain a strength for the Wild as the injuries pile up?
The regular season is coming to a close and the Minnesota Wild are backing into the playoffs. They won several games to get to this point, but failed at a chance to clinch their playoff spot themselves against the Vegas Golden Knights last week. Since then, they've had a string of uninspiring losses and undeserved wins. That doesn't exactly inspire confidence in those with high hopes for a deep playoff run.
The Wild have plausible excuses, though. Their depth is being tested, losing their superstar forward Kirill Kaprizov, Selke-caliber shutdown center Joel Eriksson Ek, and stud defensemen Jared Spurgeon, among others, in recent games. Tuesday's game against the Winnipeg Jets saw Sam Steel (illness) and Marcus Johansson (injury) leave the action. Most heartbreakingly, they lost promising and fan-favorite forward Mason Shaw for the rest of the season with his fourth ACL tear in his early career.
Fortunately, Kaprizov and Spurgeon's absences are more out of caution, gearing up for the increased physicality of post-season play. Eriksson Ek and Johansson both inspire hope that either could return, even if it doesn't look great now.
But there's a sense of finality to Shaw's absence that might be the toughest to take. He was a player who was starting to carve his role on the roster as an energy-creator off the bench and as part of a tenacious, effective penalty-killing duo with Connor Dewar. Shaw's absence has drawn some interesting questions about the Wild's lineup and how it might shake out in their first-round matchup and — hopefully — beyond.
Luckily, even with a Shaw-sized hole at the bottom of the roster, the Wild can draw from their deadline moves that added quality depth pieces and augment an effective and productive fourth line. With the playoffs nearly here, that's important. Fourth-line units have a history of coming up clutch for championship teams.
It feels like ancient history, but "The Merlot Line" of Daniel Paille, Gregory Campbell, and Shawn Thornton for the Boston Bruins championship team in 2010-11 is the modern prototype for what a team should strive for in the depth lines. Even as recently as two years ago, the Tampa Bay Lightning had Pat Maroon, Pierre-Edouard Bellemare, and Corey Perry. Both units combined production with an unrelenting forecheck and an ability to capitalize on the mistakes their pressure forced.
The Wild can still do that. For a stretch during the regular season, the combination of Ryan Reaves, Dewar, and Shaw presented headaches for opponents with their blend of speed, weight, and tenacity on the forecheck. That's the blueprint Minnesota needs to re-create.
It starts with Reaves, an endearing goon whose career-high nine goals came way back in 2018-19 with the Vegas Golden Knights. The trade pickup from November is on fire right now, with five goals and nine points in his last 20 games. I don't think anyone had the 36-year-old marked to put together one of the most productive runs of his career, but here he is, and he's as physical as advertised. Dewar brings speed, smarts, and a willingness to mix it up defensively.
But who fills Shaw's place?
Oskar Sundqvist can bring something complimentary to the fourth unit. At the moment, Sundqvist is out of the lineup day-to-day with a lower-body injury, but when he was on the ice, he was productive. His three goals and seven points in 15 games are as effective as you can expect from a depth piece.
Now that Gustav Nyquist is healthy, though, he may see himself displaced from the third line. At 6-foot-3 and 220 pounds, the sizeable and productive forward can be a boon for that bottom unit while meshing stylistically with the heavy and taxing play head coach Dean Evason expects them to lay on their opponents.
It's not all rainbows and unicorns for the deadline addition from the Detroit Red Wings. Sundqvist's on-ice-impacts with the Wild have been concerning. According to HockeyViz.com, Sundqvist has sucked the life out of the Wild offense when he is out there, forcing the team to settle for low-quality point shots.

Goals are going in (seven of them on 5.3 expected goals), but Minnesota only generates 1.87 expected goals per hour with him on the ice. That's a 27% decrease from the rest of the team. He's not much better in his own zone, where he concedes a lot of high-danger chances from the left side of the slot and net.
Now, it must be said that Sundqvist has yet to play much time with the team. Between injuries and Evason's shuffling in response, Sundqvist has only accumulated 169 minutes of even-strength ice time. It also takes time for any player to acclimate to a new team, a new system and a new locker room.
If he finds his groove, though, he could mesh with a fantastic fourth line anchored by Reaves and Dewar. If he doesn't, The Wild have plenty of other options to combine with that duo, with hard-nosed speedster Brandon Duhaime. They might even put someone like Sammy Walker or Adam Beckman, both of whom are having solid years in the AHL, in that spot if injuries continue to pile up.
And if they go the other way and return to (near) total health, with Kaprizov, Eriksson Ek, and others brought back into the fold, it wouldn't be outrageous to see Marcus Foligno thrown into the bottom group. Having a "Moose" on a fourth line is the kind of depth that wins playoff games.
Whoever is given the opportunity at the bottom of the lineup — as strange as that sounds — they could be part of a remarkable unit that can help the Wild win some playoff games. And if they do wind up clicking, maybe even sixteen.