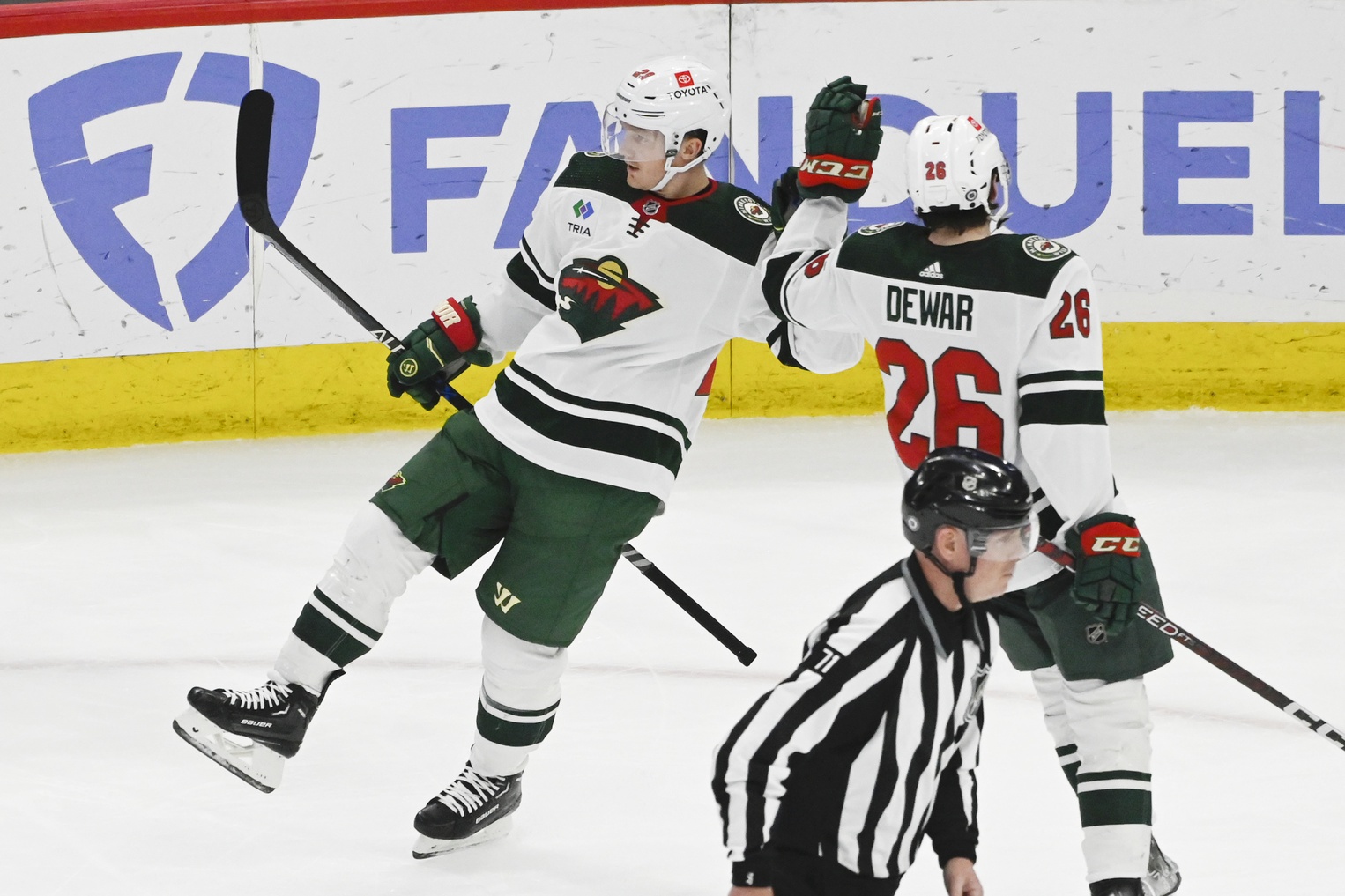 Image courtesy of Matt Marton-USA Today Sports
It's only six games into his Minnesota Wild career, but it's already clear: Gustav Nyquist is a monster. 
The slick-mitted Swede has done nothing but produce since getting healthy and taking the ice for Minnesota. If you total his points over his six games in a Wild sweater, he's up to nine points with one goal and eight assists. For some context, he has more points in April than he'd had in any month this season.
Until he came back from injury, Nyquist wasn't exactly having the greatest season ever. Twenty-two points in 48 games is nothing special, especially not when compared to his track record. Nyquist potted over 20 goals three times and almost hit 30 once. In 2018-19, Nyquist put up 60 points with the Detroit Red Wings and during a post-trade deadline playoff run with the San Jose Sharks. 
As he's gotten older, Nyquist has transitioned to being more of an assist guy. The wicked shot and sneaky speed are still there, but his goal totals have been on the decline while his assist numbers have risen, at least relative to his goals. 
And now he's on an absolute tear. Must be something in Minnesota's water that makes these veteran Swedish forwards find another gear when they don the green and red. 
Declining, injured veteran forwards weren't exactly the hottest commodity going into the deadline. That went doubly so after Gary Bettman low-key threatened teams that might swing a Nyquist trade to circumvent the salary cap. Guerin had no such worries and believed it when Nyquist said he'd return by the end of the regular season. Therefore, he was able to work out a trade to get Nyquist from the Columbus Blue Jackets to help the Wild in this late-season stretch. 
Meanwhile, Columbus was never going to the postseason, so their year would have ended about a week ago regardless of what happened with Nyquist. With nothing to play for, Nyquist's recovery timeline was irrelevant to the Blue Jackets. So Guerin shipped off the 2023 fifth-round pick he received from the Boston Bruins for acting as a cap hit launderer in the Dmitry Orlov deal. 
Essentially, the Wild got Nyquist for free. It's found money, and it's paying off. He's been all around the lineup so far, working with a wide cast of characters. He seems to have chemistry with Freddy Gaudreau; Nyquist has assisted on three of Gaudreau's goals so far. But he's not limited to having to be tied to any one player. That makes him a valuable piece in Minnesota's lineup, which seems to have a new injury every day.
Nyquist is no stranger to scoring big goals in big moments. He's been doing that since before the Wild drafted Kaprizov. His overtime goal in the Stanley Cup Playoffs below is from 2013. 
He's been on fire so far this postseason. Need a clutch goal? Nyquist is always in the middle of these massive goals. Look at what he did in Game 2, with Minnesota needing a goal to escape going into the first intermission down 2-0. He drives to the net, throws in on goal, and good things happen as his fellow countryman Oskar Sundqvist cashes in with the tip.
Want to see him do it again? In the same game? Watch Nyquist fearlessly dive into the teeth of three Stars, make a play, and take the air out of American Airlines Arena. The Wild went down 7-3 in the game, but for a moment, Nyquist swung the momentum back his team's way. 
With all the highs and lows of the playoffs, it might be tough to remember back to six games ago, but Nyquist has been doing this for his entire tenure in Minnesota. In the regular season, he was driving play and active in transition. Marvel at this gorgeous saucer pass to Jared Spurgeon, which put the nail in the coffin of the St. Louis Blues in his first game.
Nyquist is tied with Mats Zuccarello and Ryan Hartman for the team lead with four points. The Wild are out-scoring Dallas 5-0 with Nyquist on the ice. His third line is breaking even in shots, registering and surrendering 24 apiece. Overall, good things are happening when Nyquist is on the ice. 
The only downside is that we're running out of nicknames for Nyquist, as "Gus Bus" and "Goose" are already taken. Despite that one small pitfall, he's making Guerin's investment in him well worth it. Older, injured veteran forwards don't often see offensive surges like the one Nyquist is on. Maybe playing in Columbus the last three years gets you down, and getting liberated from the clutches of Blue Jacket hockey puts a spring in the step.
Whatever the reason for his success, Guerin was right for taking a swing on the grizzled vet, and Minnesota is reaping the sweet nectar of playoff wins.
All stats via Evolving Hockey or Natural Stat Trick unless otherwise noted.