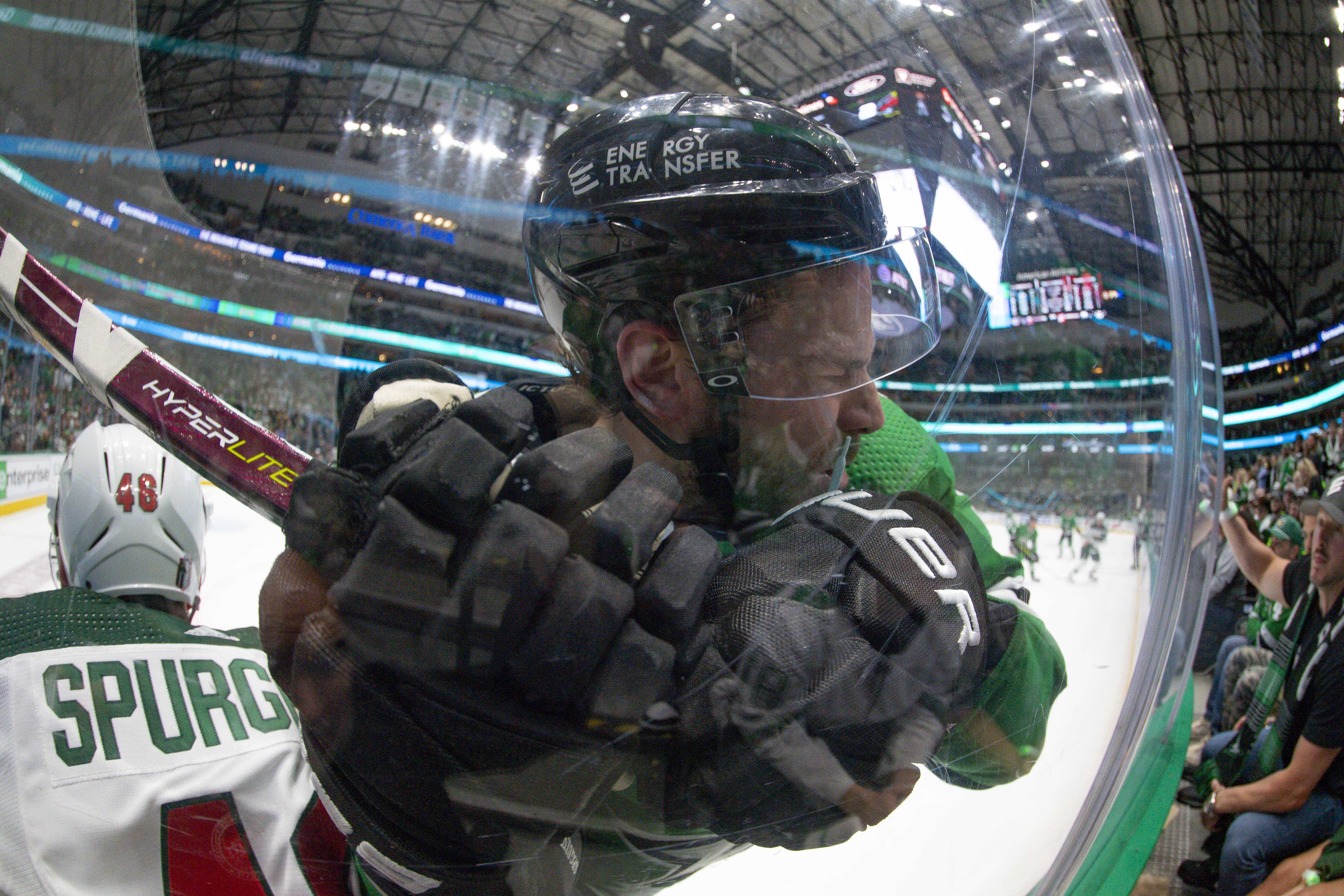 Image courtesy of Jerome Miron-USA Today Sports
"Our team, the Minnesota Wild, don't dive."
Dean Evason had some harsh words for the Dallas Stars, their Wild playoff opponent after his Wild dropped Game 2 with an ugly 7-3 loss. In that game, Dallas scored their third, fourth, and fifth power play goals of the series.
Three goals in a 7-3 game doesn't seem like a difference maker initially, but Tyler Seguin's power play tally in the first period put Dallas up 2-0, while Jamie Benn's goal on the man advantage prevented Minnesota from getting back into the game after Oskar Sundqvist's goal, boosting the score to 3-1. 
At 5-on-5, the Wild are hanging right in there with Dallas, out-scoring them 4-3 in the series. But Minnesota's getting murdered on special teams, with a 5-2 disadvantage on the power play. Worse yet, a shorthanded goal from Roope Hintz eats into that advantage.
According to Dallas coach Pete DeBoer speaking with the media after Game 2, this is all going to plan. "When you pre-scout them, Minnesota takes penalties. They're the sixth-most penalized team in the league. We're ready for that."
Confronted with that quote, Evason fired back at his Stars' counterpart and cut a hell of a wrestling promo. "We felt that they had some bigger people go down pretty easy in that hockey game," the former skilled NHL fighter declared. "We've talked about this before, and it's a fine line, because we don't dive."
Evason wasn't done making Macho Man Randy Savage proud. "There's so many times I would love to go in there and go, 'You know what, guys? Let's embellish.' I mean, you want to draw penalties because of how hard you're working and how gritty you are and whatever.... But we don't do that. That's not what we do."
It's fantastic theatre and serves as cheap heat for an intense playoff series between division rivals. But there's more at play here. Both Evason and DeBoer are trying to work the referees for every advantage they can for the rest of the series.
On Minnesota's side, the Wild are one of the more undisciplined teams in the league. The Wild took the fifth-most minor penalties this year, and their -32 penalty differential is third-worst in hockey. The only teams worse were the Arizona Coyotes and Anaheim Ducks, perhaps the two least-skilled teams in the league. Ryan Hartman (30 minor penalties) and Matt Dumba (28) finished the season in the league's top-15 in that category.
Meanwhile, DeBoer's Stars finished with the tenth-fewest minor penalties and a +12 penalty differential. They also got 11 power play chances to Minnesota's nine through Games 1 and 2. 
It's in Evason's best interest to get the refs to call Dallas for embellishment, which would offset Minnesota's penalty and create a 4-on-4 instead of a power play. If the penalty kill can't keep the puck out of the net, they'd better keep the Stars off the power play. He's also angling for officials to give Kirill Kaprizov some deference, as well.
"Our superstar player... he takes a lot of abuse," Evason said, no doubt keeping a litany of Ryan Suter cross-checks in mind. "He doesn't go down very often."
Meanwhile, DeBoer on the other shoulder of the refs is essentially saying, C'mon. You've seen these guys. They're undisciplined, pay more attention to them, not us, the nice boys. 
Referees don't call embellishment too often, and the Stars don't exactly have a reputation for diving. Well, at least not for this season. NHL officials have only called 24 such penalties this year according to IcyData, with, interestingly enough, one on Minnesota (Marcus Foligno on December 21).
Until the playoffs, that is. So far, Dallas superstar Jason Robertson has the only embellishment call of the playoffs so far, taking the penalty in Game 1. And as we can see from this Esa Lindell sequence from 2019, Dallas players are clearly not above the concept of diving.
The series heads back to St. Paul on Friday, where they might get some friendlier calls than they did on the road. But both coaches are angling for things to go their way right now, and it'll be interesting to see how this gamesmanship influences the 1-1 series.
1