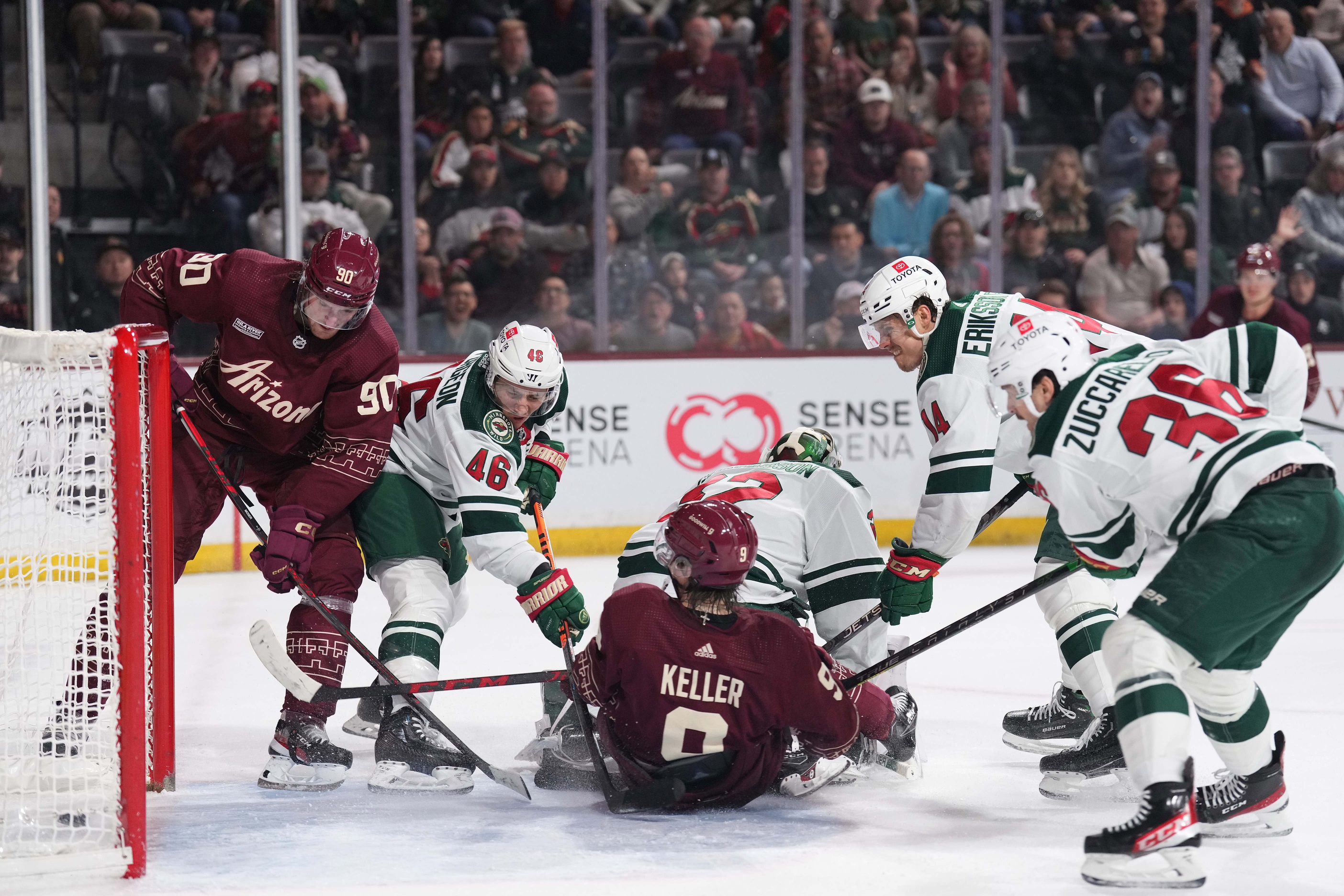 Image courtesy of Joe Camporeale-USA Today Sports
Great rivalries always include three things: passionate fans, geographic proximity, and bad blood. Throw in a literal border crossing -- not just across state lines, but from the U.S. to Canada -- and you can see why the Winnipeg-Minnesota rivalry is so legendary and historic.
That legacy lives on today. After all, who can't recall the last meeting between these two franchises, when the Dallas Stars' Jason Robertson poured four points in the Arizona Coyotes in a 5-2 win over their Central Division rivals?
What, you thought we were going somewhere else with that? Maybe talking about the chippiness between the Winnipeg Jets and Minnesota Wild, when Rick Bowness challenged a welcoming Dean Evason to a fight after some late-game goonery?
Naw. We get it, the modern-day Winnipeg-Minnesota rivalry has juice. They've met in the playoffs before and have legit hate for each other spanning some key roster turnover for both squads. That geographic proximity? Still there. And both squads have had supportive fanbases from the get-go, and even more so now that both are good.
But let's be real, this isn't the Norris Division Jets-North Stars rivalry. This isn't the Met Center faithful remembering the time in the Wild's history when Bobby Smith and the North Stars poured 15 goals on Dale Hawerchuk's Jets. It's a battle between a 2000s era expansion Wild and the old Atlanta Thrashers duking it out. Marian Gaborik vs. Ilya Kovalchuk might have had juice back in the day. Too bad they were in completely different conferences.
And now the remnants of the old Jets might be on the move again. This week, Arizona voters shot down referendums to build an arena complex for the Jets-turned-Coyotes. For the first time, really, it seems the NHL is considering their options to relocate them from Arizona.
In theory, Arizona could form a formidable rivalry with Minnesota. But in practice? No way. The Coyotes are in the Central Division only by virtue of the Seattle Kraken needing to kick someone from the Pacific Division. The Coyotes were simply the odd team out, partly because few people seem to care about them. They've never given the Wild much reason to do so, either, even in the 2020-21 season, when they had eight games to develop bad blood in the one-off West Division.
There could be a cool storyline with Minnesota Golden Gopher standout Logan Cooley potentially joining the Yotes next year. But regardless of whether he stays in the NCAA or jumps to the NHL, he'll still be playing his home games in a college arena.
It's not the fans' fault. Fans want to see winners, they tend to support winners, and the Coyotes have been anything but. After a run of five one-and-dones in six years upon first moving to the desert, the Coyotes have only four postseason appearances in the past 21 years. 
Not to delight in the misery or throw any stones here. The Desert Dogs have reached a Conference Finals more recently than Minnesota (losing to the Chicago Blackhawks in 2012), but that's a pretty long stretch of being the team that 31 other fanbases pencil in wins against.
Where might they go? Salt Lake City is the hottest new buzz, with a market full of Utah Jazz fans looking for another reason to buy $15 3.2 beers*. Houston has always been mentioned as a possible destination, as Texas is clearly big enough to support two teams. It's not likely that they'd go to Canada, because it'd throw off the Eastern/Western Conference balance, but you can't rule it out.
Nor can you take Atlanta off the table. However, if Atlanta is a destination, the NHL should just have to return both the Thrashers and Jets to their original homes. It's not like there isn't chaos already. Double down on it. It'd just be too weird for the Winnipeg Jets to be in Atlanta and the Atlanta Thrashers to be in Winnipeg. 
But the cleanest, neatest thing to do is keep the Coyotes out West, so let's say they move to Salt Lake City. This puts the Central Division rivalries at:
Chicago Blackhawks (Makes sense!)
St. Louis Blues (Makes sense!)
Nashville Predators (Gotta put them somewhere, we guess)
Former Atlanta Thrashers (Just covered it -- Weird!)
Former Minnesota North Stars (Weird! But there's juice!)
Latter-Day Jets (Also weird!)
Former Quebec Nordiques (Now you're just messing with us!)
It somehow gets even weirder once you get into the technical aspects of Dallas' history, which also includes a merger between the North Stars and the Cleveland Barons, who spent two seasons in Ohio after the California Golden Seals moved! We've gone fully into Bizarro World.
There's not really a takeaway from all this. If Arizona can get stable enough to give Cooley vs. the Wild a rivalry the State of Hockey can really sink their teeth into, that's good regardless of whether that team is in Arizona, Houston, or Utah.
But wow, it's really disorienting to put all these rivalries Minnesota has with their Central Division contenders under a microscope and track them. There's really nothing you can say except: What a Pepe Silvia division the NHL has put together. 
*We don't know if that's the case, but it's too funny to look up and disprove.
1