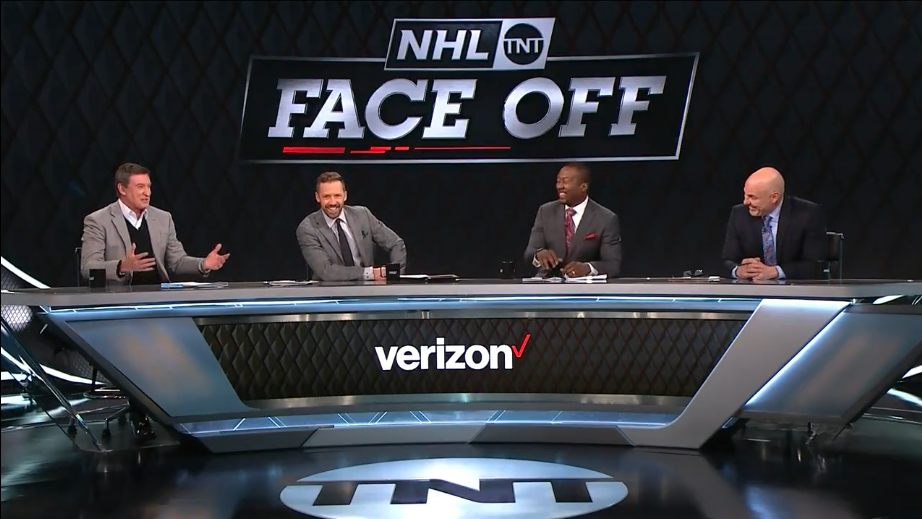 The Minnesota Wild have been one of the top teams in the league this year and are starting to get more national attention. And with that recognition comes more opinions. They usually are not the NHL's first choice to put on national television because of their historical defensive play and lack of star power. However, they've been on TNT and ESPN a few times this year, so they're going to get talked about. Therefore, analysts will share their thoughts, regardless of how informed they are.

 

TNT analyst Anson Carter said he doesn't like the Wild's depth during the intermission report of last Wednesday's game against the Chicago Blackhawks. He also felt the need to tweet his thoughts, taking a shot at Wild fans and reporters. But is his take legit, or does he just need to take the L and move on?

 

 

For context, the Wild are 9-0-1 since the Winter Classic and were still missing a good chunk of players for those ten games. In the new year, they have beaten the Boston Bruins, the Washington Capitals in a shootout, then crushed a very good Anaheim Ducks squad, 7-3. Their only loss came in a shootout against the Colorado Avalanche. Jared Spurgeon, Jonas Brodin, and Joel Eriksson Ek didn't play in those games.

 

So how do you win games without your top guys? The only answer is depth. The Wild are statistically one of the deepest teams in the league, sporting:

A first line with Kirill Kaprizov, Mats Zuccarello, and team MVP Ryan Hartman? Deadly.

Their second line with rookie stud Matt Boldy showing great chemistry with Kevin Fiala? A treat to watch.

The shutdown line of Jordan Greenway, Eriksson Ek, and Marcus Foligno? Those guys haven't allowed an even-strength goal all season.

Top it off with a fourth line of shutdown center Nico Sturm and rookies Connor Dewar and Brandon Duhaime, and you have a roster that can compete with anyone.

The key for the Wild is this roster allows for them to change their lines when needed and still succeed. Duhaime took Foligno's spot with aplomb. The centers can go up and down the lineup as well. Not everyone will have a connection with their linemates right away, and that was probably the case during the Winter Classic. However, over time the Wild clearly are showing that their depth is productive.

 

The same is true on the defensive end. Top D-men Spurgeon, Brodin, and Alex Goligoski have all spent time on the injured or COVID list, and the defensive depth has been able to take over. The goal with depth is you're not supposed to notice a player's absence. And when someone is out, you can often forget that the Wild are missing one of their top D-men because the rest are playing well without them.

 

The Wild's defensemen are all smart, mobile, and able to chip into offensive plays when needed. They are also one of the top-scoring blue lines in the league. Not too shabby.

 

Minnesota's goaltending has depth as well. Cam Talbot is an All-Star, and Kaapo Kahkonen has a 10-2-2 record. Pretty good for a backup goalie.

 

Carter's take is a classic example of a national analyst who doesn't watch the Wild very often. Sure NHL analysts are not going to get the chance to watch every team, but they should at least be able to provide an expert's opinion.

 

This year, the Blackhawks are awful, and the Wild played exactly how they should play against a terrible team. Had TNT shown the game against the powerhouse New York Rangers, I'll bet Carter would have had a different take on Minnesota's depth.

 

Hundreds of Wild fans have replied to Carter's tweet. Most, if not all, were calling him out for his lack of knowledge on the Wild. Many of the reviews of the new panel of analysts for TNT and ESPN's NHL coverage have been positive, and fans seem to enjoy their intermission reports. However, many Wild fans have tuned them out because of Carter's takes. He also had to comment on Minnesota's lack of a No. 1 center. While he is somewhat right, Hartman has been tremendous between Kaprizov and Zuccarello.

 

The Wild are getting more national attention, and it has to be expected at this point that not everything is going to be positive. During the ESPN broadcast of the Minnesota-Boston game, the commentary was less than complimentary of the Wild, even though they came out with the win. Minnesota fans are no strangers to this type of bias; it happens in every professional sport.

 

Minnesota sports teams don't get the recognition they deserve, and we are currently seeing it with the Wild. We can only hope that in the future NHL commentators and analysts will be as complimentary towards the Wild as they are with teams like Colorado, the Pittsburgh Penguins, and New York Rangers. People are entitled to have their own opinions, but they at least need to be informed. Carter's takes show that he does not watch or even pay much attention to the Wild, even though they've been one of the top teams in the league all season.