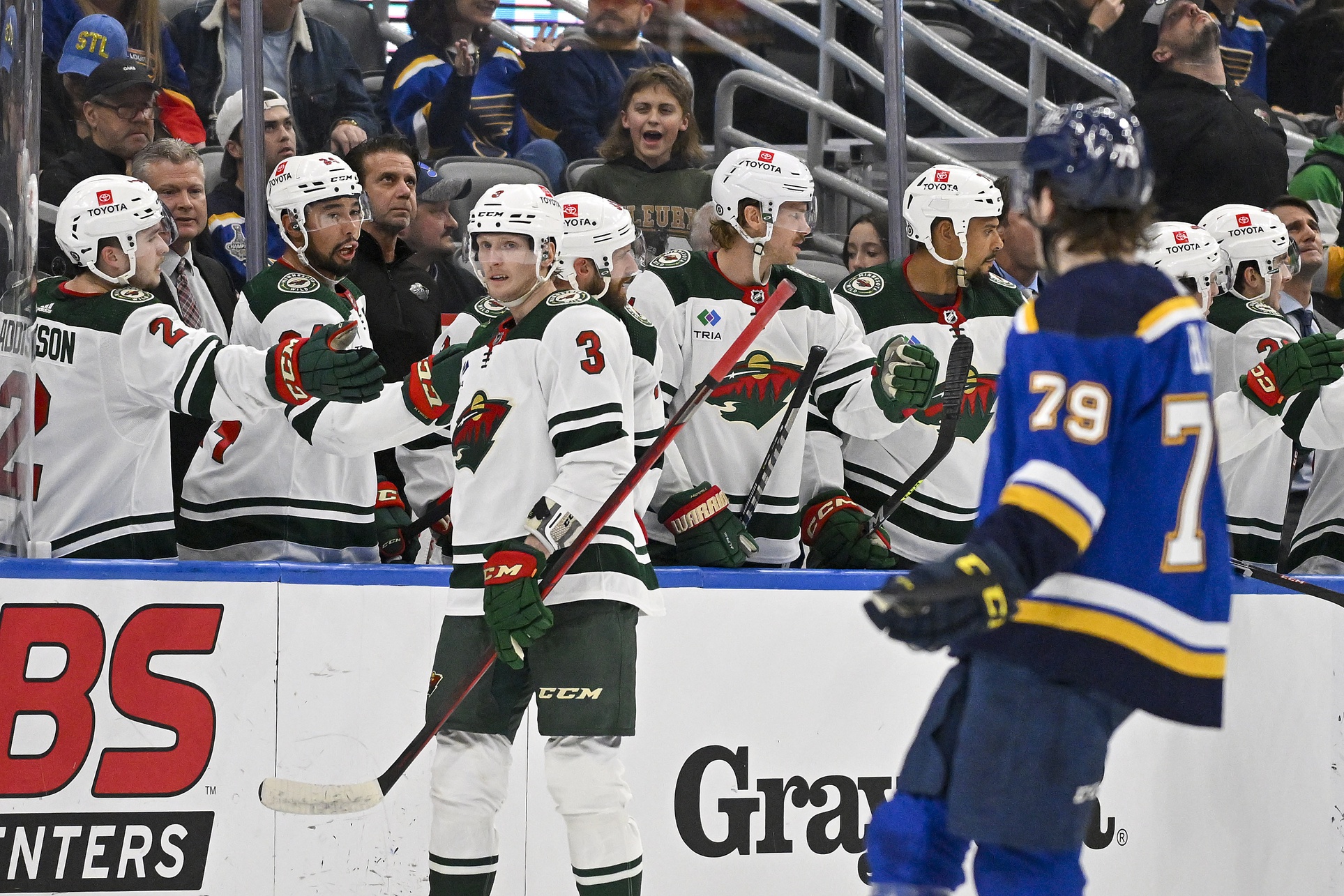 The Minnesota Wild started out the 2022-23 trade deadline with a series of procedural moves as brokers for more significant deals (Ryan O'Reilly, Dmitry Orlov) out east. Then they swung trades for forwards Marcus Johansson and Gustav Nyquist on the same day. Minnesota also traded struggling forward Jordan Greenway and brought in veteran depth forward Oskar Sundqvist from the Detroit Red Wings.
Finally, the Wild wrapped things up with a splash move moment before the deadline, acquiring offensive defenseman John Klingberg from the Anaheim Ducks. All of these moves signaled to the team that they were going for it. Bill Guerin's moves have paid off so far for this year's team.
The Wild made seven trades at the deadline this year, three more than they made last year. It was a uniquely aggressive approach where they were active buyers but also sellers.
Players traded:
Greenway, Andrej Sustr, Nikita Nesterenko, Josh Pillar, Andrei Svetlakov, 2024 third-round pick (MIN), 2023 fourth-round pick (MIN), 2025 fourth-round pick (MIN)
Players added:
Nyquist, Johansson, Sundqvisvt, Klingberg, 2023 second-round pick (VGK), 2024 fifth-round pick (BUF), 2025 fourth-round pick (TOR)
The Wild parted ways with a couple of late-round picks, a third-round pick, a depth defenseman, a prospect they weren't going to sign, and a struggling player. In return, they got some key pieces to fortify depth and a puck-moving defenseman to help the powerplay with a ton of postseason experience.
A major caveat here, Nesterenko, the prospect in the Klingberg deal, looks like he could actually be something. He was not in the Wild's future plans and even though there's reason to be optimistic, you can't have your cake and eat it too.
And even though the Wild gave up picks and prospects, they managed to use the Greenway deal to get that second-round pick, the most valuable pick in any of their deals. Despite the cruxes and cruses of Minnesota sports past, Greenway's struggles on the scoresheet have persisted. He has only one single point through eight games in Buffalo.
So the Wild were able to get some much-needed depth among their forward core. Between Johansson, Nyquist, and Sundqvist, they have over 200 games of Stanley Cup playoff experience. Klingberg has almost 60 games of postseason experience. That's a whole lot of minutes played in the playoffs for the collection of Wild newcomers. Their experience will be crucial for a team trying to escape the first round for the first time in almost a decade.
Guerin brought in Klingberg to replace Calen Addison on the power play and has received mixed results. Klingberg has played well at even strength but hasn't necessarily boosted Minnesota's power play like his resume suggested he may have.
The Wild never seemed to be in the market for some of the big names like Timo Meier and Jakob Chychrun because they are limited on future financial capital. Guerin also said he did not want to give up premium assets at the deadline. He did not sell the farm and still found a way to profit from the assets he gave up. On top of that, adding that extra second-rounder while not giving up anything he considers too valuable was a good bit of business.
The initial return on investment was good. The team was playing terrific hockey, and things seemed well as the squad was battling for the top spot in the Central Division.
Then tragedy struck. The literal end of the world.
The sky was falling. Kaprizov was carrying, and I mean dragging this team offensively. So without him coming up clutch and driving consistent offense for an otherwise uninspiring bunch, what was the Wild to do? How would they win without an absolutely absurd performance in the net from either Filip Gustavsson or Marc-Andre Fleury?
Alas,
At dawn, like Gandalf the Wise leading the riders of Rohan down to rescue the trepidatious fellowship at Helms Deep.
The "JoJo" and "Sunny" Show had arrived.
The additions at the trade deadline have acted as gas to Minnesota's proverbial fire.
The Wild have gone 7-1-3 since the trade deadline and completed a franchise-record 14-game point streak. Minnesota's newest members and some newly-inspired veteran players have helped launch the group to first in the Central Division without Kaprizov.
[caption id=attachment_146990" align="alignnone" width="806]

Courtesy of ESPN.com[/caption]
Minnesota's moves at the deadline revived their offense. The team is ninth in the league at Goals per 60 minutes post-deadline, compared to 23rd in the league beforehand. The Wild are Top-5 in controlling the goals share, compared to 13th before the deadline. Minnesota's shooting percentage is up from 9.2% to 11.6%.
The individual stats can't be overlooked either. Matt Boldy is second in the league in goals since the trade deadline with nine(!!!) He's been the most dominant Wild forward almost every single night. Minnesota's former foes have also been contributing. Johansson has 12 points in 14 games played, which no one saw coming. Sundqvist has seven in 12, and even Klingberg has bounced back a little with five in 10 contests so far.
Guerin was shrewd at the deadline, spending with a purpose and a reason. In doing so, he was able to stabilize an offensive group with plenty of capable veterans while losing little, if anything, in terms of future value. His aggressive and savvy deals at the deadline have boosted the Wild now and will pay dividends during the postseason grind. Guerin gave the State of Hockey what it wanted while helping the team now and in the future.
All stats and data via EvolvingHockey & CapFriendly.