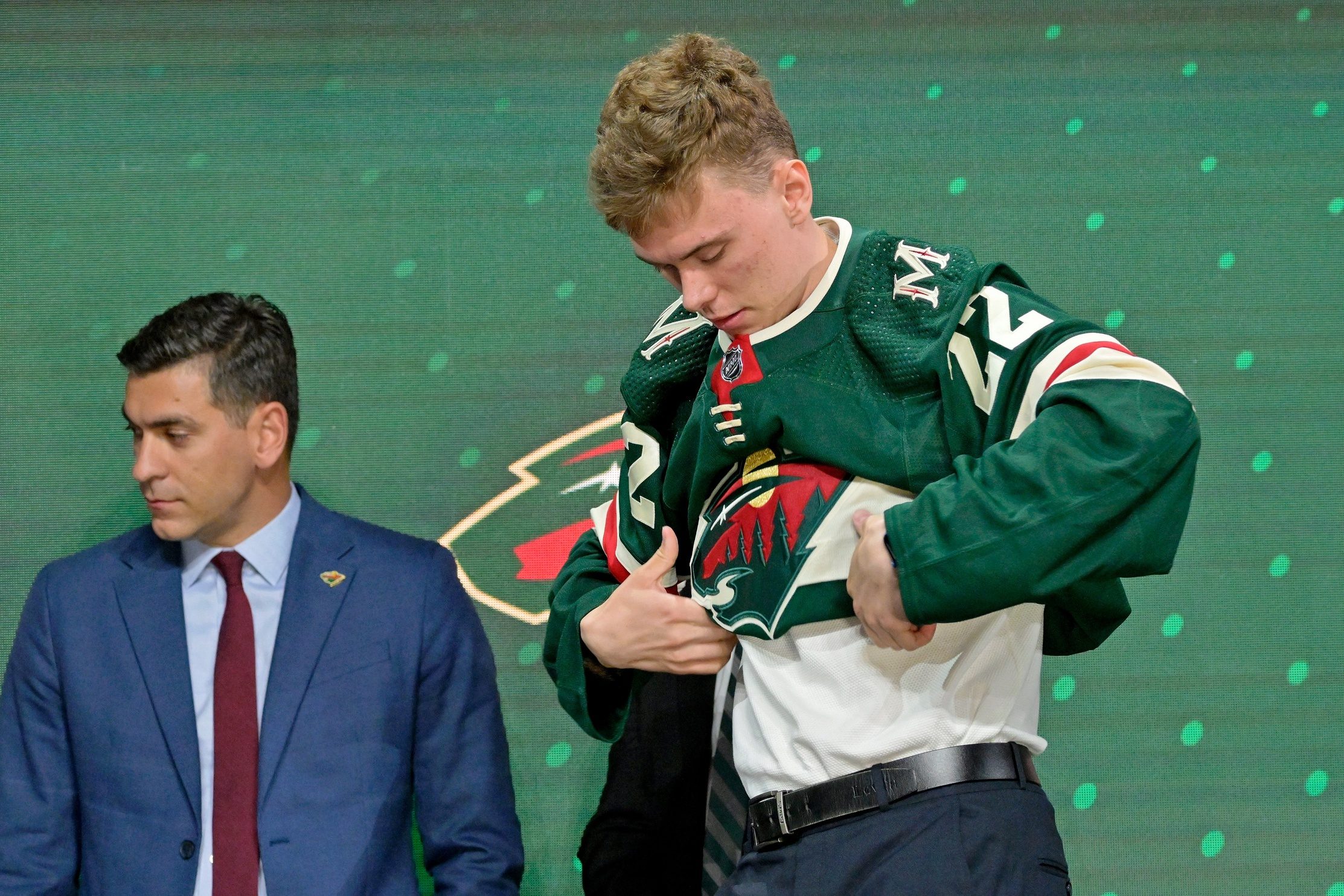 As hockey evolves, players are more willing to be creative and show positive emotion on the ice. Fortunately, the Minnesota Wild's newest prospects are capable of awe-inspiring highlights.
Minnesota's two first-round picks, Liam Ohgren (Sweden) and Danila Yurov (Russia), have generated a lot of hype with their skills. They've scored crazy goals and dished out masterful assists in their hockey careers. But it's not just Ohgren and Yurov. Some of the Wild's later-round picks have displayed some wizardry with the puck.
Let's look at some of the best highlights from the new blood in the Wild organization.
Liam Ohgren
First, let's look at some of Ohgren's highlights. He was Minnesota's first pick, at No. 19. He's been an insane goal-scorer in his career and has produced some excellent highlight-reel goals and assists.
This fabulous behind-the-net pass for an assist is simply gorgeous.
This goal is flat-out dirty. Ohgren outmuscles and outplays his defender and makes everyone on the opposing team look silly.
https://twitter.com/AlexMicheletti/status/1545222014750937089
This goal from the gold medal game of the U18 IIHF world championship is dangerously silky. It shows his goal-scoring instincts and his drive to get to the net.
Danila Yurov
Many draft pundits considered Yurov, the 24th overall pick this year, a steal for Minnesota. Yurov is a dynamic, shifty winger with a high hockey IQ and extraordinary playmaking abilities.
Any time a player goes between the legs for a goal or assist, it's worth a second look, or five. He pulls off this move with silky precision.
This filthy goal gets my nod for best highlight from the new guys. Some scouts have said that Yurov's shot is similar to Auston Matthews', which is not too shabby of a comparison.
Scoring a goal in transition is never easy, but Yurov makes it look simple here with a dangerous wrist shot.
The best of the rest
The first round-picks often get all the glory. But the rest of Minnesota's picks also have a lot of skill.
Hunter Haight
The Wild's first of two second-round picks brings the heat, and he has got some buttery hands to go with it. Just take a look at these dangles.
Rieger Lorenz
Minnesota's second-second round pick is not afraid to pick corners. He's also got one hell of a shot.
Michael Milne
The 89th overall pick in the draft has some pretty entertaining highlights.
The author of the tweet says it right; this goal is hilarious. Milne gets past the defense and drives the net hard, running right over the goalie. To make it even better, teammate Conor Geekie proceeds to blast the defender behind the net, making this sequence one for the ages.
Milne seems to have a knack for getting past defenders with ease. In this beauty of a goal, he not only draws a slashing penalty but manages to score after falling to his knees and getting back up again to finish the play.
This relentless effort behind the net for an assist is amazing. It's similar to the way Kirill Kaprizov can just hang onto the puck for what seems like hours.
Ryan Healey
The way Minnesota's fourth-round pick, Healey, doesn't seem to panic at the blue line is astounding. Watch as he confidently stick-handles his way out of trouble at the blue line; that takes guts.
https://twitter.com/SpokedZ/status/1545562014772346880
David Spacek
If there's one thing all the new Wild prospects have in common, it's their scoring. Even as a defenseman, Spacek, a fifth-round pick, highlights showcase the bomb of a shot he's got.
https://twitter.com/SpokedZ/status/1545567732648890368
Servac Petrovsky
Minnesota's last pick in the draft is a goal scorer as well. Check out this goal that won him OHL play of the night.
https://www.youtube.com/watch?v=3CEWfhNGJsQ&ab_channel=OHL-OntarioHockeyLeague
While Liam Ohgren and Danila Yurov are the two main attractions of the new Wild draft picks, these highlights show that the later picks also have skill. Any one of them could end up with a full-time role in the NHL. They all show promise and have that new edge to their game that hockey players need these days.