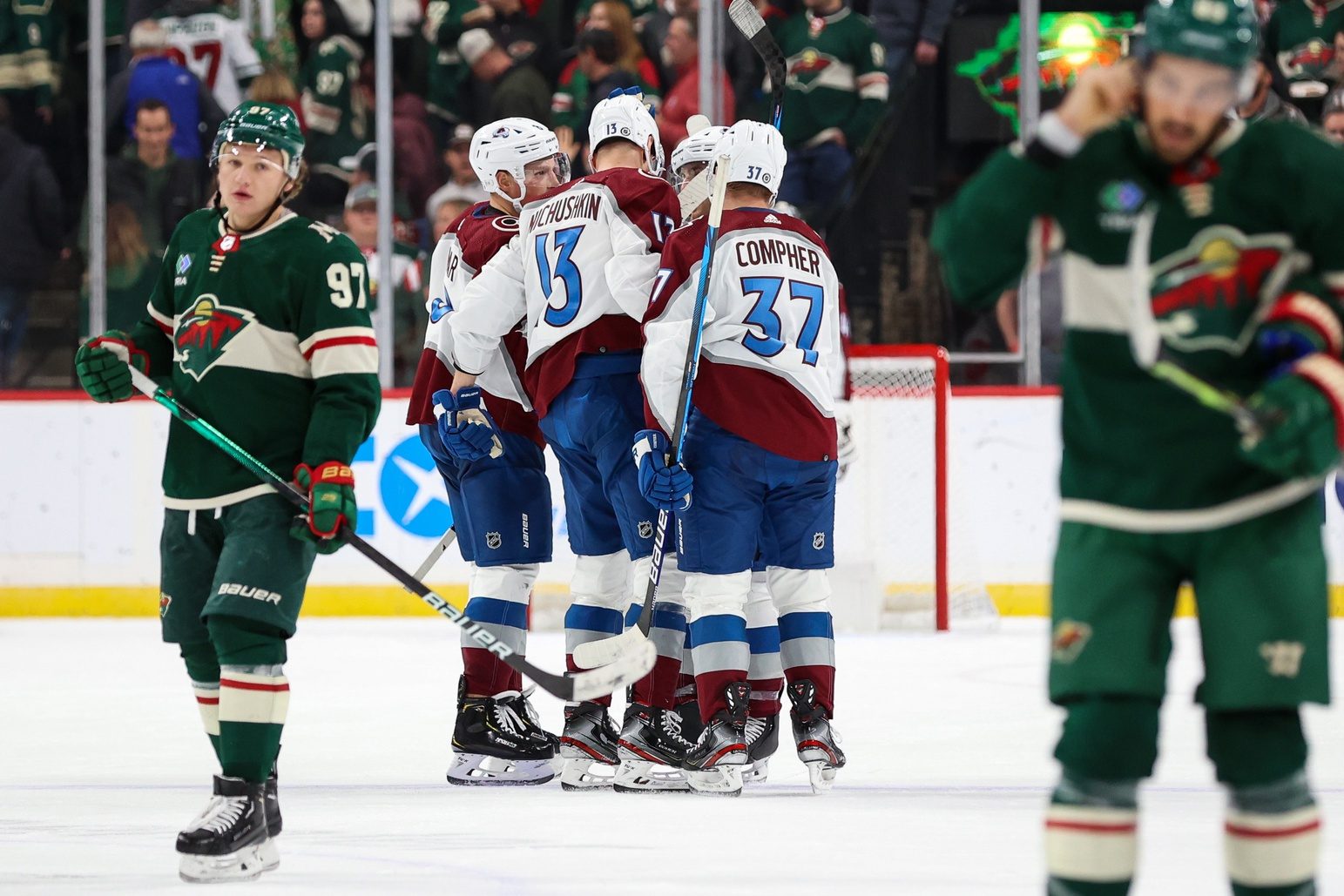 You'd think based off their postgame comments following Wednesday's 3-1 defeat that the Minnesota Wild played an amazing game. Almost as if internally they feel as though they are so close to figuring it out.
"It's hard to play a better game than we did today," were the words chosen by veteran Mats Zuccarello after the game. Even head coach Dean Evason was lauding the effort and play of his team. He was almost hinting that the wins would surely start coming in bunches if they kept this up.
Yet, if not Wednesday, then when? Because not only was Wednesday a must-win game against the team you were tied with in the standings, but everything had also lined up in your favor.
Colorado had been playing better lately, but injuries continued to slow down their ability to skyrocket up the standings. For now, they were missing two of their better players. One of them was Cale Makar, the 24 year-old phenom who has already secured a Norris and Conn Smythe trophy. The other was their captain, Gabriel Landeskog. So yeah, a pretty big break for the Wild to face such a shorthanded defending Cup champion.
And yet, the scales were tipped even further in the Wild's favor. The Avalanche had played the night before at home against the Tampa Bay Lightning and came out with a grueling shootout loss. So not only did they wear themselves out against one of the best teams in hockey, but they also then flew to Minnesota immediately after and lost an hour on their clocks to play the next night.
All the while, the Wild were sleeping comfortably in their beds during after a day off.
This was the perfect game for the Wild to prove to themselves, and their GM, they could compete for a spot within the top-3 of the central division. Perhaps they could make some noise in the playoffs. Instead, the narrative ended up becoming the opposite. This team is going nowhere. And they're best off to echo that same belief internally.
Sure, Marc-Andre Fleury had a rough showing. Okay, a really rough showing. But Minnesota's goaltending hasn't been the problem this year. And while the overwhelming shot share suggests the Wild were the better team last night, to me it just further magnified how poor they are at even strength offense this year.
Yes, the Wild generated some better chances yesterday, but their expected goals total of 3.2 came mostly from adding up a high volume of low-to-medium grade scoring chances. And the eye test agrees. While the Wild generated a few good looks in front of Colorado netminder Alexandar Georgiev, it all felt too perimeter.
Pretty much everyone agrees Fleury played a poor game, and that's reflected in just 1.2 xGF for Colorado at even strength. It felt as though, with their tired legs and missing superstars, they didn't have the energy required to create the high danger chances that come from sustained pressure. They recorded only .052 expected goals per shot attempt. On the other side, Minnesota generated a nearly identical .054 expected goals per shot attempt. They simply just window dressed their offense with high-volume, low-quality chances.
And it wasn't just the Avalanche game this bore fruit. Over their past five games, the Wild have looked better from a competitive standpoint, but the shot quality hasn't improved, just increased. During that time, Minnesota has accumulated 12.3 xGF at even strength. Yet, they only have three actual goals scored. For comparison, the Boston Bruins in their past five games have scored 14 goals on a nearly identical 12.4 xGF.
I'm sorry Evason and Zuccarello, but that was not the best game their team has played all season. It just seemed like it because they badly outshot a worn down and injured opponent; the same season long problems reared their ugly head again. Wednesday night just further hammered that fact home. The Wild's lack of scoring isn't going to magically regress back to the mean. This season has been the regression to the mean.