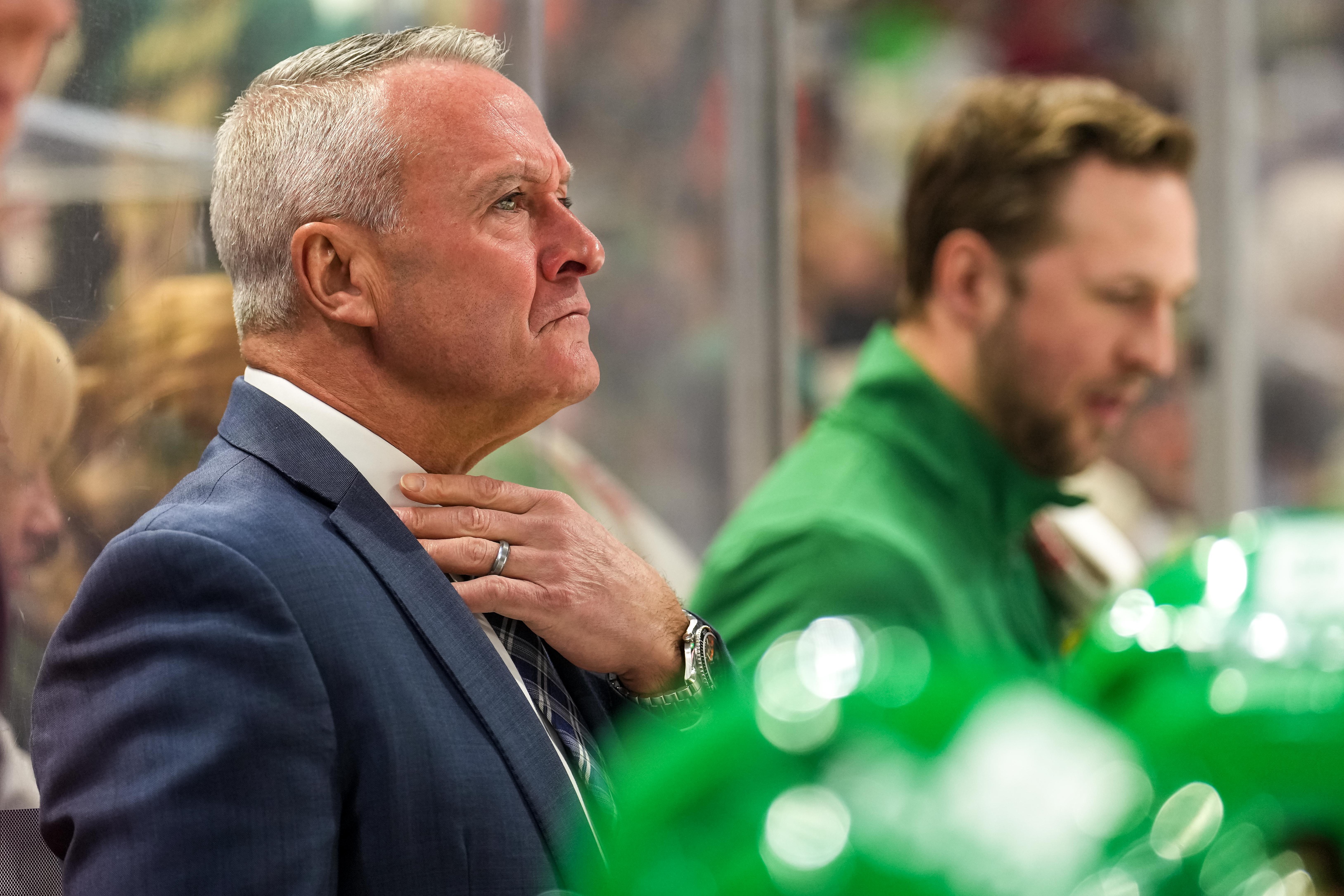 Image courtesy of © Brace Hemmelgarn - USA TODAY Sports
Will Dean Evason extend his playbook and be more creative? What plan does he have for the youngsters to get comfortable with the schedule? Let's dive into how challenging this year's schedule is and how the Minnesota Wild can manage it. 
To do so, let's split the schedule into three phases: fall, winter, and Spring. 
Fall Schedule: 30 games 
The NHL crammed 30 games between the Wild's season opener against the Florida Panthers on October 12 and their December 21 match-up against the Montreal Canadiens. Do the math, and they play 30 games in the first 70 days of the season. Even worse, they'll play back-to-back games five times, and four of those will be a part of a three-game-in-four-day stretch. The Wild already have a hard path to the playoffs. It doesn't make things any better that they don't get an entire weekend to rest. 
Minnesota's first 30 games show us how challenging the season will be before it starts. Will Marco Rossi have solidified himself in the lineup, or did he return to Iowa so he can play with more "F you" in his game? How's goaltending holding up? Will Kirill Kaprizov and Matt Boldy be off to slow starts because teams know how to scout the Wild, thanks to playoff eliminations? Was Brock Faber's playoff performance hype or legitimate? 
The first 30 games will tell fans if the team will need to adjust to be ready for the winter phase of the season. 
Winter Schedule: 40 games 
After that demanding Fall schedule, there's exactly zero time to rest. The Wild are in the heart of the NHL schedule now, where points are crucial to lock a playoff spot – not to mention the drama of the NHL Trade Deadline and NHL All-Star break. 
Things only get more challenging for the Wild from here. They will have seven more back-to-backs in this stretch. So, about once every five games. They will be exhausted. Minnesota's first back-to-back games will be a home-and-home series in a border battle against the Winnipeg Jets on December 30 and 31, kicking off 17 games in 29 days.
Finally, the Wild will enjoy 10 days off from January 28 to February 6 due to the All-Star break (February 1 to 4). Hopefully, the team will take advantage of a rare moment to recover, except for Kaprizov, who probably has to participate in the All-Star festivities.
Minnesota's winter schedule continues until March 20, when they take on Kevin Fiala and the Los Angeles Kings. As they approach this point of the season, the Wild may still be vying for a Wild Card spot. 
Did the Top-10 prospect pool pass the test? Or did Guerin have to go out and get rentals? What if Minnesota still wants to go all-in because Mats Zuccarello, Ryan Hartman, and Marcus Foligno are performing well in contract years? Will it open up a trade for Elias Lindholm and maybe Noah Hanifin? That's only necessary if Rossi is still in Iowa and the Calgary Flames want to blow everything up. 
The Wild have the draft capital and prospects to improve for the playoffs. However, they can sell if they fail the test. The spring is among us. 
Spring Schedule: 12 games 
These last games are make-or-break. We'll be scoreboard-watching or figuring out the Wild's magic number to secure their spot in the postseason. Seven of those games will be against teams that made the playoffs last year. Two more games will be against the St. Louis Blues and Ottawa Senators, who both improved in the offseason. Either team could be looking to get into the playoffs, especially the Senators. 
Minnesota will have finished its 82-game season, and if you are still ready to keep watching hockey after that schedule, congratulations! The players will be gearing up for the postseason. It will be another endurance test for the Wild, even if we don't know the schedule until then. 
How can the Wild hold up through that? Can Filip Gustavsson solidify himself as the team's No. 1 goaltender? Can he handle starting 50 games – about 60% of the starts? Will Marc-Andre Fleury be able to remain solid while starting 32 games? Evason will need to utilize both goaltenders with so many back-to-backs. Now we must see if Gustavsson's first season with the Wild was real or a fluke. Did the addition of Jason King help special teams? Is Marco Rossi ready? 
The biggest test has yet to come.