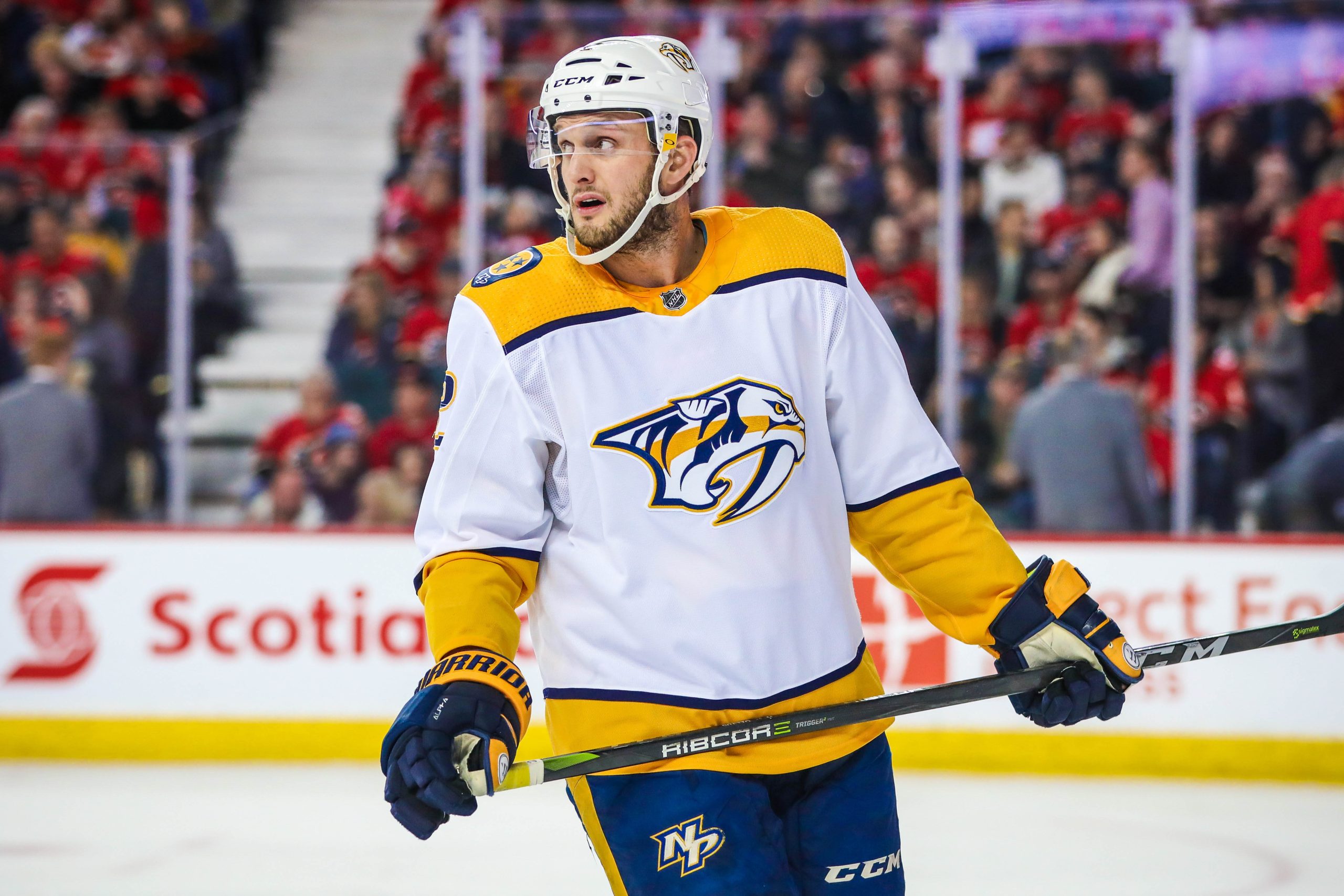 Last Friday, the Minnesota Wild put in a waiver claim for defenseman Anthony Bitetto from the Nashville Predators. General manager Paul Fenton had familiarity with Bitetto in his days from Nashville as he helped select the defenseman in the sixth round of the 2010 Draft.
The Wild were the only team to put in a claim for Bitetto, and thus, were awarded the defenseman and he was placed on the active roster.
Why the Wild exactly put in a claim for Bitetto outside of the familiarity between Fenton and the Island Park, N.Y., native remains a mystery. On the surface, nothing excites about the blueliner offensively as he has registered just 19 points in 114 career NHL games -- all with Nashville -- scattered over five seasons.
The left-handed defenseman has a decent shot from the point, but that has been something seen on instances few and far between.
Bitetto does provide decent defense on the back end with a bit of physicality, but there is no special teams play -- either power play or penalty kill -- to speak of when it comes to his time in the NHL.
[caption id=attachment_46504" align="alignnone" width="493]

via Micah Blake McCurdy, hockeyviz.com[/caption]
Nashville put the defenseman on waivers as he was buried at the bottom of their defensive depth chart -- and for good reason -- and was trying to get him through to their minor league affiliate in Milwaukee. Fenton perhaps saw the player he was familiar with as good depth for his squad, even though the Wild are pretty set on the left side of the defense right now with Ryan Suter, Jonas Brodin, Nick Seeler, and Brad Hunt.
It is hard to say why the Wild brought in the blueliner, but maybe that will become clearer once the team resumes play on Friday.
With Eric Fehr expected to be activated off injured reserve prior to Friday's game, the Wild will now be at their 23-man limit on the active roster. Joel Eriksson Ek and Luke Kunin were demoted following Wednesday's game in Colorado for extra playing time and now have no room to return unless a corresponding move is made. So in essence, the addition of Bitetto has now capped the Wild roster, and their two most prominent young players outside of Jordan Greenway are now marooned in Iowa.
Bitetto sure can provide good depth for the Wild, but making that move at this time is questionable given their roster space -- or lack thereof.
Outside of his play on the ice, Bitetto has been regarded as a solid person off it. He was highly regarded in the Predators locker room, and was a very positive influence with community work.
"Additionally, Anthony Bitetto always was eager to give back to the Nashville community. Close friends with fellow defender P.K. Subban, Anthony Bitetto was one of several Predators who joined Subban for his trip to the Montreal Children's Hospital during last season's visit to play the Canadiens. He's also done plenty of work with the Martha O'Brien Center to help families in poverty and, the last two Christmases, invited families from the West Nashville Dream Center to Bridgestone Arena for a party with himself, Colton Sissons, and Austin Watson." - via On The Forecheck
Bottom line is the Wild added depth to their defense, maxed out their roster and got a solid person with the addition of Bitetto. A questionable move, but a move Fenton still felt was worth making.
Bitetto could easily be placed on waivers again within a week to see if he can get through to Iowa, but for now he appears to be staying on the active roster. Only time will tell how Fenton will free up roster space, but for now he finds himself in a jam with this acquisition.
---