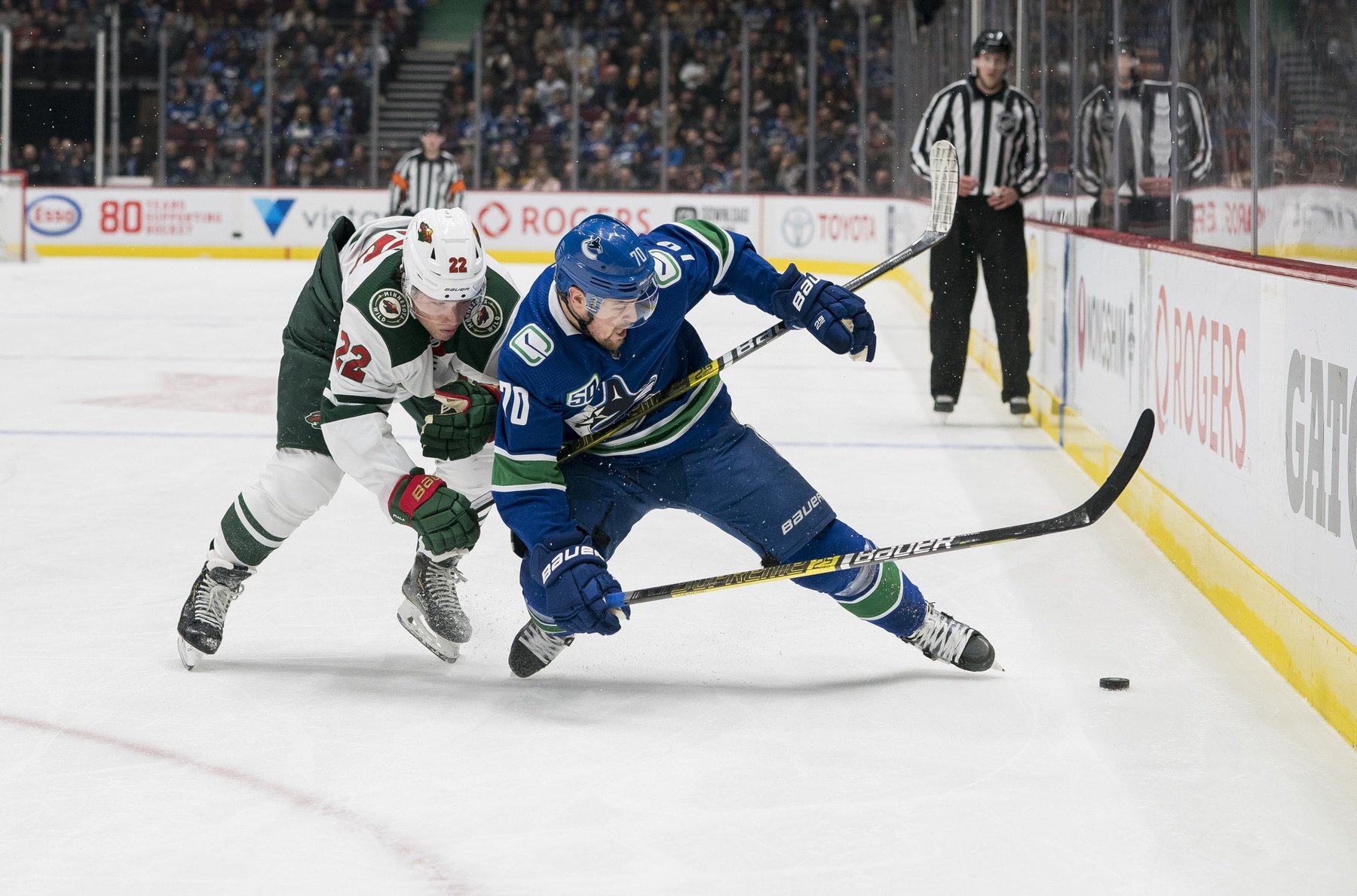 The Minnesota Wild are in the Edmonton bubble ready to begin the Qualifying Round match-up against the Vancouver Canucks. In preparation for this five-game series, I sat down with the other Zone Coverage Wild writers to talk about the upcoming series. We tried to hash out who the X-factors for each team will be, moved on to beating Jacob Markstrom and whether or not this team can actually go on a run if they beat Vancouver.
Pulling back the curtain on our internal discussions at Zone Coverage HQ, I give you the Wild vs. Canucks Roundtable featuring Giles Ferrell and Tony Abbott.
The X-Factor
Joe Bouley: Who do you guys think can be the X-factor for the Wild, a player who has the potential to be a gigantic difference maker for the Wild to win this series?
Tony Abbott: I mean, let's get the obvious one out of the way right off the bat -- If the Wild are gonna win this series, Kevin Fiala is almost certainly going to have to be an X-factor. The Wild have had one true playoff run in their entire existence, and the one time they did it was because Marian Gaborik was their X-factor, scoring nine goals and eight assists in 14 games before being held off the score sheet in the Conference Finals. Whether Fiala can do something like that or not will go a long way towards determining whether the Wild can succeed.
But I suppose you want something a bit less obvious, haha.
Giles Ferrell: Mats Zuccarello had a pretty underwhelming first season with Minnesota, but he can be a big difference maker for Minnesota in the series against Vancouver. Re-watching the regular season games this guy literally could skate circles around the Canucks defense and with his passing ability he could be a prominent set up man to someone who could put up a lot of goals. If he does indeed start on the third line, he has the ability to provide some scoring punch for the bottom six, another area of weakness on the Canucks. Zuccarello had a pair of assists in three games for Minnesota against Vancouver this season.
Bouley: Zuccarello is a new one. I've heard Joel Eriksson Ek and maybe Jordan Greenway as Wild X-factors, but Zuccarello. Interesting.
Abbott: That's a pretty good one, Giles. I'm not even a "Well, he better be good with how much he's getting paid!" guy, but, well, he better be good with how much he's getting paid.
I think Zuccarello low-key wasn't that bad this year?
Ferrell: I didn't think he was. I feel like a decent amount of the year was spent trying to find the right linemates for him, and he did what he could.
Bouley: I do agree with him being a solid setup man. He gets chances. I think the biggest question is finishing. Just don't want another Jason Pominville missing the net narrative.
Abbott: Most of the year he was with Eric Staal and Jason Zucker, and for whatever reason, both of them shot less than ever. They both shot for a high percentage, but when your linemates are shooting less than four times a game combined, that'll put a dent in your assist totals.
Bouley: How about a player not named Brock Boeser or Elias Pettersson for Vancouver as an X-factor?
Abbott: J.T. Miller, I win.
Ferrell: Dammit! LOL.
Abbott: I got a feeling that guy is good! Keep an eye on him!
Ferrell: He wrecked the Wild this year.
Abbott: How bad was it, Giles? I don't remember.
Ferrell: It was six points in three games I think. And honestly, there were some chances not converted that could have pushed that total to eight or nine.
Abbott: Jeez.
Ferrell: He was everywhere.
I'll argue Tyler Toffoli. Ten points in 10 games for the Canucks after being acquired to replace Boeser. Now that Boeser will be back in, the Canucks can really put up some scoring depth in their lineup that they did not previously have. Toffoli also brings some #playoffexperience to the Canucks which could really be valuable to a young team in a short series like this.
Abbott: Vancouver's bottom-six depth is downright terrible. It's garbage. Minnesota has a bunch of guys who can chip in a little bit on offense while playing heavy and sound defense. Vancouver doesn't have a guy like this.
Ferrell: They have Antoine Roussel…
…HAHAHAHAHAHAHAHAHAHAHA
Bouley: Does Loui Eriksson offer anything?
Ferrell: Eh...
Abbott: Except Micheal Ferland, who is coming back from concussion issues. Ferland was real solid for Calgary and Carolina, putting up 40 point seasons with both of them. He's a guy they desperately need in their bottom-six to match up against the Wild. Now, can he play at full strength while not losing an edge because he's worried about getting re-injured? That's a question he'll have to answer. But if he can, he'll go a bit of a way to making up that depth advantage Minnesota enjoys.
Eriksson has Pominville's Disease, where he can still drive the play, but has lost his hands completely. Maybe even worse than Pominville, to be honest.
Anyone deeper in the lineup that we're thinking will step up and make a difference?
Bouley: For the Wild? I think Marcus Foligno on the third line playing a heavy game, strong defense and offering some scoring chances really could step here in a playoff series.
His game translates the best to the traditional playoff series type of game.
Ferrell: Sleeper X-factor could be Brad Hunt. Quietly had 19 points for the Wild this year. Had three points against the Nucks alone. Could be an offensive spark if he needs to be subbed in the lineup.
Bouley: Hunt could help that 2nd PP unit immensely if they can get set up in the OZ.
Abbott: Both excellent picks, but I'll piggy-back off Giles a bit and mention Carson Soucy. Dr. Souce is 6'5" and mobile as hell, even showing off some heretofore unknown hands this year. Suter-Spurgeon and Brodin-Dumba are both gonna log 22-plus minutes per game this series.
If Minnesota's third pair can give them strong outings for the remaining 16 minutes or whatever, they'll be hard to beat.
Beat 'em Up, or Fast and Skilled?
Bouley: How do you guys see the series playing out? A lot has been made about how evenly matched these teams are. I also thought that against the St. Louis Blues and Jake Allen. Is this a physical, grind-it-out marathon, or a high-flying scoring affair?
Ferrell: Between the Wild goaltending and the Canucks' inability to suppress shots in front of their net, this series will probably feature more goals than one would maybe care for. As I mentioned many times, the Wild literally need league average goaltending in this series to put themselves in the driver's seat in this series. If they can get something close to that, the Wild will turn some heads and upend the Canucks, who seem to be the consensus pick in this series for some odd reason.
Abbott: For Minnesota's sake, it had better be a grind-it-out, low-event type of series. I think the Wild got pretty lucky with how high they shot this year: second in the NHL with 9.4% at 5-on-5. If that luck starts running out, they could get into a lot of trouble trading chances with guys like Boeser, Pettersson and Miller picking corners with ease -- especially with Minnesota's goaltending. Minnesota head coach Dean Evason has liked to play high-event hockey, but if that works against Vancouver, I'll be very surprised.
Beating Markstrom
Bouley: Markstrom has the clear upper-hand in net going into this series. How does the Wild beat him? Is it more about shot volume, or maybe just traffic in front and finding rebounds?
Abbott: They tell him the Wild will add an extra million of AAV to their offer to him this offseason for every game he throws in this series.
Ferrell: If Markstrom is the Markstrom we saw in the regular season, Minnesota will have to rely on traffic and rebounds to beat him. They will also need to rely on the power play and Fiala snipes, as they did in the regular season to win two out of the three meetings.
Minnesota's Game-Breaker
Bouley: Can Minnesota reasonably rely on Fiala rising up and being the difference-maker he was in February?
Ferrell: The Wild should not be relying on Fiala to carry the offensive load. However, his training camp thus far seems to indicate he has a better chance of picking up where he left off. But to win the series, the Wild will need all four lines to pick up the scoring pace. Sorry to be cliche.
Abbott: No. Fiala had 14 goals in 18 games. It's not reasonable to expect that out of anyone. But here's the thing -- stars do unreasonable things. Fiala's playing for a big ol' raise right now. Stepping up here and putting any doubts to rest will go a long way to him getting PAID.
And for what it's worth, I'm a believer in Fiala. If he's not picking up where he left off in terms of getting chances, I'll be pretty surprised.
Wild Win Because...
Bouley: Finish this sentence: If the Wild win this series it will be because they were the best at _________.
Abbott: Winning.
I win again.
Bouley: Well, duh.
Ferrell: Goaltending.
Abbott: I think that's right. Minnesota has no chance if they have October goaltending.
Bouley: So this series comes down to goaltending. Period.
Ferrell: I hate to be that guy, but yeah, it really does.
Abbott: I'll say "frustrating their opponents," though. Pettersson, Boeser and Quinn Hughes haven't played in the postseason as of yet. If Minnesota can limit their chances and throw them off their game, they don't have much else of an answer offensively.
Especially since if the Wild shuts down those two when the Canucks will have the first two games to pick the match-ups, the Wild will be in an extra favorable position shutting down Vancouver's bottom-six.
Winning is Futile?
Bouley: If they win, do you think it's futile, or can they go on a decent run here?
Ferrell: Any team can go on a run in the postseason, but odds would be pretty against the Wild. That is, unless, one of their goaltenders becomes this season's Jake Allen.
Abbott: The Wild have good underlying numbers and Kevin Fiala. Once you get past this round, how many teams in the West are truly a bad match-up for the Wild? Colorado definitely is one. St. Louis, probably? I don't think that I'm terrified of anyone else. I'd be more inclined to say yes if Kirill Kaprizov was allowed to play, but I definitely think it's possible, if not likely.