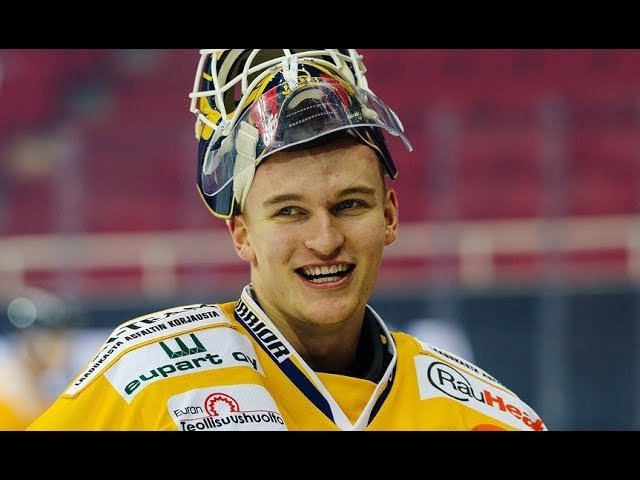 Kaapo Kahkonen
Goaltender
6-foot-2
222 pounds
Born: August 16, 1996
2016-17 Team: Lukko (Liiga)
How Acquired: 2014 Draft (fourth round, 109th overall)


Checking in as the only goalie to crack the top-10 is Finnish netminder Kaapo Kahkonen. Kahkonen, 21, was Minnesota's fourth-round pick in the 2014 draft, and has continued on in the Finnish leagues since his drafting.

This is what Future Considerations' scouting report of Kahkonen was when he was drafted in 2014:


"Kahkonen has good a natural size and build, and he displays impressive speed and mobility in net. He has an explosive push in goal and gets side to side very quickly to take away the bottom of the net. He anticipates the play well in goal, and is able to react to cross passes quickly and effectively. His rebound control is strong, either eating shots or deflecting them out of harm's way. He is able to handle pucks through screens and through traffic. He handled his higher shots well, and he is strong down low. He is poised in net and communicates actively with his teammates. He has quick re exes and a good, active blocker with a quick glove hand. Kahkonen's positioning in goal is above average, but there are times when he gets a little lazy and leaves his post too soon. His focus seems to be an issue too. He allows some weak goals against that it looks like he should be able to handle. Kahkonen showed very good agility and balance. He was quite aggressive and he knows when to challenge shooters. Kahkonen already has NHL size, as well as solid technical skills. His game suffers from bouts of inconsistent play. Struggled through a very inconsistent U18 tournament and his draft stock took a bit of a hit."


While his goal-scoring streak was an added bonus, Kahkonen has emerged as the Wild's top goaltending prospect -- albeit, not exactly in a crowded field. Last year, Kahkonen improved on his numbers with Lukko, as he saw his save percentage jump from .908 (his first year with the squad, after moving up from the second tier Finnish league, Mestis, in 2014-15) in 2015-16 to .921 in 2016-17.

During that 2015-16 season, Wild assistant General Manager Brent Flahr spoke to the Minneapolis Star Tribune of Kahkonen during his World Junior Tournament appearance in 2016, which was his final appearance in the tournament:


"[He's] a butterfly goalie and a structured goalie. He's big, aggressive and when he's on his game, he's effective. He competes, has good legs and covers the bottom of the net well. Sometimes when he does struggle, it's just playing deep. But he's made huge saves in the tournament and has run with it. He doesn't get rattled. He gives one up and stays in there and keeps going."


Kahkonen will return to play with Lukko in 2017-18. It is not clear as to what kind of timeline the Wild have for him -- for when he would sign and come over to play in North America, that is -- but at least they have met the player, unlike another top prospect they drafted.

Check back on Wednesday to see who comes in at No. 8 on the list! Click here to see No. 10, Dmitry Sokolov, from Monday.


---
Never Miss an Episode of Giles & The Goalie!