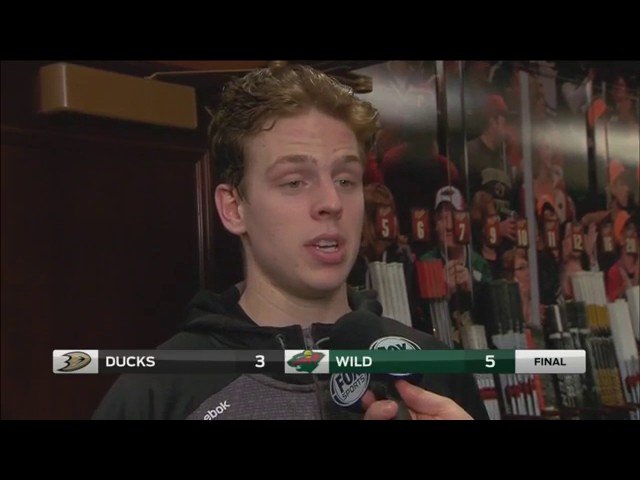 Mike Reilly
Defenseman
6-foot-2
193 pounds
Born: July 13, 1993
2016-17 Team: Iowa Wild (AHL)/Minnesota Wild (NHL)
How Acquired: Signed as free agent on July 1, 2015


As mentioned on Wednesday with Gustav Olofsson, there is an open spot on the Wild roster for a defenseman as the team heads into training camp next week. The other defenseman with Olofsson competing for that open spot will be former University of Minnesota blueliner, Mike Reilly.

Since signing with the Wild two years ago -- as he used the college free-agent loophole to get out from being on Columbus -- Reilly has alternated time in two seasons between Iowa and Minnesota, but the majority of his time has been in Iowa. To his defense, the Minnesota roster has been deep with defensemen, which has given them time to let Reilly develop his game a bit more in the minors. But now that there is an opening, Reilly, along with Olofsson, will be given a great chance in training camp to make the Minnesota roster on a more permanent basis.

While Olofsson is more of a defensive-type blueliner, Reilly specializes in the offensive side of his position. Nate Wells of SB Nation's College Puck (who specializes in covering the Gophers hockey team) had this to say on Reilly at the time of his signing with the Wild, and still stands true:


"Reilly's strengths and skills lie in his puck moving ability. His vision allows him to see opportunities others don't. His skating is above average and Reilly uses every inch of the ice, pinching in to keep the play alive, skating and holding the puck to get an extra second or two. Reilly has a cannon of a shot that he's not afraid to use."


https://twitter.com/myregularface/status/828086365862690816

While Reilly has offensive upside, his issues have been and still remain on the defensive side of the game. He will get caught out of position or making a pinch in the offensive zone at a bad time. It was a focal reason for his demotion back to Iowa in November this past season. As Bruce Boudreau said to the Pioneer Press at the time of the demotion, "He was a bit too eratic at times."

But Reilly went back to Iowa with the intent of working on a more well-rounded game, and did earn a few more callups as the season went on. But his limited time with Minnesota still had more to do with the team's depth on the blueline.

Reilly did sign a new two-year contract -- the same as Olofsson's -- this past July on a one-way deal. It is unclear which defenseman will have the inside track on the spot, but Reilly's skills on the power play could prove to be the decider if Boudreau was looking to make some changes to the Wild's man advantage.

Check back Friday to see who comes in at No. 6!

Previous posts: 

No. 8-Gustav Olofsson
No. 9-Kaapo Kahkonen
No. 10-Dmitry Sokolov

Never Miss an Episode of Giles & The Goalie!