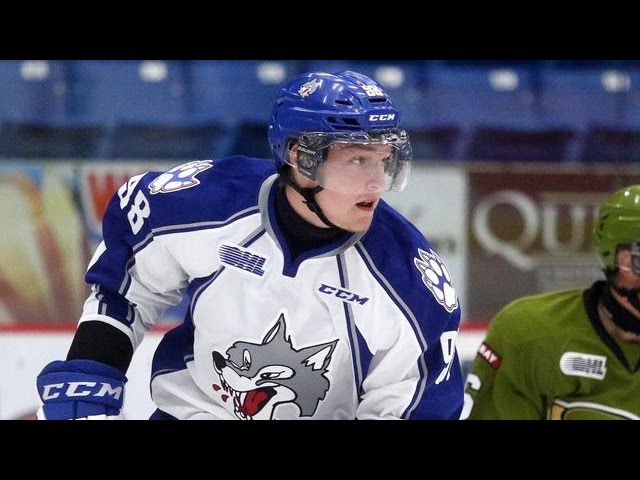 Dmitry Sokolov
Right Wing
6 feet tall
205 pounds
Born: April 14, 1998
2016-17 Team: Sudbury Wolves (OHL)/Iowa Wild (AHL)
How Acquired: 2016 Draft (Seventh round, 196th overall)




As we begin the top-10, it's worth noting that the last two spots could have gone to a number of players. But might as well go with a player who has really high upside, if he can just work on a few things.




That's where we meet Dmitry Sokolov.




Drafted in the seventh round of 2016, Sokolov has the skill set to be another late-round find for Chuck Fletcher. He has been a goal scoring machine, tallying 30 (led team) and 48 goals (second in the OHL) in his first two seasons with Sudbury, which coincided with him coming over from Russia.






Had it not been for poor conditioning, Sokolov, 19, would have been a much higher pick in the 2016 draft (like first round kind of pick). However, teams were scared off by how out of shape he was, and he slipped all the way to the seventh round where the Wild snatched him up. At the time of drafting, Sokolov weighed around 220 pounds, but has since dropped 15 -- or so the Iowa Wild website says.





Sokolov was very much a boom-or-bust kind of pick, and as he continues to work on conditioning, he could fall under that boom category for the Wild. He has a great knack for goal scoring, as seen by his output in the OHL last year where he finished second in the league in goals behind Erie's Alex DeBrincat (Chicago Blackhawks prospect) -- who had 65.

For more on Sokolov, here is his draft profile from Future Considerations:


"Sokolov has the size and offensive skills to be a real difference-maker; unfortunately, he is not that difference-maker most nights. There is no denying his vision, skill and elite shot, but his lack of engagement and commitment is worrisome. The flashy Russian-born winger is as offensively gifted as any draft-eligible in the OHL this year. His puck control, creativity, playmaking ability and shot are all high-caliber. Sokolov is so smart and dangerous with his positioning, ability to pick spots and anticipate the game. He has the ability to be the first man back on the backcheck with his explosive first step, but you'll often see him drifting back into the zone lazily. Sokolov's in-zone play without the puck leaves a lot to be desired. He is dangerous, both as an offensive weapon and to the employment of the head of scouting who goes out on a limb to draft him. He has elite vision and passing ability, plus a ridiculously quick release on his booming shot."


Following the conclusion of the Sudbury playoff run last spring, Sokolov signed an ATO (amateur tryout) with the Iowa Wild and appeared in the team's final two games. Sokolov did register a goal against Rockford, as he buried home a rebound in a 5-1 win over the IceHogs.

Look for Sokolov to return to Sudbury this year with his sights set on leading the league in goal scoring this time around.

Check back tomorrow to see who checks in at No. 9 on the under-25 list!


---
Never Miss an Episode of Giles & The Goalie!