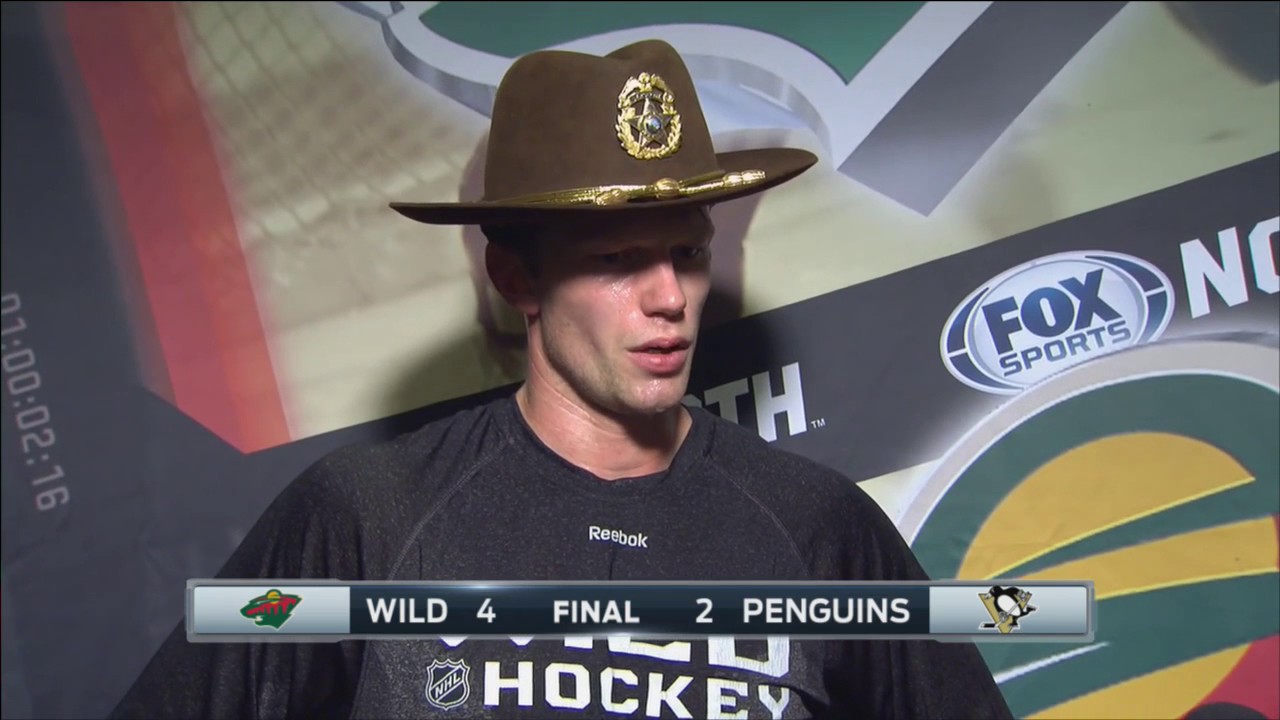 The hockey tradition of naming three stars for a game is a great one, and naming three stars for a week or even a month can be quite a fun exercise. However, anyone can name their three stars for the month of October for the Minnesota Wild, and it'll probably look something like Chris Stewart, Jason Zucker and Jared Spurgeon or Ryan Suter.
But that's old news. The Wild will be very excited to put a very oddly scheduled and injury-plagued October in the rear-view mirror, and Wild fans should too. With that in mind, here are going to be the Wild's three best players in the month of November.
Third Star - Mike Reilly

Reilly has seemed to find his way to St. Paul at least most of the time and has managed to find his way into the lineup whenever he's called up. I get the feeling that Reilly will stick around to create some offense from the back-end now that Zach Parise is likely on the shelf for an extended period of time. Helping that cause, Reilly has only played six games so far this season, but holds a share for the team lead in power-play points with three. If Reilly can stick with the big club for an entire month, he'll probably continue to be started in favor of Gustav Olofsson, and should probably see an increase in his share of power play minutes if that's the case, and could find his way onto the scoresheet often.
What stands in the way of a Reilly breakout in November is his ability to be sent down to Iowa without waivers. His power-play usage still isn't very big, despite his early success, coming in at around half of Suter's power-play ice time on most nights.
Second Star - Mikael Granlund
http://www3.pictures.zimbio.com/gi/Minnesota+Wild+v+Anaheim+Ducks+zWFQUSjBGXLl.jpg
Granlund missed a handful of games during the start of the season with a groin issue. While that particular injury scares the bejesus out of many fans thanks to Marian Gaborik, Granlund has looked to hit the ground running, reigniting his chemistry with linemate Jason Zucker early in Thursday night's game. Granlund's playmaking paired with Zucker's blazing speed and Mikko Koivu's well-rounded skill set was a tremendous line last season, leading to Granlund pacing all Wild skaters in points with 69.
More of that could be expected this year, even as the Wild struggle with other forward injuries, and that magical line being together could be leaned on quite a bit to provide some scoring punch during that time.
As long as Granlund's groin doesn't continue to bother him, it could be a productive month for him on his old line. Groin injuries can be a bit tricky, though. Granlund has certainly fought injuries a little bit throughout his career due to his size, but hopefully his move to wing has given him some relative safety to where he can play the entire season like last year and rack up the points.
First Star - Eric Staal

Through the first seven games of the season, Staal lead the Wild in shots on goal by a relatively wide margin. Staal has six points in eight games, and he could really catch fire if his favorite linemate Nino Niederreiter returns from injury soon as expected. Talented rookie Luke Kunin could also figure in Staal's success, as he's had a great showing so far in place of Charlie Coyle on the roster.
This could lead to a lot of scoring for Staal's line once Nino rejoins the fold. Staal and Kunin showed some early chemistry already on Kunin's first NHL goal, a short-handed tally assisted by Staal.
What will be interesting is if Bruce Boudreau sticks with Staal and Kunin and does add Nino to the mix when he's healthy. While that's an optimal line, it doesn't leave much for the third line to work with talent-wise, and the hot start from Stewart could mean he gets some continued time with Staal even after Nino returns. While that's not the worst thing in the world offensively, Stewart doesn't create as much offense as Nino does, so it could hamper Staal and/or Kunin if that's the case for most of the month.
Predicting the future is always fun, and also almost always an exercise in futility. Hopefully, through getting a little bit healthier, the Wild can put some positive results on the board in November and find themselves hunting down the top of the Central Division before Thanksgiving, a noted landmark on the hockey schedule in relation to postseason chances. It'll also be interesting to see how the new players for this season continue to gel with the rest of the roster, and what comes of that after a little bit of a shakeup this summer.
---
Never Miss an Episode of Giles & The Goalie!