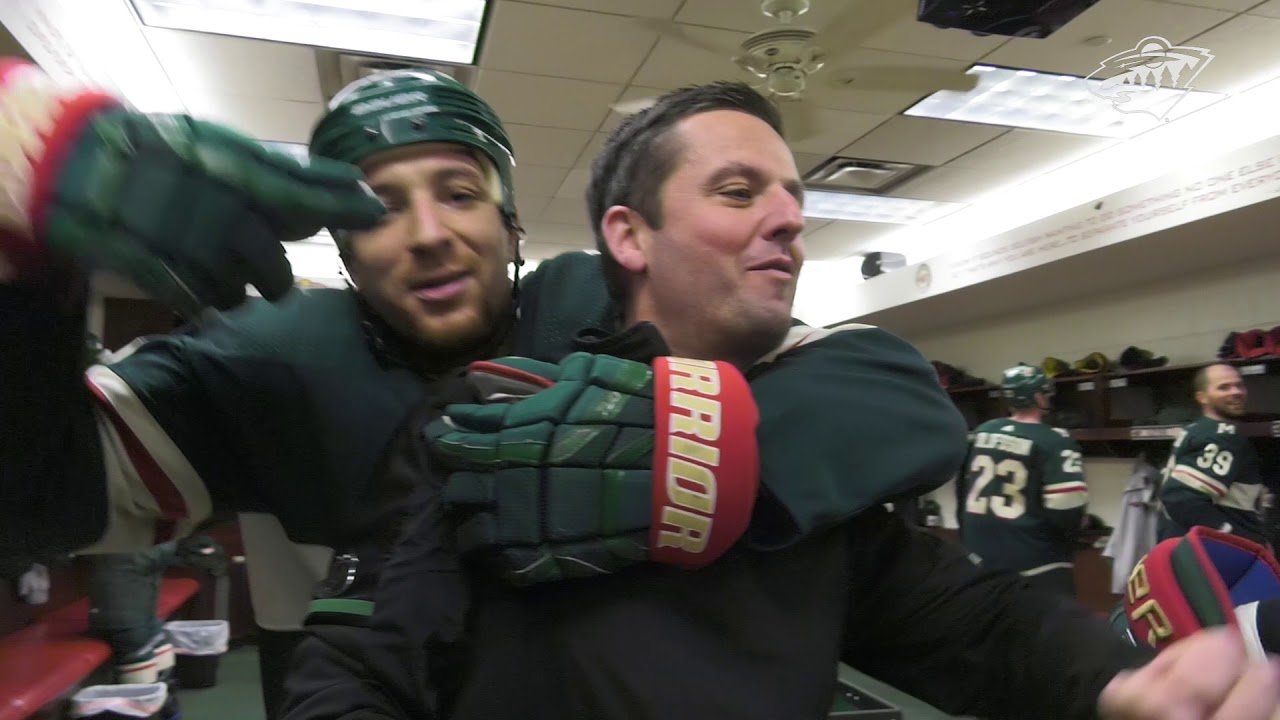 Just as he said he would in the days leading up to it, Minnesota Wild general manager Chuck Fletcher had a relatively quiet trade deadline day on Monday.
It was not flashy to stand pat while five first-round picks were tossed around for various players, but this was indeed the correct course of action for Fletcher and company.
The only news that came out of St. Paul on Monday was that forward Chris Stewart -- who was placed on waivers Sunday -- was claimed by the Calgary Flames, and that defenseman Mike Reilly was traded for a 2019 fifth-round pick.
Stewart, 30, was in the final year of a two-year deal that carried a $1.15 million cap hit. His agent had reportedly been working with Fletcher on finding a new team so that he could get an increase in playing time, especially since Stewart was a healthy scratch in 10 of the last 15 games for Minnesota.
By freeing Stewart and his cap hit off the roster, the Wild find themselves a bit more flexible financially to make some call-ups and/or sign prospect Jordan Greenway to the roster next month.
For as likable as Stewart was off the ice, his on-ice play was suffering. After an incredible start to the season where he scored six goals and eight points in the first six games of the season, his play fell off dramatically, only scoring three goals and two assists in the following 41 games.
When a slump like that reaches half a season in terms of games, that's a pretty good indicator that who the player is that year. The Wild simply could not afford to keep Stewart with production like that. Especially with guys in Iowa -- Sam Anas, Justin Kloos, Kyle Rau -- who are lighting it up nightly and deserve a look at Minnesota's roster.
In the case of Reilly, he simply had been passed over too many times on the depth chart. Fletcher just about said that on Monday when he met with the media.
"You know with the emergence of Nick Seeler, Gustav Olofsson, Carson Soucy, Ryan Murphy, in addition to Nate Prosser, we felt if we could find Mike a place where he could play more regularly it was the right thing to do for his career."
Sure, you could probably make a case that Reilly didn't get the fairest of shakes over the three seasons -- just 84 games played -- he was in Minnesota.
But when he got his chance in the lineup, he did not exactly run with it like others have. He also never truly got better on the defensive side -- as we saw in his final start Sunday against San Jose -- which was one of his liabilities coming out of college.
All in all, it was time for Reilly to get a fresh start and he will get one in Montreal.
As we ended up seeing, those were the only moves from Fletcher on Monday. He did not go after a rental like previous years, and he was able to tell Jim Rutherford to politely jump in a lake when asked about the availability of Matt Cullen.
Even though this Wild team has some flaws, Fletcher took the appropriate action on Monday. He is trusting in his red-hot team to continue on this pace into the postseason while he was able to free up a couple roster spots for the likes of Luke Kunin and eventually Jordan Greenway. The moves also gave him some financial wiggle room to make call-ups in the event of an emergency.
Not flashy, but given the costs we saw on Monday, the long-term picture of the Wild was valued above all else. And that is what matters most.
Stay up to date on the Wild with the Giles & the Goalie Podcast!